Sorry for the run on food posts lately! My DIY guy has been super busy putting in a new bathroom for us (yay!!), so I've been working in the kitchen and trying not to take up his time with other projects. But it's just about finished and we'll have a big reveal along with some little projects from that coming soon!
Caitlin and I are out in California this week – attending the Michaels Makers Summit and then doing a little adventuring while we're out here on the west coast! (We'll take any tips on what to see & where to eat in the Carmel/Big Sur/Santa Cruz areas!) So while it's a little quieter here on the blog this week, you can follow along on
Instagram
& Snapchat –
@themerrythought
to see more of what we're up to right now!
Now that school has started up here (last ones in the country I think!), I've been trying to come up with more breakfast options for the boys. Well, mostly for Levi – he's not much of breakfast eater, so I've been trying to think of things he might like to get some food in him before school. The boys love pancakes (it's actually usually eaten more for dinner than breakfast in our house), but I don't usually have to time to be cooking up batches of pancakes in the mornings, so I thought these tiny pancakes bites would be a quick & delicious breakfast option for the boys. Or even an after-school snack! I can make them ahead and then store them on the counter for a couple days or keep them in the freezer & pop them out when needed! You can eat them plain, dip in them in maple syrup, or dust on a little powdered sugar and then drizzle with syrup! And you can add any of your favorite toppings – I did mini chocolate chips & sprinkles for the boys and then blueberry and cinnamon chip for me!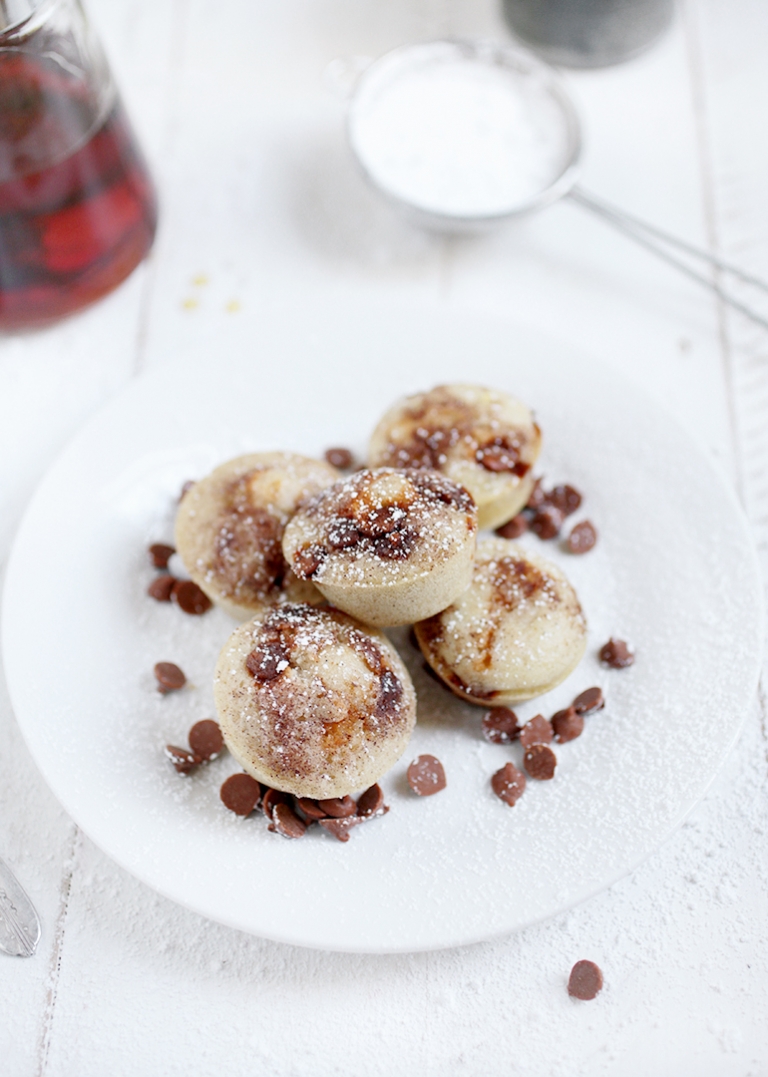 Pancake Bites
1 1/4 cups all purpose flour
3 tablespoons sugar
2 teaspoons baking powder
1/2 teaspoon cinnamon
pinch of salt
1 egg, beaten
1 cup milk, room temp
1 teaspoon vanilla
3 tablespoons salted butter, melted
Add ins:
blueberries
mini chocolate chips
cinnamon chips
sprinkles
cinnamon sugar
Preheat oven to 400ºF. Spray a mini muffin pan with cooking spray. Mix together the dry ingredients in a medium bowl. Mix together the wet ingredients (I like to use a large measuring glass). Pour the wet ingredients into dry, and whisk just until moistened, there should be lumps in the batter. Top with desired add-ins.
Pour into prepared mini muffin pan and bake for 8-9 minutes or until little golden and cooked through. Cool for a couple minutes in the pan, then remove to a cooling rack. Once cool, store in an airtight container on the counter or place in freezer bags and freeze.
-Manda