Quesadillas are one of my go-to, quick dinners when I don't feel like spending a lot of time making something (which is pretty much always when it comes to dinner!). Usually we do chicken & cheese or bean & cheese, but with fall approaching (maybe? It's been wicked hot here, still! 😣), I thought it might be fun to change up our usual quesadilla fillings with something a little more seasonal.
These quesadillas make for a perfect lunch or light dinner – filled with melty brie cheese, maple infused apples, bacon and arugula! You really can't go wrong with that combination! I also added in a bit of honey mustard for a little extra sweet & spicy kick!
Brie, Apple, and Bacon Quesadillas
(makes about two 8-inch quesadillas)
– 1-2 apples, cored and cut into thin slices (I used Ginger Gold)
– pure maple syrup
– 8-inch flour tortillas
– honey mustard
– 1 round (8 ounces) Brie cheese, rind removed
– 3-4 slices of bacon, cooked and cut into small pieces
– arugula
In a large skillet, heat a tablespoon or two of maple syrup over medium heat. Add apple slices and cook for 2-3 minutes or until slightly tender. Remove from pan and set apples aside. Wipe pan clean and spray lightly with cooking spray. Heat over medium heat. Place a tortilla in the prepared skillet, spread a thin layer of honey mustard on tortilla. Top with slices of brie, apples, bacon, and arugula. Place another tortilla on top and cook for 2-4 minutes on each side or until golden brown. Cut into wedges and enjoy!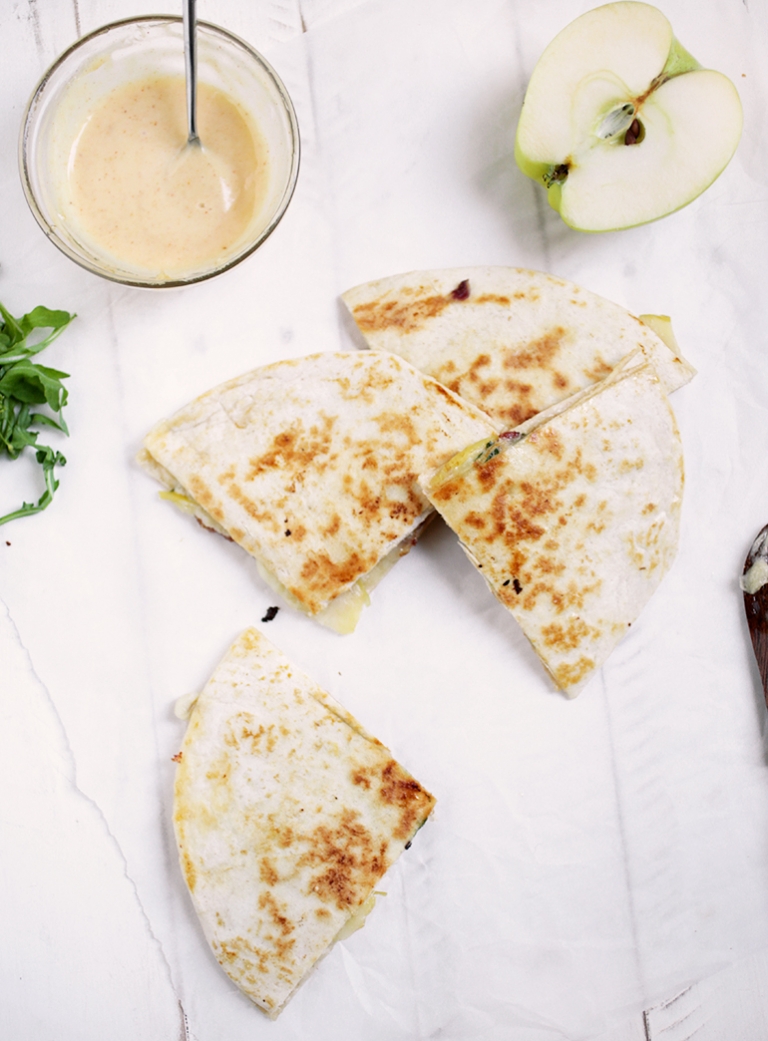 Have any favorite quesadilla fillings? I'd love to hear them as they're one of my favorite quick dinners to make!
-Manda