It's officially school season here in Western New York – my boys started today! We're partnering with Evoke Healthy Foods again to bring you these homemade, healthy muesli bars that would make a great after school snack for your kiddos…or you!


Those that have been readers for a while know that I tend to go just a tad bit more unhealthy for my treats & desserts 😉 ; but when I was thinking through options for recipes, I really wanted to try making some granola bars that were made with only dates, no extra sugar added, to see how they were and if I enjoyed them.  (My mom would be so proud!). I've seen a bunch of different types of recipes for energy bars, or bites, made with dates and I was intrigued. Would this sugar-loving girl really be able to enjoy this?? And as you can see, I did end up adding some chocolate to some of the bars, because well, that sweet-tooth! It is dark chocolate, so at least I went with the "healthy chocolate" option! Feel free to skip that if you're keeping it real healthy!


I'll admit, while these were chilling in the freezer, I panicked that they would be awful and I wouldn't like them, let alone want to share them on the blog, so I quickly whipped together another homemade muesli bar option that wasn't quite as healthy as these (but definitely still a lot healthier than some of the granola bars you can buy at the store!). But after trying these, I decided they were very good and safe to share with you! And now I have another muesli granola bar recipe to share later (and if your kids aren't that adventurous of eaters, that one might be the better after-school treat for them!).


No-Bake Muesli Bars
12 oz. medjool dates, pitted (about 2 cups)
2 1/2 cups muesli (I used Antioxidant)
dark chocolate, melted
sea salt flakes
Place dates in a bowl and cover with warm water, let soak for about 10 minutes, then drain. While dates soak, line an 8"x8" pan with parchment paper, leaving extra paper hanging over the edge (to lift the bars out with), set aside. Pulse dates in a food processor (make sure they are pitted!) until thick & smooth (like a thick jam) and only small pieces remain. You will probably need to scrape the bowl down a few times during pulsing and can thin out with water if needed while pulsing. Add muesli and pulse until blended. Press muesli mixture firmly into prepared pan, smoothing out the top. Place in freezer to chill. Once chilled, remove from pan and cut into slices and dip slices into melted dark chocolate (I just spread a layer of chocolate on the top of mine). Sprinkle with sea salt flakes. Let chocolate harden, place in an air-tight container or freezer bag, and store in freezer (make sure to add wax or parchment paper between bars so they don't stick together). (My bars never froze in the freezer, they stay pretty soft, freezing helps to keep their shape a little better).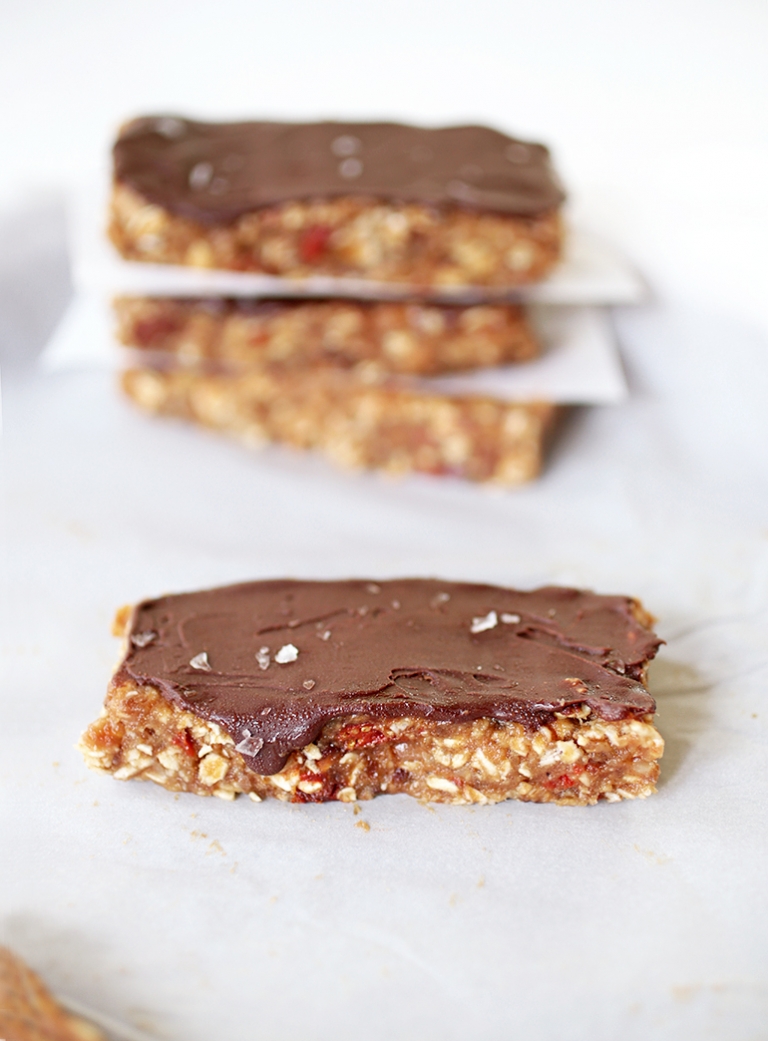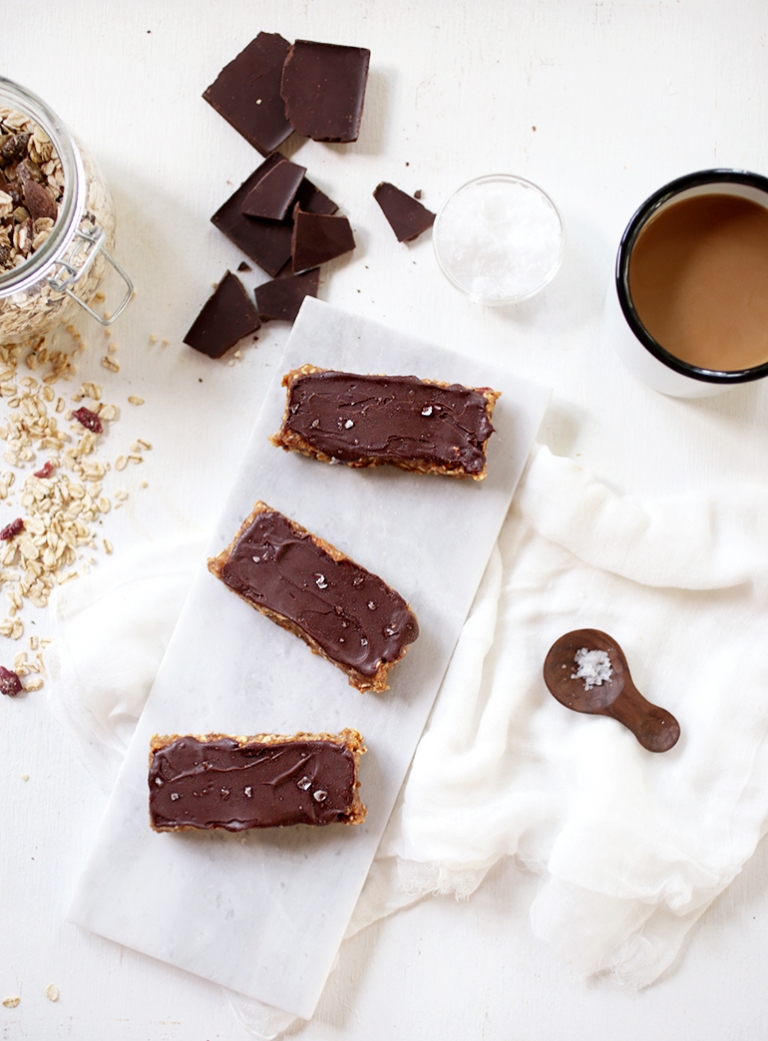 Have you ever tried bars made with dates? Any suggestions for recipes (or tips) that you really enjoy? If you're a fan of muesli, you should try our Muesli Breakfast Popsicles – another delicious, healthy treat and also a great after-school treat option (or breakfast on the go)!
– Manda
Sponsored by Evoke Foods. Recipe, thoughts and opinions expressed are our own. Thanks for supporting the brands that keep us bringing fresh, new content to you!