I love list-making. I'm constantly rewriting lists of what I need to do each day throughout the week or supplies I need to buy or project idea lists. I'm not usually too organized with my lists though and I usually have a stash of them that end up at the bottom of my purse. This wall notepad is perfect for me because I can pull off the entire notepad to think through my list and write things out and then hang it back on the wall to remind be what needs to be done. And the chalkboard space at the bottom is good for quick reminders.
This project is also the perfect way to put to use all of the little to-do lists/notepads that you've received as gifts or couldn't pass up in the dollar bins at Target. 😉

Materials Needed:
-craft wood (15″x5.5″x1″)
-tape measure
-pencil
-drill
-countersink drill bit
-velcro
-chalkboard paint
-notepad
-tape
-paintbrush
Directions:
Measure and mark 1.5″ from each side and 2″ from the top along the top side of the board. Use the drill and countersink bit to pre-drill and countersink the hole so you can use these holes to screw the board into the wall later.
(Photo: Instructions1)
Attach velcro to the wooden board right above the holes and to the back side of the notepad.
(Photo: Instructions2)
Put tape around the board so there is 5″ left at the bottom. Use two coats of chalkboard paint to cover over this area.
(Photo: Instructions3)
Screw board into wall, making sure it is level and then attach the notepad.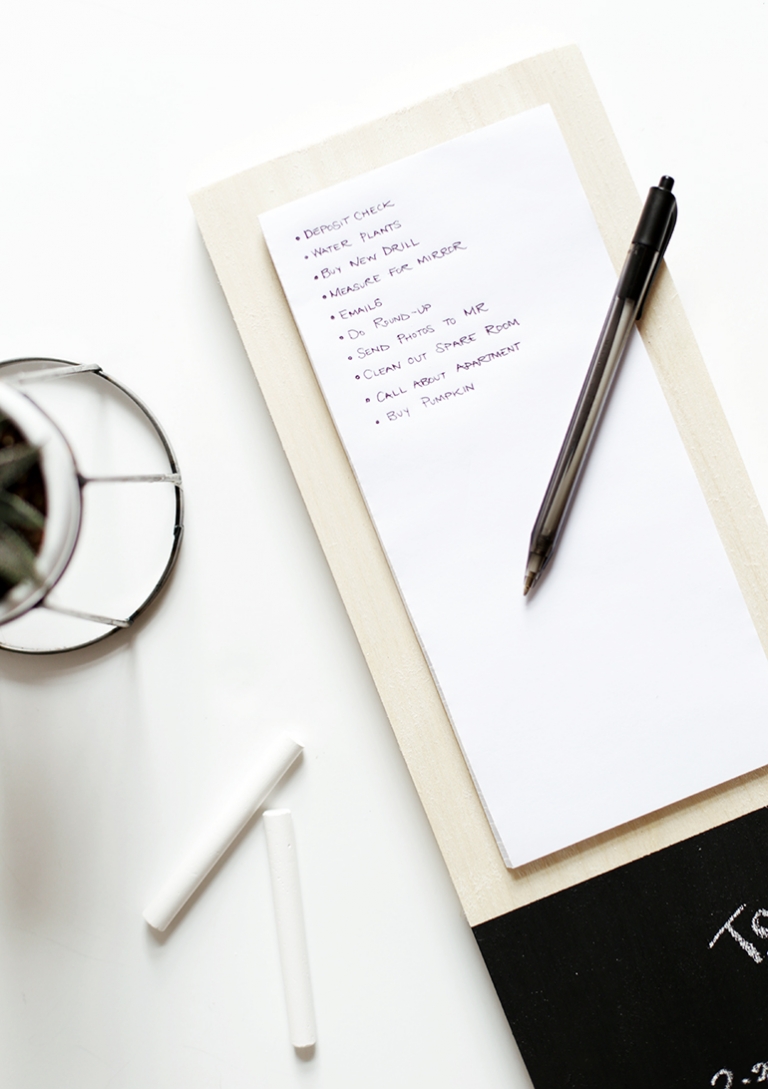 xo. Caitlin