I love that green food – or any food you can turn green – is considered common fare for St. Patrick's Day. So now I can say that if you're looking for a dessert for the 17th, these mint cookies 'n cream ice cream sandwiches are just the thing! 😉


Mint ice cream is a favorite in our house. We love mint chip, peppermint stick, mint-ting-a-ling…pretty much any variation of mint is good with us! I've had some Oreos to use up (I buy them to use for baking – they're my "crust cookies") so I decided to make a cookies 'n cream version.  And at the last minute I had the inspiration to throw in some hot fudge and it is sooo good!  You definitely don't need to add in the hot fudge, but I recommend you do!


Mint Cookies & Cream Ice Cream Sandwiches
makes approximately 10-14 sandwiches, depending on the size cookie cutter you use
Mint Cookies 'n Cream and Hot Fudge Ice Cream
2 cups heavy cream
1 cup whole milk
1 cup sugar
pinch of salt
2 teaspooons mint extract
6 egg yolks
green food coloring (not necessary)
1 1/2 cups Oreo cookies, broken into pieces (generic brand is fine)
3/4 cup hot fudge
In a large saucepan, whisk together the heavy cream, milk, sugar, salt, and mint extract. Heat over medium heat until very hot, but not boiling. In a medium bowl, whisk together egg yolks. Slowly pour about 1/2 cup of the hot milk into the yolks, whisking constantly, this gently warms the egg yolks (so they don't become scrambled eggs!). Keep adding the milk slowly, constantly whisking, until you have about 1/2 of the hot milk mixture stirred into the eggs yolks. Pour the egg mixture back into the pan with the remaining milk and heat over medium heat, stirring, until the mixture reaches 165-170ºF. Remove from the heat and strain through a sieve into a large bowl. Let cool to room temperature (you can set the bowl in an ice bath to speed up the cool down process). Add green food coloring if desired and mix well. Cover and refrigerate 6-8 hours or overnight.
Once mixture is completely chilled, churn the ice cream mixture in your ice cream maker. In the last 5 minutes of churning, slowly add in the cookie pieces. (Or mix in by hand). Pour about half of the ice cream into a 9×13 pan that's lined with wax paper, making sure that the ends of the wax paper extend over the pans (to use as handles to lift it out). Drop spoonfuls of the hot fudge over the ice cream layer, using about half the hot fudge. Top with remaining ice cream. Drop spoonfuls of the remaining hot fudge over ice cream layer. Gently swirl the ice cream & hot fudge with a knife. Cover and freeze 4 hours or until firm.
Cookie Sandwich Dough:
1/2 cup (1 stick) unsalted butter, softened
3/4 cup powdered sugar
1 large egg yolk
1/2 teaspoon pure vanilla extract
1 cup all-purpose flour
1/4 cup + 1 tablespoon cocoa powder
pinch of salt
Beat the butter and powdered sugar together in a large bowl with an electric mixer on medium speed until light and fluffy. Add the egg yolk and the vanilla to the butter mixture and beat to incorporate. Reduce mixer speed to low and slowly add the flour, cocoa, and salt. Beat until a firm dough forms. Wrap in plastic and chill for 20 minutes. Preheat oven to 350 degrees F.
Line two baking sheets with parchment paper and set aside. Divide dough in half and roll one half of the dough out to 1/4 inch in thickness. Using a 2.5-3-inch round cookie cutter, cut out circles. Poke holes into the cookies with the end of a wooden skewer. Place the cookies about 2 inches apart on the prepared baking sheets and bake for 8 minutes. Repeat with remaining dough. Remove from oven and let cool for 5 minutes on the pan. Transfer the baked cookies to a wire rack and let cool completely.
Assemble the sandwiches: Place half of the cookies face down. Remove the ice cream from the pan. Using the same cookie cutter as you used for the cookies, cut circles from the ice cream. Place one piece of ice cream on each of the cookies and top with remaining cookies. Wrap tightly with plastic wrap or place in airtight container and freeze until set — about 30 minutes.
Cookie recipe from Country Living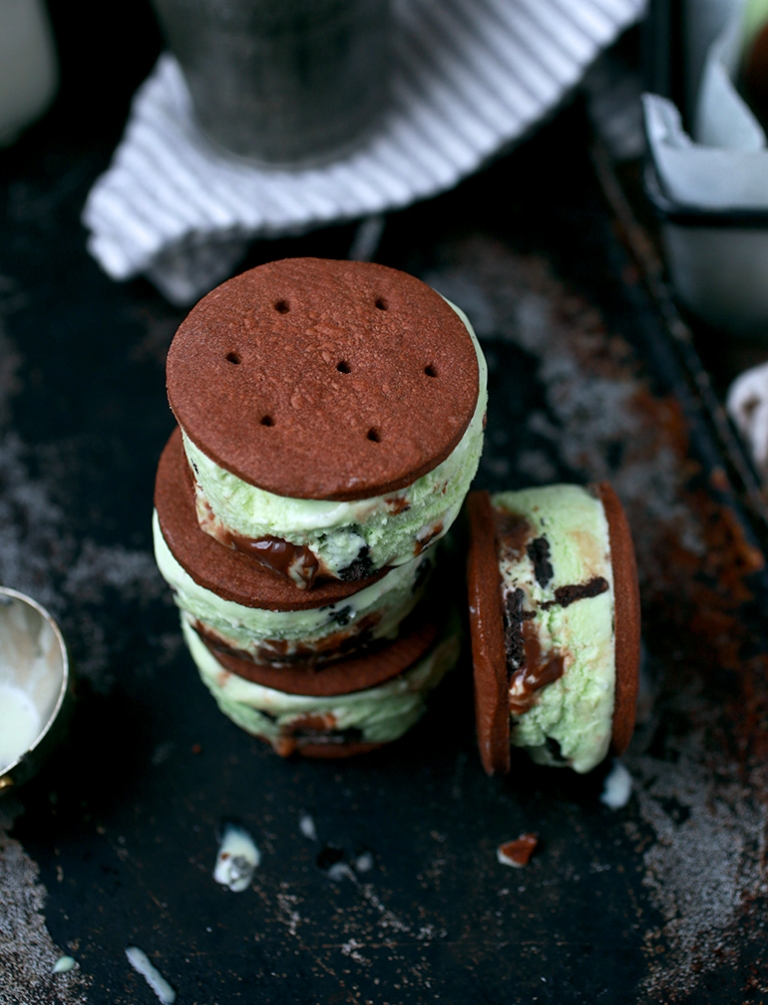 If you're looking for something that's a little easier/quicker to make for St. Patrick's Day, but just as green & delicious, try these homemade Shamrock Shakes!
-Manda