I feel like I should start off this post with a disclaimer: I have never actually had authentic Mexican Street Corn….like from a street vendor, in Mexico…or from a street vendor, anywhere! (It's on my life goals list though folks!)  I first heard about it a few years ago from my brother, Craig, who lives in Brooklyn, and has actually had it from a street vendor. He made a version of it for us on a family vacation and I fell hard for this delicious take on a summer staple.  If you've been a reader for a bit, you may have noticed that we like lime & cilantro quite a bit; so it's no surprise this is a favorite here! We also live surrounded by corn fields (sadly, mostly cow corn fields, but there have been years when we could walk right across the road to our neighbor's massive sweet corn field! And it's still sweet corn country around here!), so corn on the cob is pretty much eaten alldayerryday this time of year! And to me, Mexican Street Corn is the best way to enjoy corn on the cob!


(You'll notice the recipe has no exact measurements or ingredient amounts (except for the spicy lime mayo), and hopefully any Type-A's out there can handle this, but it will just depend on how many you're feeding. You know that. I don't. And it's not an overly complicated recipe, so I think you'll do okay guesstimating how much corn, cilantro, cheese, etc. you'll need! 🙂 )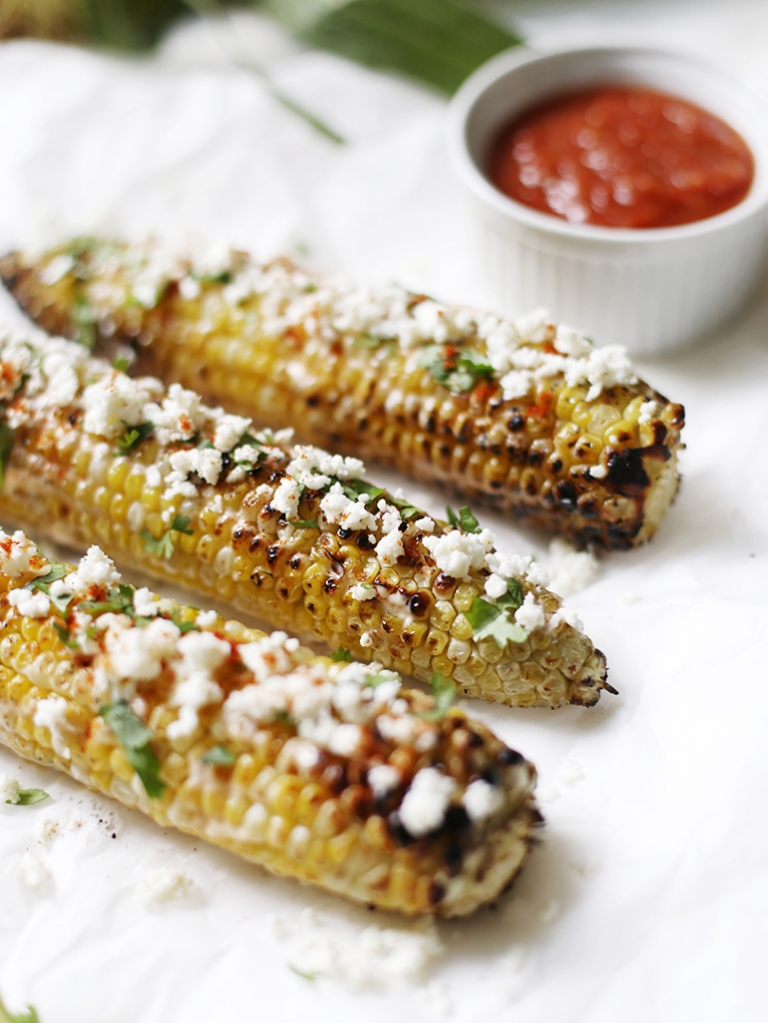 Mexican Street Corn
corn on the cob
olive oil
salt, to taste
spicy lime mayo (recipe below)
fresh chopped cilantro
queso fresco cheese, crumbled
paprika or chili powder
limes, cut into wedges
To grill the corn, remove husk & silk from corn, rub lightly with olive oil and sprinkle with salt. Grill over medium high heat, 10-12 minutes, turning the ears of corn often, until kernels are crisp tender and slightly charred.
Apply spicy lime mayo (recipe below) to the grilled corn, sprinkle with cilantro, cheese, paprika or chili powder and lime juice.
Spicy Lime Mayo:
1/2 cup mayo
few dashes of hot sauce, to taste
1/4-1/2 teaspoon cayenne pepper (to taste)
1 tablespoon fresh lime juice
In a small bowl, combine ingredients and stir until blended. Taste and adjust seasonings as desired. Use immediately or refrigerate until ready to use.


And this corn (and all corn on the cob!) needs to be eaten while using Caitlin's adorable DIY Wooden Corn Holders! So this weekend, do a little crafting and then put that craft to good use with this recipe!
-Manda