Last week we shared about our visit to Nick Tahou Hots, a local restaurant that's well-known for their Garbage Plates. We recommend dropping by there for a visit if you're ever in the Rochester area, just to say you've at least tried a Garbage Plate (and now I can finally make that claim too, geez, it's about time)! We know that many of you won't be in this area anytime soon, so we thought we'd share our own version of a Garbage Plate so you can make a variation of this dish at home!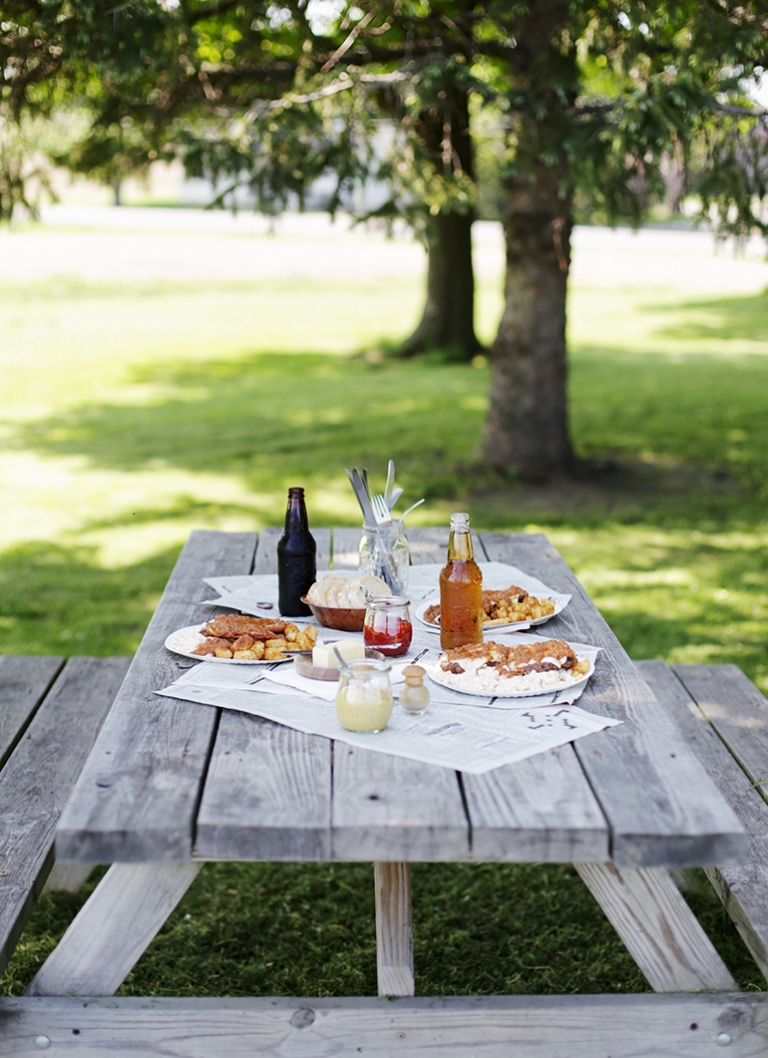 In case you missed that post, and you're wondering what in the world a Garbage Plate is, you're basically taking your entire picnic menu, dumping it on your plate, smothering it in a meat sauce and digging in! Garbage plates consist of macaroni salad and/or baked beans with either home fries or french fries. On top, a choice of two: cheeseburger, hamburger, red hots, white hots, Italian sausage, chicken tender, haddock, fried ham, grilled cheese, or eggs. It's topped off with onions, mustard and Nick's signature hot sauce — which is sort of like a ground meat chili.


We know it sounds odd and not exactly desirable (especially the name!), but trust us, once you try a few bites of this goodness, you'll be hooked! Below we're sharing a recipe for our own "hot sauce" recipe and how to go about putting together a Garbage Plate.


For our hot sauce and cheeseburger patties, we used premium ground beef from Bannister Beef. We're pretty proud to be supporting this farm – it's owned by my Uncle Roger, cousin Rob and his wife Bailey! (We featured Bailey's floral baby shower on the blog last spring!) Bannister Beef is a local, family owned farm, that has been raising quality Angus cattle for three generations (on a farm started by our Grampa!). We think it's so important to know where your beef is coming from and how the cattle are raised. While I won't be one to ever state, go organic on everything, all the time, we try our best to be aware of where and how our food is produced, eat local when possible and this definitely always pertains to beef for us. You can read more about the farm, see what they have to offer, and place orders on their website  – and they do offer shipping! For our local readers, they deliver in the Rochester/Buffalo area as well as being at a few local markets!


Garbage Plates
Hot Sauce:
1/2 medium onion, finely chopped
2 small cloves garlic, minced
1 pound ground beef
1 1/2 cups water, and
4 oz tomato paste
2 teaspoons brown sugar
1 teaspoon black pepper
1 teaspoon chili powder
1/2 teaspoon paprika
1/4 teaspoon cayenne pepper
1/8 teaspoon cinnamon
1/8 teaspoon cloves
1/8 teaspoon ground allspice
1/4 teaspoon ground cumin
salt to taste
In a large skillet, heat the onion and garlic over medium heat for a couple minutes. Add the ground beef and cook until browned. Add the water and tomato paste, stirring until mixed in. Simmer for about 10 minutes. Pour the mixture into a blender (or use an immersion blender if you have one), and blend for about 10-15 seconds, just enough to give the meat a finer texture.* (You may need to do this in batches to avoid over-filling/spills in your blender). Add the meat mixture back into the skillet, and turn the heat to medium low. Add in the remaining spices and let the mixture simmer for at least 30 minutes. Add more water as it simmers if necessary, it should be slightly watery (but not a soup!). Use sauce right away or store covered in the refrigerator.
*This step is not necessary, but gives the hot sauce the most similar texture to the original hot sauce.


For the Plates:
cheeseburger patties**/hot dogs/any of the meats mentioned above – grilled/cooked 
frozen tater tots or french fries – baked according to package directions
macaroni salad
baked beans – cooked/heated 
spicy brown mustard
hot sauce (recipe above)
bread and butter
To build the plates, fill half of plate with macaroni salad or baked beans. Fill the remaining half with fries or tater tots (we liked the tater tots best!). Or you can do any combination of mac salad, beans, fries/tots. Place two cheeseburger patties (or whatever meat desired) on top of that. Drizzle mustard on top of the patties and ladle hot sauce over patties. Serve with a side bread and butter.
**patties that are thin and large work best
(Again, just to repeat, this is our own version of a plate, it's not Nick's recipe, just a copycat recipe!)


Gather up some friends this weekend and have a Garbage Plate picnic!  Try out a few different plate combinations and let us know what you think!
-Manda & Caitlin
Beef provided by Bannister Beef, a family company we're proud to endorse and support! All ideas, thoughts and opinions expressed are our own. Thanks for supporting the brands that support The Merrythought.