Having three little boys gives me a chance to relive some of my favorite childhood staples – like a fluffernutter sandwich! (For those that have never had one – it's a peanut butter and marshmallow fluff sandwich).  It's been a favorite of Lincoln's & Levi's lately…they ask it for all the time. It's why I ended up trying out a fluffernutter grilled cheese – I knew it would be a hit with the boys!  And why I decided trying the cookie version had to happen…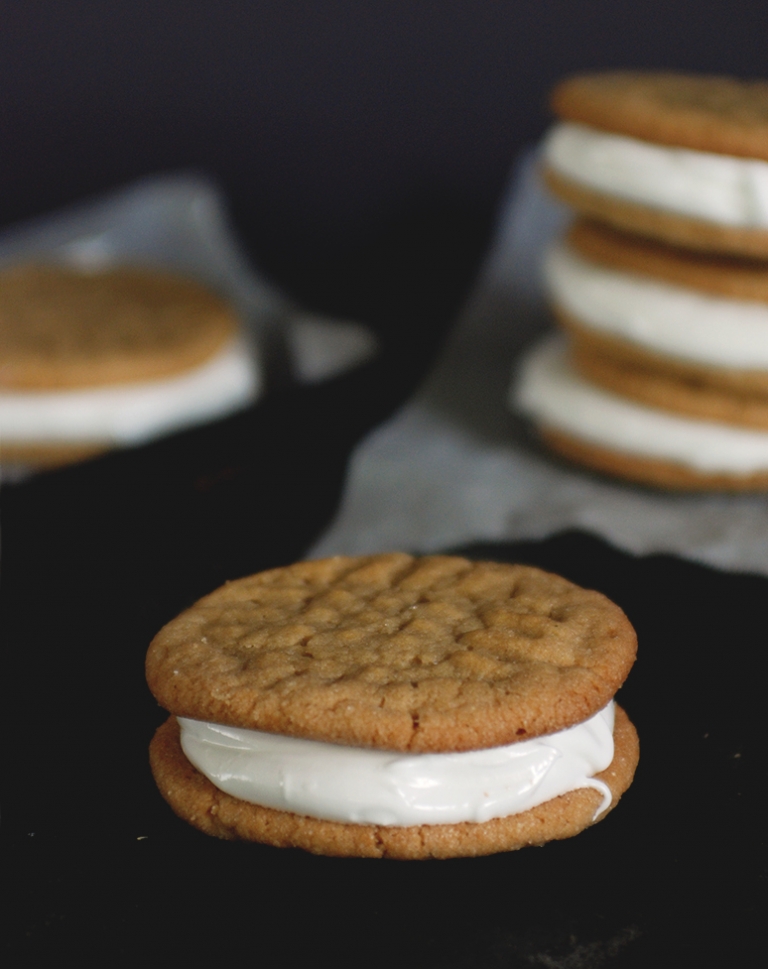 Over the last couple months, I noticed a few different variations of peanut butter and marshmallow cookie recipes while browsing on Pinterest and I knew I had to try making my own fluffernutter cookies. I decided to use my favorite peanut butter cookie recipe (minus the peanut butter cup chunks) and the amazing marshmallow frosting from the S'mores Cupcakes for the filling.  These fun cookies are soo good and are definitely reminiscent of a fluffernutter sandwich – but a lot better of course – it's cookies!


Fluffernutter Cookies
Cookies:
1 cup butter, softened (for this recipe I like it very soft – but not melted!)
1 cup peanut butter
1 cup granulated sugar
1 cup packed brown sugar
1 tsp. baking soda
1 tsp. baking powder
2 eggs
1 tsp. vanilla
2½ cups all-purpose flour
granulated sugar for rolling
Preheat the oven to 350˚ F. Line baking sheets with silicone baking mats or parchment paper. (Or just use ungreased baking sheets).
In the bowl of an electric mixer, combine the butter and peanut butter. Beat on medium-high speed until light and fluffy, 2-3 minutes. Add in the granulated sugar, brown sugar, baking soda, and baking powder. Beat till combined, scraping sides of bowl as needed. Beat in the eggs and vanilla till combined. Gradually add in the flour and mix just until incorporated.
Shape dough into golf ball size balls, roll in granulated sugar. Place dough onto the baking sheets, spacing 2 inches apart. Using a fork, make crisscross pattern on top, pressing down slightly. Bake 10-12 minutes, or until the bottom edges are just starting to get golden. The cookies may seem soft immediately after coming out of the oven but they will set as they cool. Let cool on the baking sheets for a few minutes, then transfer to a wire rack to cool completely.
Filling:
6 large egg whites, at room temperature
1 ½ cups sugar
1/2 tsp. cream of tartar
1 ½ tsp. vanilla extract
Combine the egg whites, sugar and cream of tartar in a bowl set over a pan of a few inches of simmering water. (Use your clean, dry mixing bowl to avoid dirtying two bowls.) Heat the mixture, whisking frequently, until it reaches 160° F with an instant-read thermometer. Transfer the mixture to the bowl of an electric mixer fitted with the whisk attachment. Whisk starting at low speed and gradually increasing to medium-high speed until stiff, glossy peaks form. Mix in the vanilla until combined.
To assemble: Place a big spoonful of filling on bottom of one cookie. Top with another cookie. Enjoy! Refrigerate (or freeze) leftover cookies in an airtight container.
Tip: place cooled cookies in freezer while making the filling – that way the cookies are very firm and cold when spreading the filling on.
Makes about 18 sandwiches (3.5 inch size)

What was your favorite childhood sandwich?
-Manda