A while back, Mike found this old dresser along side the road. The guy has a knack for scoring great free curbside finds! It did need a little TLC (and still does), but for my handy carpenter, that's not a problem. This dresser was replacing the one that had been in Levi's room…I sold his old dresser as soon as we brought this one home, as I didn't want two dressers sitting around upstairs. So Mike did a few things to get it into usable condition, like replacing the top of the dresser and getting it cleaned up so we could use it right away. But I've been going back and forth as to what I want to do to it. Paint? Some paint? Strip it? The longer it's been sitting there though, the more the look of it as is has been growing on me. I like the contrasting wood where Mike had to rebuild the top compared to the dark stain of the old wood. And I like the slightly beat-up, weathered look it has. But the lack of drawer pulls has been driving me crazy! We've had to leave the drawers slightly open all the time so that we could pull them open when needed. I was also going back and forth on what kind of drawer pulls I wanted (can you tell I have trouble making decisions!). I'd seen a few variations of leather drawer pulls and finally decided that's what I wanted to do. We thought a leather belt would work perfectly for this – it'd be the right thickness (thin leather won't work well for this, it won't be sturdy and can stretch) and we could thrift one for just a few dollars.



What you need:
Leather Belt

Nails* (we used 3/4″ ring shank copper nails)

Hammer

Scissors

Measuring tape
How to do it:
Decide how long you want your handles to be and cut belt to length, remembering to add in space so that the leather can come out a couple inches from the dresser.  Remove the drawers from the dresser and line up the leather handle where you want it.  Our dresser had holes where the previous pulls were, so we made sure to cover those, but lined it up so that our nails would be going in a new hole, not going into the old hole.  Nail the one end of the handle in place.  Take the other end of the handle, push it out and up so that it creates a few inches of space, nail that end down.  Repeat with remaining handles.
*I would try to find nails that are long enough to go into the dresser and not pull out, but not be longer than the drawer thickness, or they will poke through and possibly snag your clothes.  Or your hand. Not fun.  If yours do come through, make sure to hammer the ends down and cover them with something.


I'm so excited to finally have drawer pulls on Levi's dresser! No more messy looking open drawers!!  And it only cost $2 (we had the nails on hand) and took Mike about 10 minutes to do! Yay for easy, cheap diys that make my life easier!
I'm thinking I might have Mike replace the very bottom of the dresser so that it's all the lighter color wood (like the two small pieces that he had to put in) and then just leave it.  What do you think? Any good suggestions for fixing up this baby??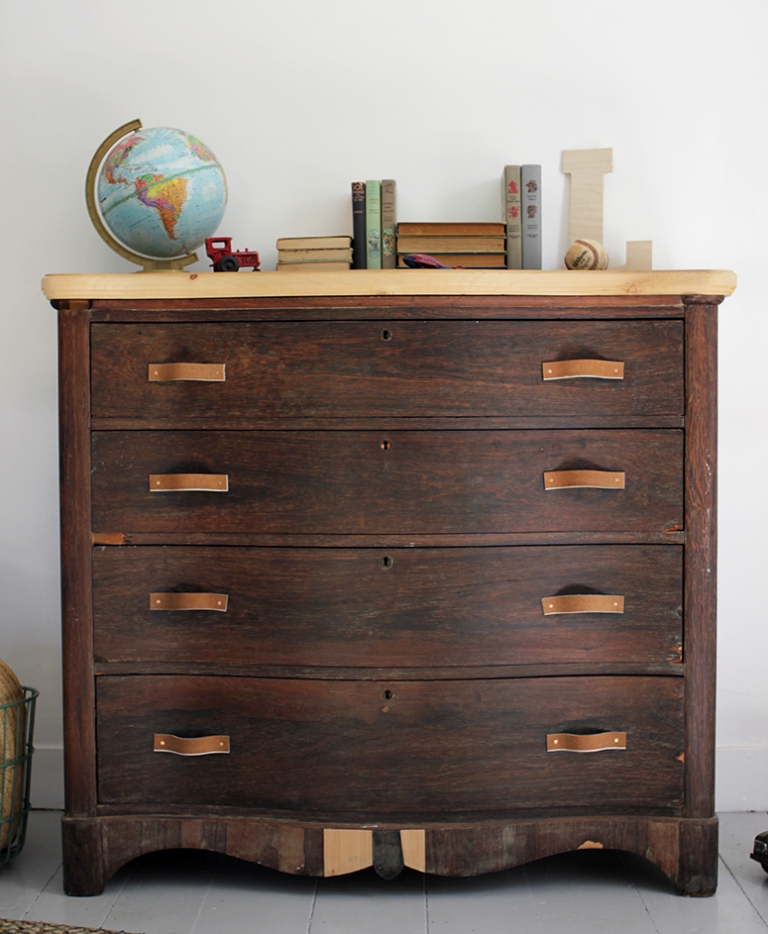 -Manda