We have a couple floral recipes we'll be sharing as part of our 
floral gatherings
inspiration! These recipes are the perfect addition to any spring and summer gatherings you may be having. (And they'd also make a pretty treat for mom come Mother's Day!) I actually made this recipe for Caitlin, as she likes light desserts – not too sweet or rich for her. Since I tend to be the opposite when it comes to dessert, most of what I'm making isn't really her thing, so every once in a while, I try to whip up a treat or two that she'll love. And these floral strawberry tarts are just that – light, slightly sweet and oh so delicious! I'm really into the mascarpone whipped cream – I think it might be
my
new fav!
We've used edible flowers in a few different recipes before (
floral donuts
,
floral goat cheese
,
mocktails
and even topped a
hot dog
with some!) and love finding different ways to use them. You can find edible flowers online, in the produce section of some grocery stores or check at a local farmers' market. You can also grow your own. Just be sure that the flowers you use have not been treated or sprayed with any kind of pesticides/chemicals.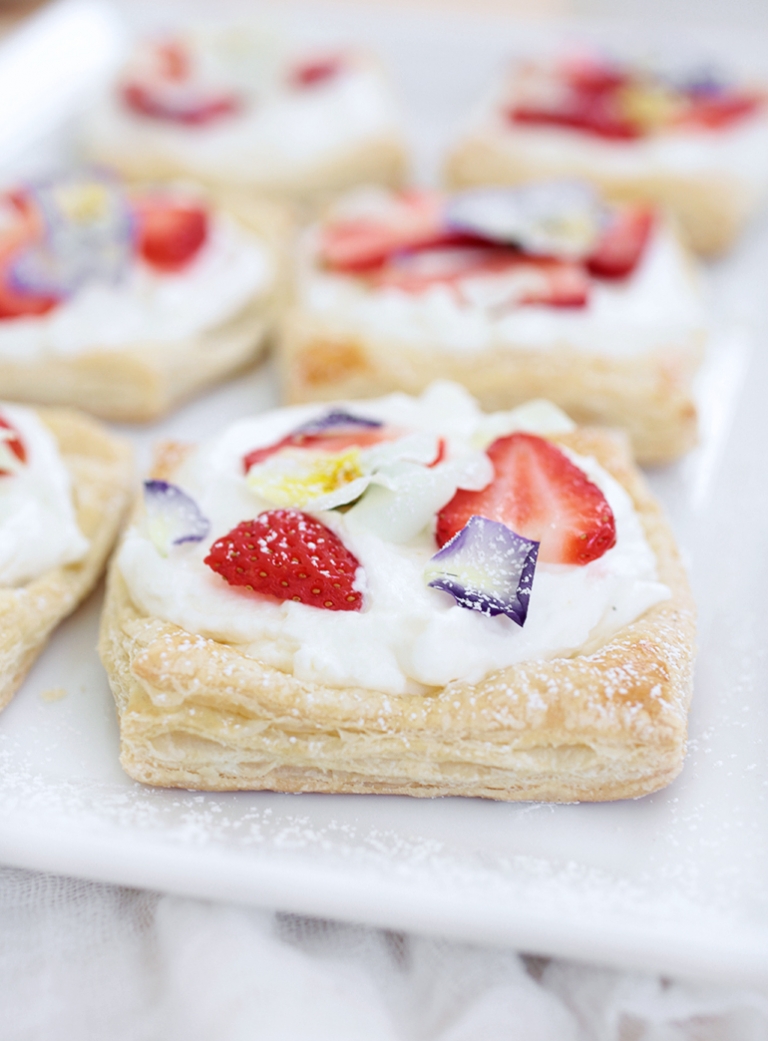 Floral Strawberry Tarts
puff pastry crust (recipe below)
mascarpone whipped cream (recipe below)
fresh strawberries, sliced
edible flowers (read above on where to find them)
powdered sugar
Spread whipped cream over puff pastry crusts. Top with strawberry slices and edible flowers. Dust with powdered sugar. Serve immediately.
Puff Pastry Crust
frozen puff pastry sheets (thawed for 40 minutes right before use)
Preheat oven to 375ºF. Line baking sheets with parchment paper and set aside. Unfold pastry sheet onto lightly floured surface. Roll the pastry sheet slightly to make the sheet a little thinner. Cut the sheet into small squares/rectangles (it's best to cut along the fold creases so they don't separate while baking). Place squares on baking sheet and prick lightly with a fork. (If you'd like to have indents on your tart squares – makes for easier topping, place a small, oven-safe ramekin on the square and bake with that on it – works like a charm!). Bake for about 10-12 minutes or until light golden brown. Let cool on baking sheets for about 5 minutes, then remove to wire rack to cool completely.
Mascarpone Whipped Cream
2 cups heavy whipping cream
8 oz mascarpone cheese
2 teaspoons vanilla extract
1/2 cup powdered sugar
In a mixer fitted with whisk attachment, mix together mascarpone, vanilla and sugar until combined. Add in heavy cream and beat on medium high until soft peaks form.
-Manda