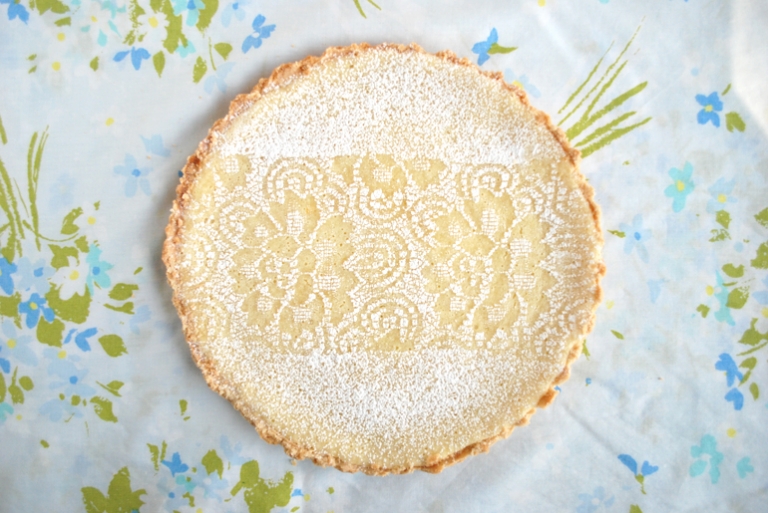 Rumor has it that it's the first day of spring today. You wouldn't believe it stepping outside here. Snow and freezing cold…seems like old man winter still has a tight grip on these parts. Good thing we have bright, cheerful, spring-like desserts to give us hope that warmth will someday be here!


I'm a pretty big fan of lemons. I love their sweet tartness. And lemons in a dessert, swoon.  This tart is a favorite lemon dessert of mine.  So smooth and creamy.  Nice and lemony without being overwhelming, with a yummy shortbread crust.

CREAMY LEMON TART
FOR THE CRUST:
1/3 cup butter, softened
1/4 cup powdered sugar
1 tsp. vanilla
3/4 cup flour
FOR THE FILLING:
4 oz. cream cheese, softened
1 cup granulated sugar
1 egg + 1 egg white
2 tbsp. flour
zest from 1 lemon
juice from 1 lemon
powdered sugar for dusting on top
HEAT oven to 350°F. Grease 9-inch by 1-inch tart pan and set aside.
BLEND butter, powdered sugar and vanilla in a medium bowl with pastry blender until well combined. Gradually mix in flour. Press onto bottom and sides of prepared pan. Bake 10-12 min.
MEANWHILE, beat cream cheese and granulated sugar in medium bowl with mixer until well blended. Add egg and egg white, beating well. Add the 2 tbsp. flour, lemon zest and juice; mix well.
POUR cream cheese mixture over crust. Bake 25 min. or until center is set. Cool completely. Sprinkle with powdered sugar.  Keep refrigerated.  (I think this tastes best chilled for a bit)


(Recipe adapted from Kraft)
Here's to warmer weather + sunshine – happy first day of spring!   Manda