Oy…things have been a bit crazy around here lately. For the last couple of weeks at least one person in our family has been sick, usually there's a couple down (and it's mainly been Levi and I…just passing our colds back & forth, each time a little bit worse). Ughh. So I've had a lot of sleepless nights. And combined with the busyness of the season, I'm beat!  I'm hoping Santa brings us health and lots and lots of sleep.  Like 20 years worth…I might feel better after that. Maybe.
You know what does wonders for the sleep-deprived, sick and exhausted? This hot chocolate.  It's the best – yup, I'm making that claim – hot chocolate I've ever had.  It is so creamy and rich, it's really a dessert all on it's own.


I first made this a couple of years ago and then kind of forgot about it. I don't know how I could have done that!  It's back on my list of things I need to make for every person that comes over so they can see how good it is now. I used bittersweet chocolate because of the sweetness of the condensed milk and I think it's perfect like that. However, if you're not a fan of bittersweet chocolate, you can just use semi-sweet. (Kids might appreciate that more!)  Just make sure, whatever you use, to use a good quality chocolate; for recipes like this where the chocolate is such a prominent flavor, I really think it makes a difference!
And be sure to top it with something delicious – like homemade whipped cream, or some eggnog marshmallows – those are delicious in it!  And I'll be sharing the how-to for these delicious white chocolate peppermint sticks tomorrow – because a little of that melted into it is magical!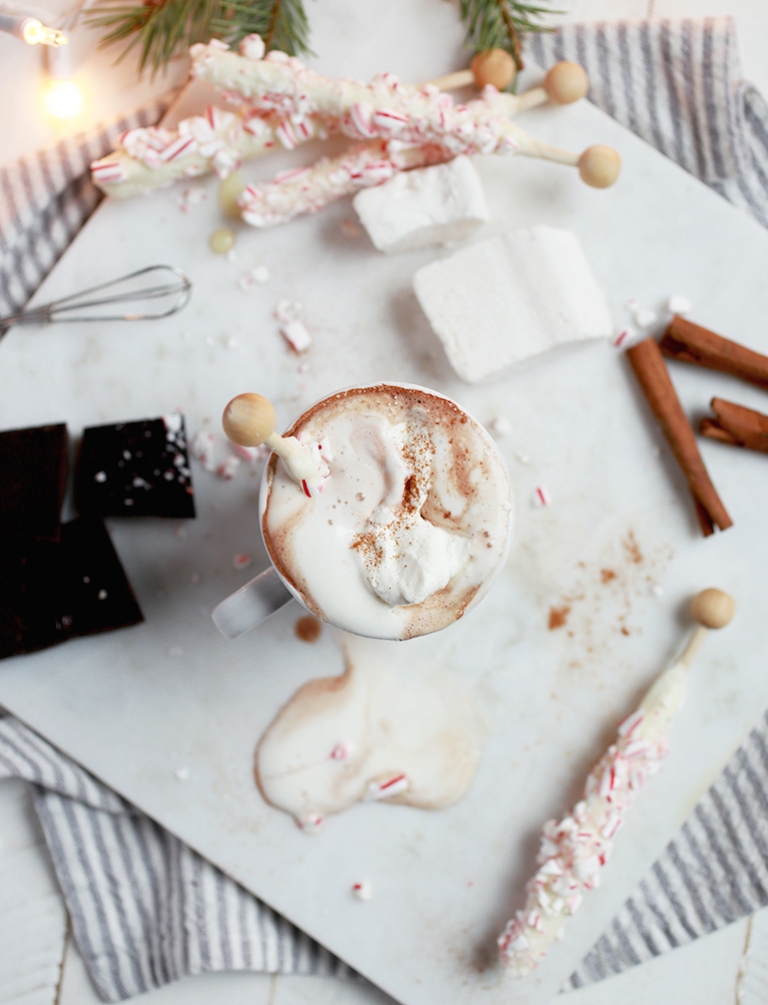 Creamy Hot Chocolate
1 1/2 cups heavy whipping cream
1 (14 oz.) can sweetened condensed milk
2 cups bittersweet* chocolate chips – I use Ghirardelli
6 cups milk (use whole milk for extra thick hot chocolate)
2 teaspoons vanilla extract
In a large pot over low heat, combine all of the ingredients and whisk together. Continue to heat, whisking occasionally, until chocolate is completely melted & combined and mixture is hot.  Garnish with marshmallows, whipped cream, cinnamon sticks, white chocolate peppermint swizzle sticks, or whatever your favorite hot chocolate topping may be!
Try adding in a pinch of cayenne pepper or a tablespoon of instant espresso (or both together) for a nice kick!
*You can substitute semi-sweet chocolate chips instead.
Adapted from Crockpot Ladies

What's your favorite drink to sip during the winter? My other favorite indulgent drink is this Aztec Mocha! And of course, coffee is always on the top for favorites, year round!
– Manda
(Also, I realize all of my drinks lately have featured over the top spillage – I really had no intention of doing that again.  And then I tried moving my "table" and my incredibly full cup ran over!  So, I guess it's just my thing now….messy, messy drinks, whether I want it or not!)