Around this time I start getting really anxious for warm weather to actually arrive here in Western NY. (Get these boys outta my house and let us all breathe in some fresh air!) And while it's slowly,
slowly
coming, it never seems soon enough after the long, dreary winters we have. So I try to bring some spring/summer foods to our table to tide us over until spring has really sprung. And these little desserts – they'll make your heart & belly so happy you'll forget that it's still only 40 out. And raining. Again.
I've been wanting to use pizzelles in a recipe for a while, they're such pretty looking cookies. I'm not a fan of anise flavor (which I think is the traditional pizzelle flavor? Really I'm not sure, I've been too lazy to do any research), but they sell them in vanilla & chocolate flavor, and being a vanilla girl, I was set. I wanted something easy, sweet and perfect for a spring or summer brunch. I used the filling from our favorite
No-Bake Blueberry Cheesecake Pie
, and topped it with some fresh fruit. The result – an addicting, delicious, easy-to-make treat! We have a video below, so you can watch how simple these are to make!
I will note that our grocery store was out of regular pizzelles when I went, so I bought gluten-free ones, and they were sooo good! They also stayed nice & crispy even with the filling on them for a few hours. So, these can be a gluten-free dessert if you'd like. I found regular pizzelles (for a whole lot cheaper at Aldi's) and while still delicious, they do get a little "soft" after sitting with the filling on them for a bit.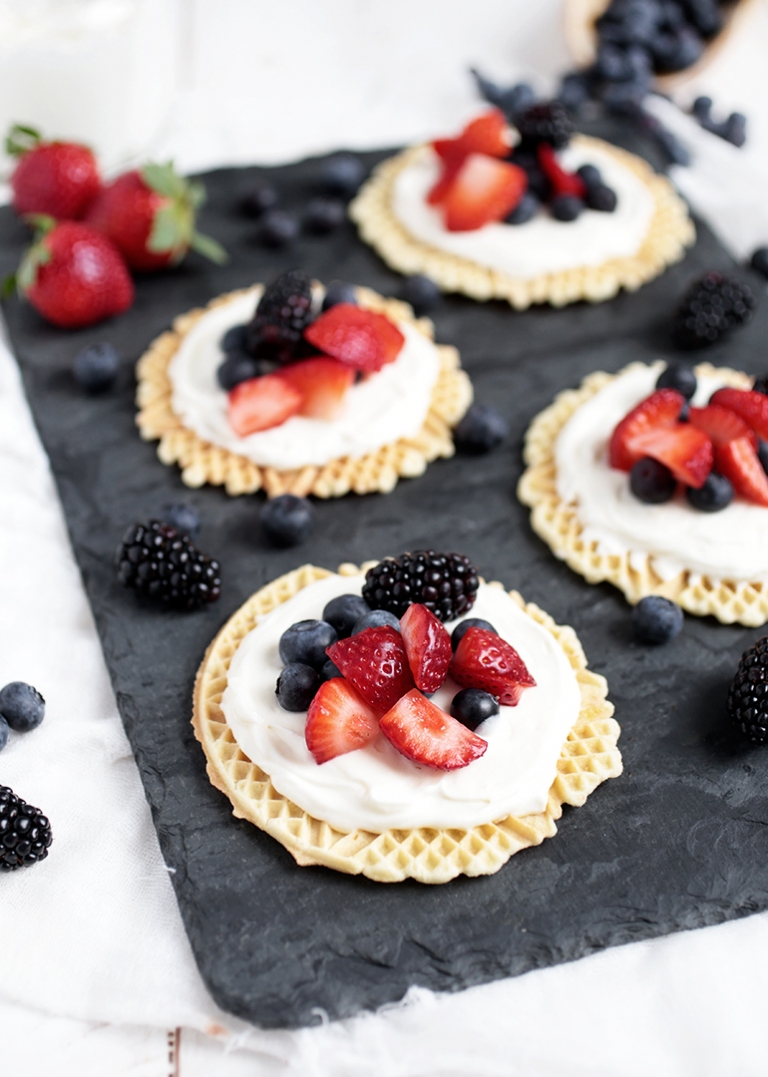 Creamy Fruit Pizzelles
4 ounces cream cheese, softened
1/2 cup powdered sugar
1/2 teaspoon vanilla extract
1-1/2 cups whipped cream (I recommend homemade whipped cream!)
pizzelles (I used vanilla flavored pizzelles)
fresh fruit
Mix cream cheese, powdered sugar and vanilla together until smooth & creamy. Fold in whipped cream.
Top pizzelles with cream cheese mixture. Top with fresh fruit. Serve immediately.
-Manda