So, anyone have eating healthier as a New Year's resolution this year? I do! I actually started a new eating plan at the beginning of December – talk about a hard time to make that change with Christmas goodies appearing (and needing to be made!) every other day! But it was time and I was ready and feeling motivated. I hope to share more about that change in a few more weeks; once I feel like I'm a little bit further along in that journey.  But this salad has been a constant on my table over the last month or so, and since I'm pretty much obsessed with it, I thought I'd share it with you!


I actually have my cousin Rachel's husband's nut allergy to thank for this, as odd as that is! Rachel & Doug had a beautiful baby girl last fall and I took them a meal shortly after sweet little Willa was born.  I was including a salad with my meal and ended up buying a few ready to serve mixes (the ones with toppings & dressing) because Doug has a peanut allergy, but I wasn't sure if he could have almonds or not, I grabbed a few varieties to have options available.  He does avoid almonds, so I ended up keeping a bag that had almonds included in it for myself.  (Also, can I say how nerve-wracking it is to make food for someone with an allergy…I was so paranoid a nut ingredient would be in something I didn't know!!)
That pre-made mix ended up being the inspiration behind this salad. I knew it would be much cheaper for me to buy my own ingredients and make my own salads from scratch, rather than keep buying the mixes, so that's what I did.  I do always buy lettuce mixes though, I hate washing and chopping lettuce, so I buy organic triple-washed, ready to use lettuce. (Little fact I've discovered: the organic lettuce mixes seem to last a lot longer than the non-organic, not sure why that it is, but it holds true for me, so it's definitely worth it for me to spend more on organic lettuce).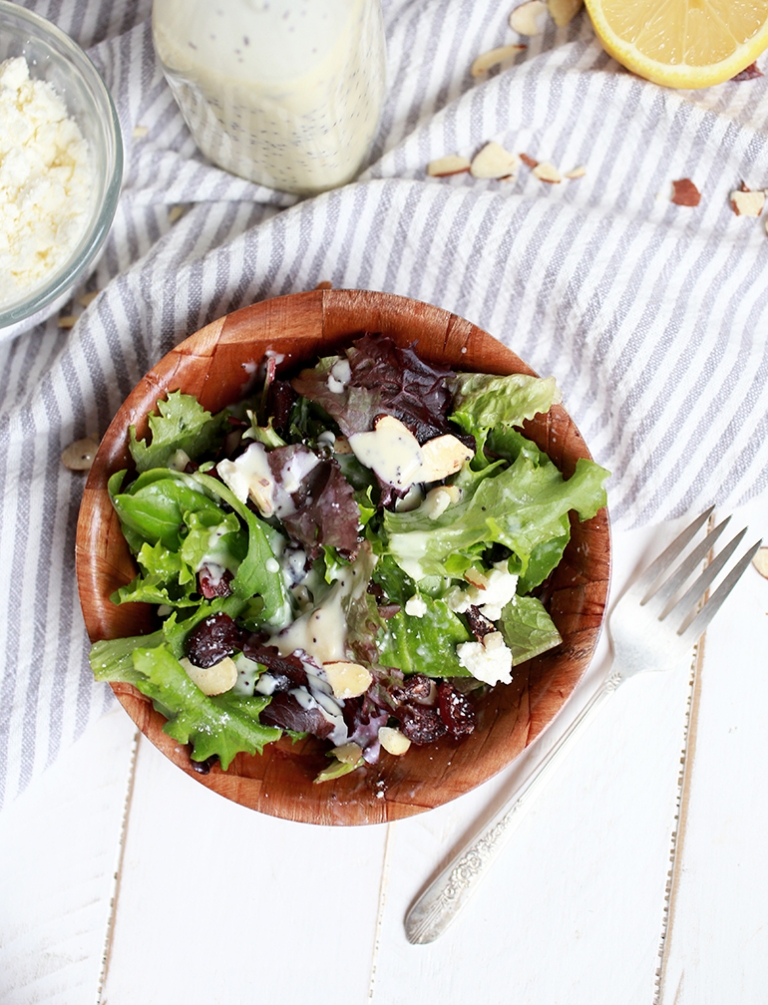 I didn't include exact measurements for the salad recipe, I just throw my ingredients into the bowl, using what looks about right for the amount of people that will be eating.  I also sometimes throw cooked, chopped chicken in with it to make it a meal. And my grocery store carries a mix of sliced honey roasted almonds with dried cranberries
(<– that'a link so you can see what I use, however that's an outrageous price to pay for some nuts & berries, so check your stores to see if they carry it – it'll be lots cheaper than that!), so I just buy that bag and dump some on – so easy! My grocery store also sells a delicious yogurt poppyseed dressing, and I love it, but I did my best to recreate it so that you could make it yourself if you're not lucky enough to live near Wegmans. Using low-fat or greek yogurt as a base, instead of mayo, helps keep this a healthier dressing option.
The combination of dark greens paired with crunchy almonds and sweet cranberries, along with feta cheese (feta makes it betta is what I always say!), and topped with a sweet, tangy dressing is perfect!  Even my boys have started gobbling this salad up!


Cranberry Almond Salad
mix of dark greens such as spinach, romaine, chard, radicchio, arugula… (I buy the "Spring Mix")
sliced almonds (I like honey roasted)
dried cranberries
crumbled feta cheese
Fill a large salad bowl with the lettuce mix. Top with almonds, cranberries and feta. Serve with Yogurt Poppyseed dressing (or your favorite dressing).
Yogurt Poppyseed Dressing
6 oz. lowfat plain yogurt or greek yogurt
2-3 tablespoons honey
1-2 tablespoons dijon mustard
1 tablespoon apple cider vinegar
1 tablespoon lemon juice
2 teaspoons olive oil
1 teaspoon poppy seeds
Whisk together ingredients in a small bowl until combined. Taste and adjust seasonings as desired. Store in a jar or bottle in the refrigerator. Shake before using.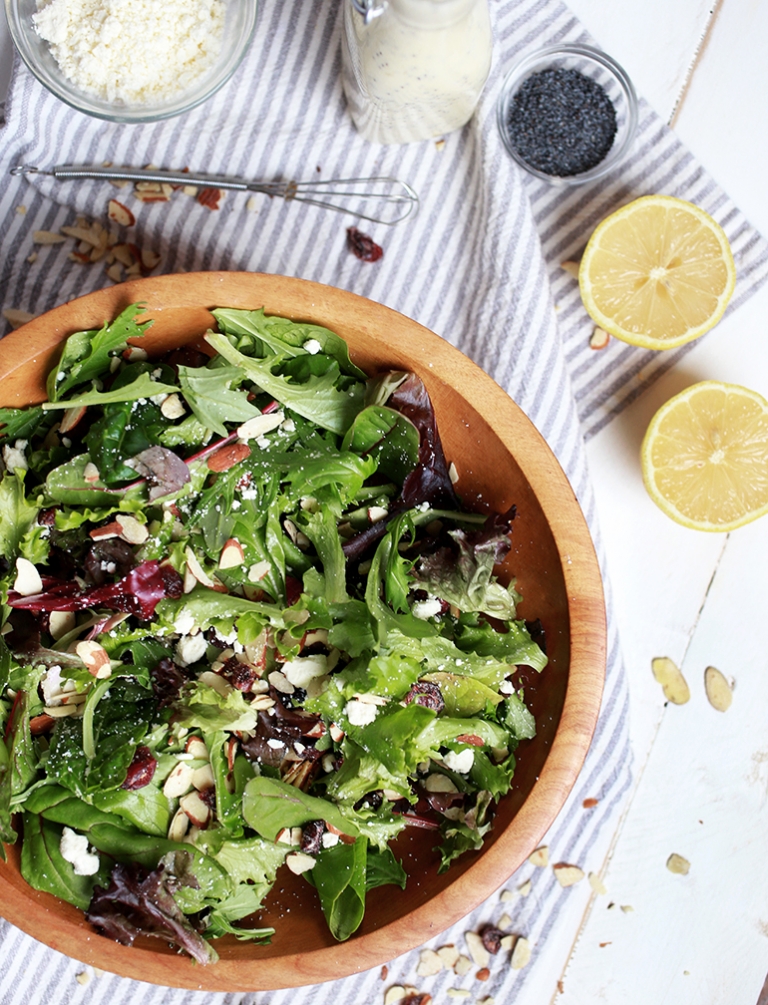 Any great salad recipes that keep you eating healthier? Let me know – I'm stock piling healthy recipes now!  Plus, I think my family is getting tired of me serving this salad every other day, so they'd appreciate some suggestions! 🙂
-Manda