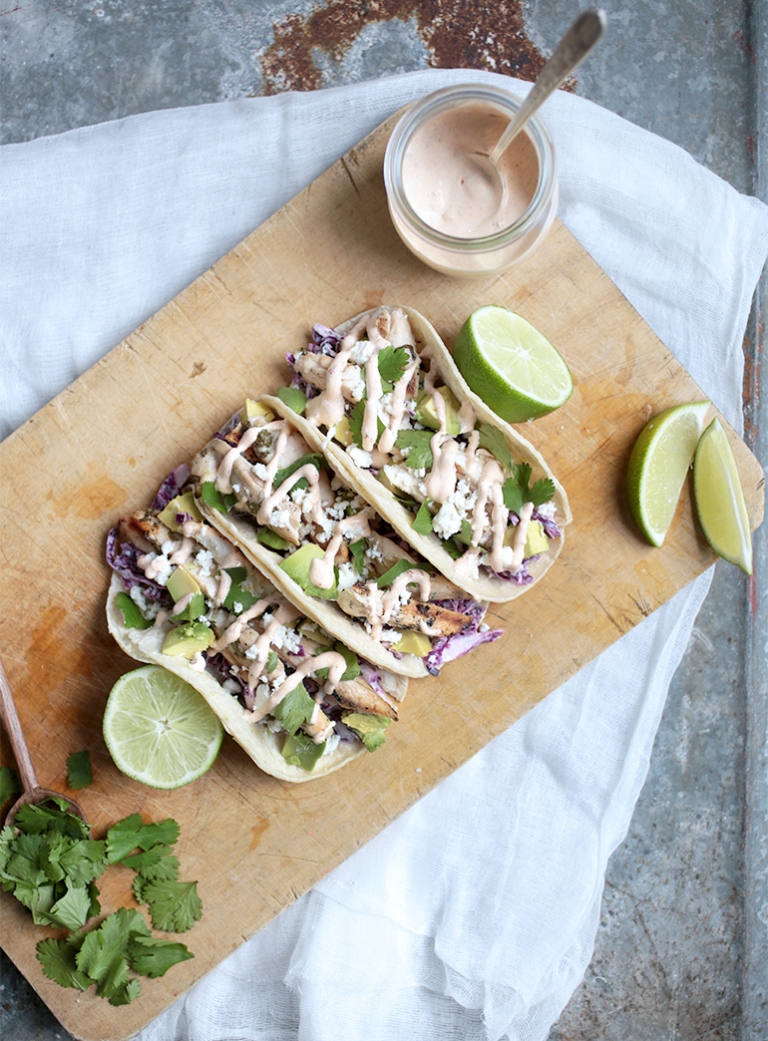 So this recipe is going up about two weeks later than I intended; I realize Cinco de Mayo has come & gone and most people have moved on from tacos & margaritas.  However, tacos are a regular in our home, I'd happily eat them every day if my family would go for it! And friends, I've been so, so sick!  For the last three and a half weeks (insert sob face emoticon here)!   What started out as a viral sinus infection turned into bronchitis/borderline pneumonia. I've spent a lot of time coughing and quite a few days barely making it out of bed! Thankfully, I seem to finallyyy be getting better, although there's still a lot of coughing happening around here! And now I'm finallyyy getting around to sharing these delicious tacos with you! They're light, refreshing and if you're a fan of lime & cilantro like we are, you're sure to love them!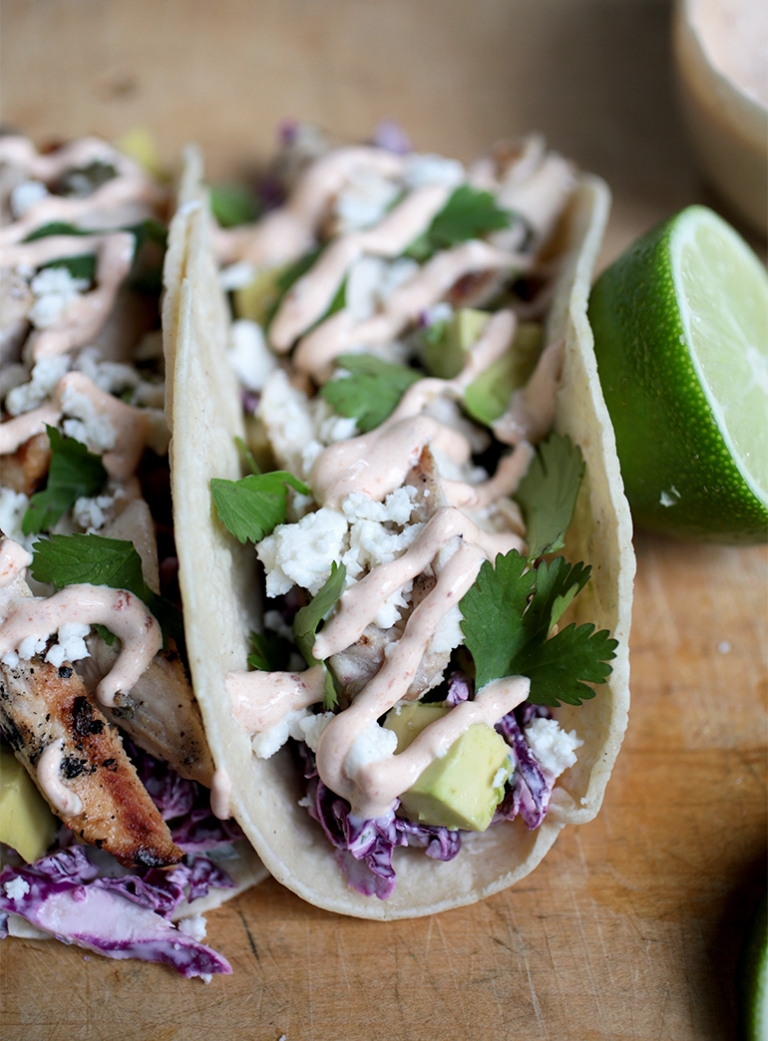 Cilantro Lime Chicken Tacos with Chipotle Crema
Cilantro Lime Chicken
2-3 boneless, skinless chicken breasts, cut into pieces
juice of two limes
3 tablespoons cilantro, chopped
1 tablespoon olive oil
1 clove garlic, minced
salt & pepper, to taste
Marinate the chicken in the mixture of the lime juice, cilantro, oil, garlic, and salt & pepper for 30 minutes (a few hours is fine too if you want to leave them longer). Grill over medium-high heat until cooked through.
Cilantro Lime Cabbage
10 oz red cabbage
1/4 cup sour cream
juice of one lime
1 small garlic clove, minced
1/2-1 jalapeño, diced (use as much as desired for heat)
1/4 cup cilantro, chopped
Mix together cabbage, sour cream, lime juice, garlic, jalapeño, and cilantro.
Chipotle Crema
1 cup sour cream
1 to 2 pieces of chipotle chiles in adobo sauce (start with one, add another if you'd like it spicier)
To make the chipotle crema, place the chipotles and sour cream in the bowl of the food processor and blend until smooth.
Corn Tortillas
Avocados
Cilantro
Lime Wedges
Queso Fresco Cheese
To assemble tacos, layer cabbage mixture, chicken, avocados and cheese on a warm tortilla.  Add chipotle crema and avocado slices. Add extra cilantro and lime juice if desired.

Here's to good health and Taco Tuesdays – all year long! 🙂
-Manda