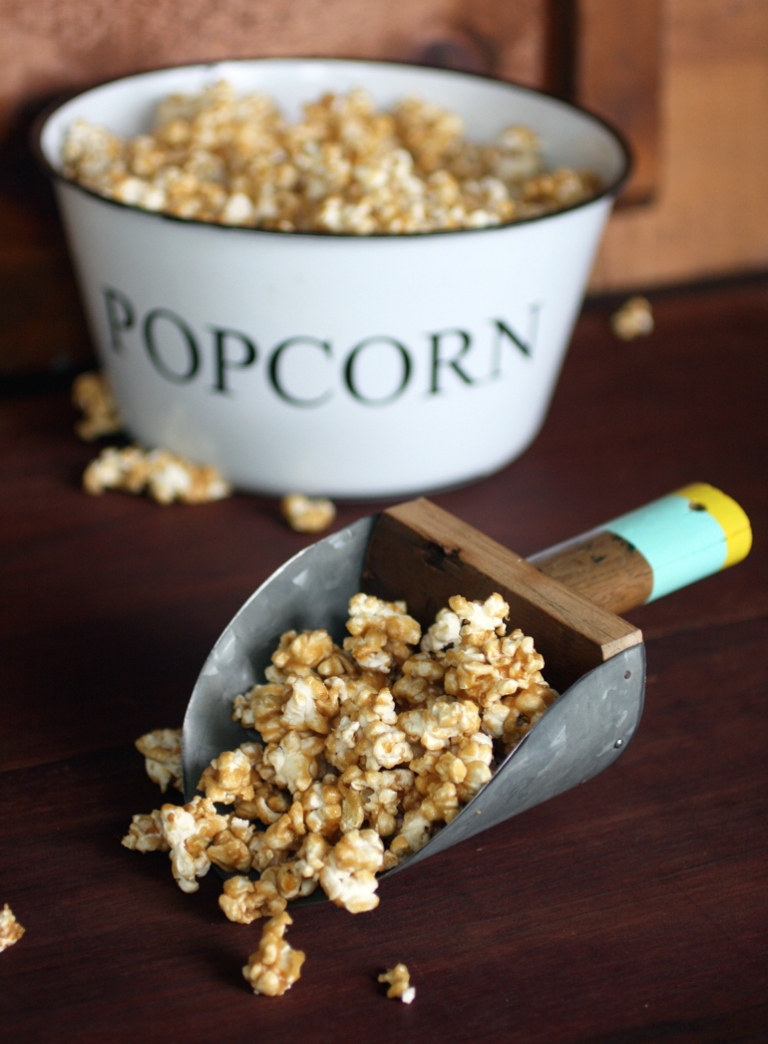 This is one of my favorite treats to make for parties and get togethers. It's pretty easy to make and it's soo good…maybe too good. I just can't stop eating it!
In fact, I got the big popcorn bowl in these photos just for this caramel popcorn. I saw it a while back while out thrifting and I knew I had to get it because I would use it so much to serve this popcorn in.  (My Michael made me the fabulous popcorn scoop…he's pretty amazing!)
This popcorn also makes a nice gift for someone, put it in a mason jar with a pretty tag attached, and you're done!

CARAMEL POPCORN
1/2 cup butter
2 cups brown sugar
1/2 cup corn syrup
1 teaspoon salt
1/2 teaspoon baking soda
1 teaspoon vanilla extract
5 quarts popped popcorn (3 bags of microwave popcorn)*
Preheat oven to 250ºF. Spray two large shallow baking dishes with cooking spray (I use my roasting pans – they work great for this). Pour popped popcorn into baking pans, slowly, looking for kernels and removing those. Place pans in oven to keep popcorn warm while you make the caramel.
In a medium saucepan over medium heat, melt butter. Stir in brown sugar, corn syrup and salt. Bring to a boil, stirring constantly. Boil without stirring 4 minutes. Remove from heat and stir in soda and vanilla (be careful, the mixture will bubble). Pour in a thin stream over popcorn, stirring to coat.
Place the pans back into the oven, stirring every 15 minutes, for a total of 45 mintues. Remove from oven, pour onto wax paper and let cool completely before breaking into pieces.
* I use Natural Simply Salted Popcorn – I think it's best to use a simple, less buttery one.

Have a fun filled weekend! Manda
Adapted from All Recipes.