One of my favorite things to do for the Christmas season is an Advent Calendar with my boys. It's one of their favorite Christmas activities too! Advent calendars are great because they help to remind us of the small joys and wonders of the season in the midst of all the busyness.  I try to make sure our activities are things we can do together as a family and that there are ones just for fun and ones that help show the boys that there's more to the season than just getting things.


We've had a few different ones over the years…starting with one that Marla made for us when Lincoln was a toddler.  I like to have ones that we can personalize and change up the activities. I love that we can customize this calendar because of the chalkboard back – I used a chalkboard marker on it and tested one for erasing and it worked great.  They also will store really well because the trees just slide apart and can lay flat.  This advent calendar does use some power tools, but if you don't have access to any, you can use thinner wood that can be cut using a craft knife or scissors (the thinner wood will be more expensive), or you could even easily do this using cardboard!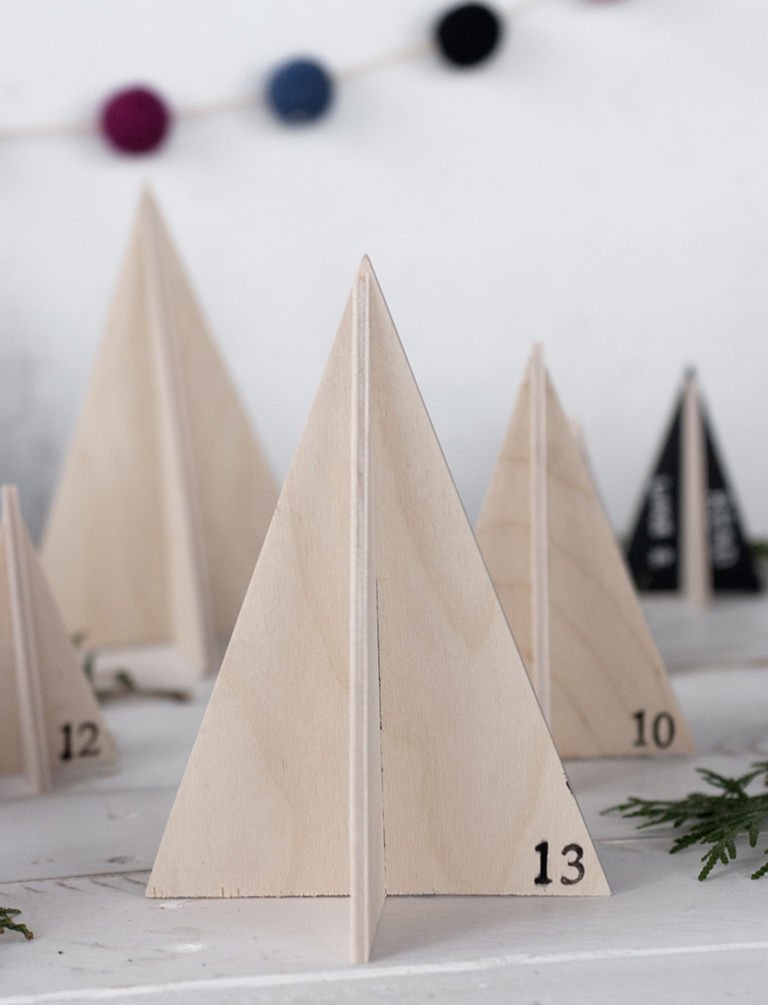 What you need:
– 2 pieces birch plywood – ours measured: 1/8″x12″x24″ (found at Michaels)
– tree template – we made 3: 5.5″, 4″, 3″
– Pencil
– Ruler
– Scroll saw
– Table saw
– Sandpaper
– Chalkboard Paint
– Chalk or Chalkboard Marker
– Number Stamps & Ink



How to do it:
Make your tree templates. We made three sizes, (5.5″, 4″, and 3″) and cut them from cardboard. Trace the trees onto the board, lining up the tree sides together so you can get as many as possible from one board (see photo above). To make 24 trees, I traced 16 of each size (to make 8 trees in each size). Draw a line in the center of the tree, half the size of the tree, alternating the line coming from the top and bottom of tree (see photo above). Cut the trees out using a scroll saw. Cut the center lines, making it 1/8 inch thick (or whatever the width of the wood is) using a table saw. Mike made a jig to use to cut the lines, which made it a lot easier. (Sorry – these steps don't include making jigs…maybe try google if you're interested in learning that). Sand the pieces if needed. Paint one side of the tree with chalkboard, following the directions on your paint can. (Make sure that when you are picking your pieces to paint, you pick one piece of a set that slide together. ) Once the paint is dry, write your Advent activities on  the chalkboard.  Add numbers on the front side of the tree and slide trees together.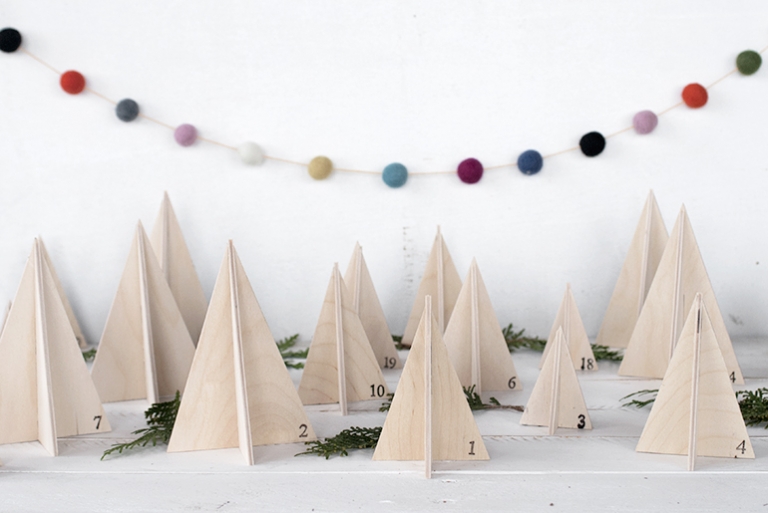 And for those wanting some suggestions for Advent activities, here's some of the ones we do. We don't do all of them, I pick about 20 out and the remaining 4 days are "Treat" days, where the boys get a piece of Christmas candy instead of doing an activity. It helps me to have a few of those days scattered in, that way if we have a busy day, I can make it a treat day.  (And that's a nice thing about this calendar – I can erase the activity for a certain day and fill in a new one that will work better for our schedule!)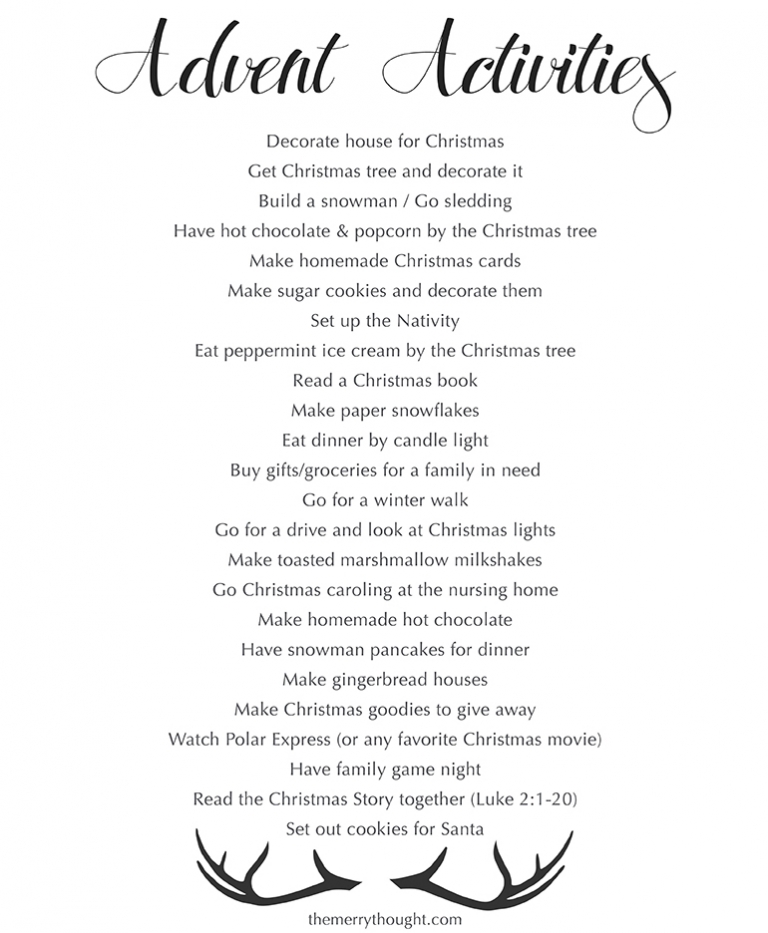 What about you – have you ever done an Advent calendar? Any good suggestions we should add to our list??
For another Advent Calendar idea, check out this DIY Advent Calendar that Caitlin made last year!
-Manda