These apple crisp bars are sweet and delicious and perfect for chilly fall days!
(This is actually an old post that I'm giving some new life! We published this year's ago, it was one of those posts that had bad pictures and seemed to be lost in the archives. It's too delicious to be buried, so a revamp was definitely in order! It also now includes the handy recipe card, which makes it easier to print. I also tweaked a couple minor things.)
Apple Crisp is one of Mike's favorite desserts. I worked on perfecting a recipe just for him (heavy on the brown sugar) and then thought we also needed to try making apple crisp in bar form. It's important to come up with a variety of ways for him to be able to enjoy his favorite dessert. I like to think of this as the to-go version, easy to grab and go. Perfect for packing in lunches!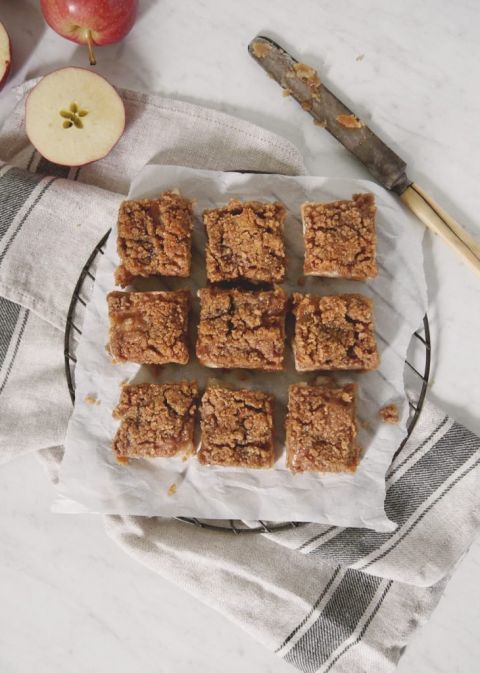 I originally made these for a Summer Picnic we styled and photographed for 585 Magazine – they make a perfect picnic treat as you can eat them without needing a plate or fork.
Apple Crisp Bars with Brown Sugar Shortbread Crust
Ingredients
Shortbread Crust:
1

cup (2 sticks)

unsalted butter, at room temperature

1/2

cup

brown sugar, packed

1

teaspoon

pure vanilla extract

2-1/4

cups

all purpose flour
Apple Filling:
8

cups

peeled, cored and thinly sliced

1/4

cup

all purpose flour

1/2

cup

white sugar
Crumble Topping:
1

cup

brown sugar, packed

1/4

cup

white sugar

1-1/2

cups

all purpose flour

2

teaspoons

cinnamon

1/2

teaspoon

salt

2/3

cup

unsalted butter, cut into small pieces
Instructions
Crust:
Preheat oven to 350º F. Line a 9×13 pan with foil (or parchment paper), leaving extra hanging over the ends. Spray with cooking spray.

(This step is just to help with getting the dessert out of the pan for easy cutting, you can just skip this step and spray the pan directly if you're going to cut the bars directly in the pan).

In a large mixing bowl, beat together the butter and sugar until light & fluffy, about 2-3 minutes.

Add vanilla, mix until combined. Add flour and mix until combined and dough is crumbly.

Press dough evenly into bottom of prepared pan.

Bake for 12-15 minutes, until dough is slightly puffed. Remove from oven and set aside, maintain oven temperature.

While crust is baking prepare the apples & topping.
Apple Filling:
In a large bowl, combine apples, flour and sugar. Mix until apples are thoroughly coated.

Arrange apples on baked crust.
Crumble Topping:
In a medium bowl, mix together first five ingredients. With a pastry blender, cut in butter until mixture is crumbly.

Spread topping over apples in an even layer.

Bake uncovered for 45 minutes, or until topping is golden and apple mixture is bubbly.

Let cool, lift apple crisp using the extra foil at the ends as handles, and cut into bars.
Recipe Notes
Tips for baking apple desserts:
Use a variety of apples, not just one kind. I like to include at least one tart variety when baking apple desserts.
Use apples that are slightly soft. They cook faster so you can be sure that your apples are cooked through; and you won't get crunchy apples in your dessert (deal-breaker in my book!)
Make sure to slice your apples thin; this will also help to make sure your apples are cooked through.
Using this apple corer has made baking with apples so much easier. I can't recommend it enough!
You can find more of our favorite apple desserts and snacks here!
-Manda