There's nothing quite like a lazy summer morning, spoiling yourself with breakfast in bed! Sometime's it's nice to treat yourself (and family!), for no other reason than it's fun! My boys always bring me breakfast in bed for Mother's Day and think it's great, so it's fun to let them experience a little bit of that magic once in a while too! We recently teamed up with Annie's Homegrown to create this delicious coffee cake made with their Gluten Free SnickerDoodle Bunny Cookies!


We received a box full of goodies filled with yummy Annie's treats and it was fun to try out the different flavors – warning, they are soo addicting.  I couldn't stop munching on the SnickerDoodle Bunny Cookies while making this!  Team Annie's has so many treats & recipes to try out – be sure to check it out & join the fun!


Annie's Snickerdoodle Coffee Cake
Topping:
1/4 cup Annie's SnickerDoodle Bunny Cookie crumbs*
1/4 cup brown sugar
2 tablespoons flour
1 teaspoon ground cinnamon
2 tablespoons butter, cold, cut into small pieces
To make the topping: In a medium bowl, mix together cookie crumbs, brown sugar, flour and cinnamon. Using your fingers, mix the cold butter into the dry topping ingredients, until thoroughly mixed, it will look like loose damp brown sugar. Place in freezer while you make the bread batter. (I've found that placing it in the freezer helps to keep it from sinking so much into the coffee cake, although even if it does sink in, it will still taste delicious!)
Crumb Filling:
1/4 cup brown sugar
1/2 tsp cinnamon
2 tbsp Annie's SnickerDoodle Bunny Cookie crumbs*
In a small bowl, stir together the brown sugar, cinnamon and cookie crumbs. Set aside.
Cake:
1 cup milk
1 1/2 teaspoons vanilla extract
2 large eggs
1/4 cup butter, softened
1 cup granulated sugar
1 teaspoon baking soda
1 teaspoon baking powder
1/4 teaspoon salt
2 cups flour
Preheat oven to 350º. Grease a 9×5 inch loaf pan. In a large measuring glass (or bowl), whisk together the one cup of milk, vanilla extract and eggs, set aside. In a large mixing bowl, cream together the butter and granulated sugar until light and fluffy, about 3 minutes. Add about a 1/4 cup of the milk mixture, mixing until just combined. Stir in the baking soda, baking powder and salt. Alternate adding in the flour and remaining milk mixture, mixing just until combined. Pour about half the batter into the pan. Top with crumb filling. Pour remaining batter over that. Remove topping from freezer, spread over the top. Bake for 50-55 minutes or until a cake tester comes out clean.
*I blended my cookies in the food processor to make the crumbs.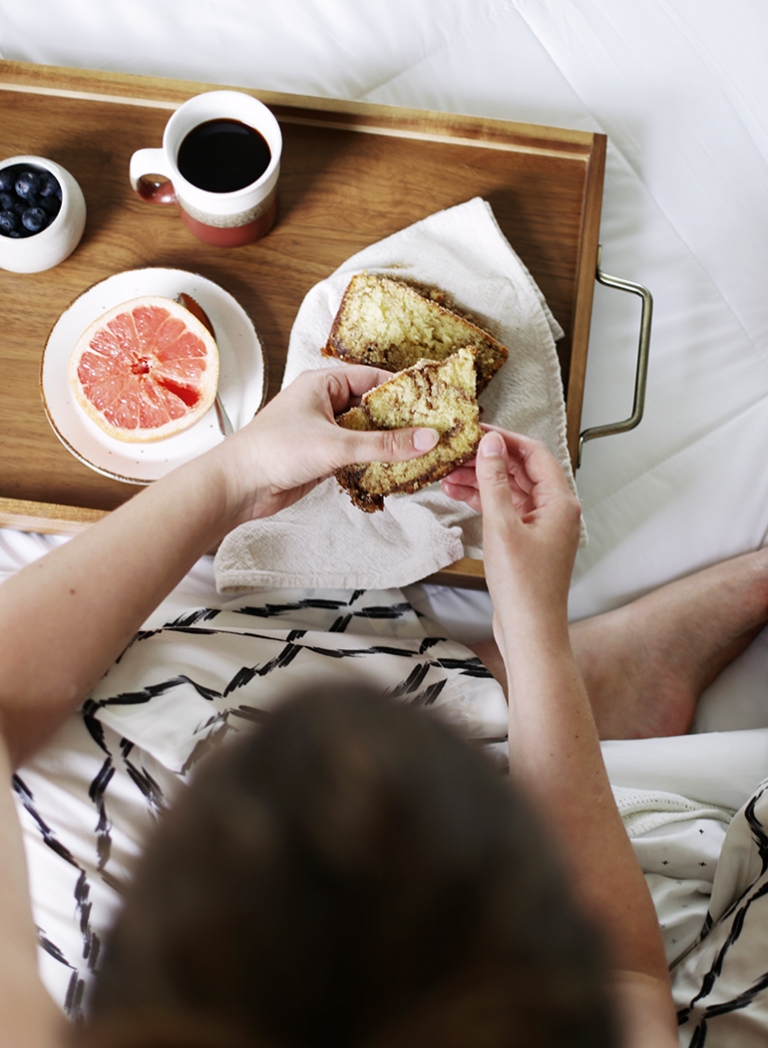 – Manda
Sponsored by Annie's Homegrown. All ideas, thoughts and opinions expressed are our own. Thanks for supporting the brands that support The Merrythought.