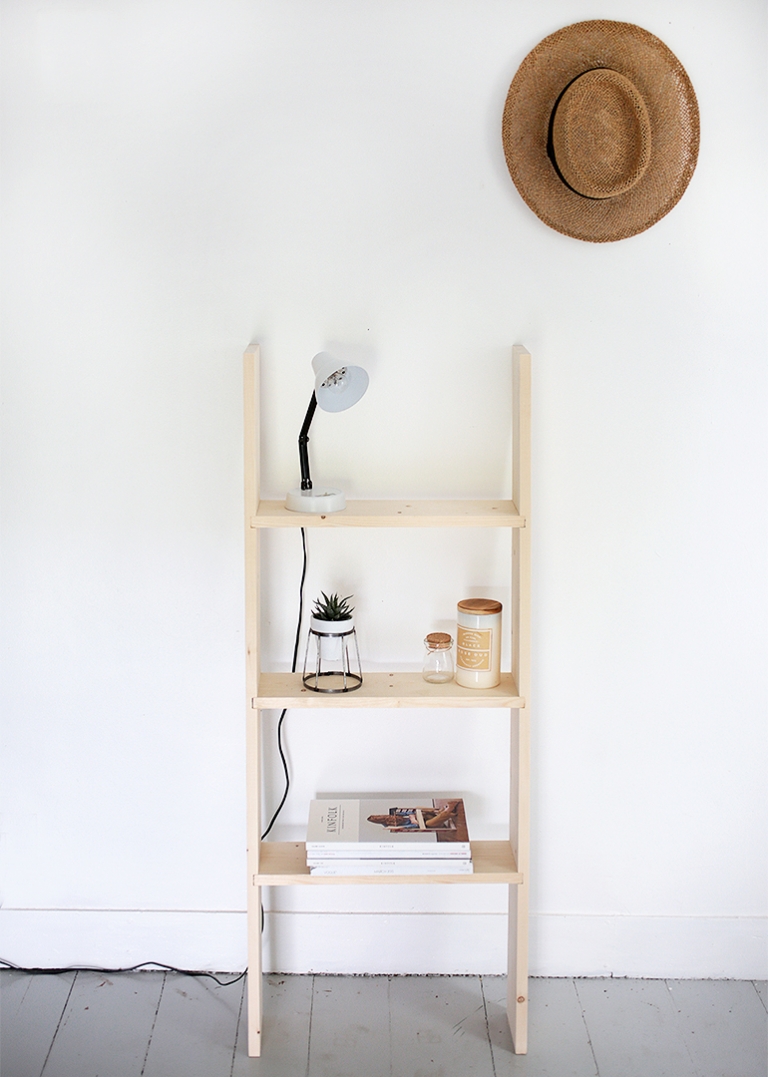 Some updates have slowly been happening in our home. (Emphasis on the slowly – I can't seem to juggle kids, work, life and updating the house – so home projects are always getting pushed to the bottom of the list!  And now that summer is here, pshttt, good luck to-do list!) One of the things we're working on updating is our bedroom and new bedside stands were on my list of things I wanted. I thought a simple ladder-style shelf would work perfect for my side; a few shelves to hold things, but simple and neutral – and of course, made from wood and left natural!


I'm loving the lighter look it gives that corner of the room! And no, these pictures aren't my room, it's the upstairs room we use for a lot of blog shoots because it's the best lighting.  I wanted to be able to show the whole shelf, from different angles, so I took it in there for these shots – there is a photo at the bottom of the post of it next to my bed though.  (And you might be able to see it in a couple of the photos from yesterday's Coffee Cake/Breakfast in Bed post).  And while I'm spilling some  "behind the scenes/real life"  secrets, I'll also admit my old nightstand is still sitting in my room, waiting for me to clean it out so I can move it out!  Yikes!


Materials:
– sliding miter box
– 1x6x8 pine board – 2
– measuring tape
– pencil
– orbital sander
– wood glue
– hammer & nails



Directions:
Cut one board in half (this will give you a four foot high shelf). Cut a 7.5 degree angle on the bottom and top of the shelf sides. Measure and mark where the dado's for the shelves will go, using a compass will make it easier to layout the angles. (We made dado's for three shelves, all one foot apart.) Use the other pine board to draw the edges of the dado . Set your miter box to cut a 1/4″ deep dado at a 7.5 degree angle. Cut the dados. Use an orbital sander to sand the shelf sides. Measure and cut shelf boards, ours our 18″. Put glue into the dado and put the shelves in the dados. Nail into place. Turn shelf over and repeat in remaining side. Sand again if necessary.


(Here's the shelf in my room, totally staged though still! This mama doesn't have time to find pretty things to sit on my shelf that can actually stay there! It currently holds the light, my ugly alarm clock (ughh! I hate it so much!), and my Bible and devotional book…real life 😉 )
-Manda