You can never go wrong with a hot baked potato piled with melting butter sprinkled with a little salt and pepper.  But sometimes you just need to get a little creative and take that baked potato from a side dish to the main dish.  We had a baked potato topping party and came up with some fun and delicious ways to top our spuds.  These baked potatoes are pretty fantastic and definitely worth trying out! (If you're not sure how to bake a potato, you can check out this post for a good how-to).


Macaroni & Cheese
Spread some ricotta on your potato. Top with some delicious homemade macaroni & cheese. Sprinkle with sharp cheddar cheese and bread crumbs. Place under broiler for a couple minutes to melt the cheese and toast the bread crumbs.


Steak Mushroom & Onion
Top your baked potato with strips of steak, caramelized onions, cooked peppers & mushrooms and white cheddar cheese sauce.


Po-Burger
Top a baked potato with lettuce, tomato, a hamburger, pepper jack cheese, onion rings and zesty sauce.


Sunrise Baked Potato
Scoop out some of the flesh of a baked potato, creating a small bowl.  Sprinkle some cheddar cheese and crumbled cooked bacon into the bottom.  Crack an egg into the potato bowl, season with salt and pepper.  Bake at 350 for 25 minutes or until egg is cooked through.  Top with more cheese, bacon and green onions,


Sprouting Spud
Top your baked potato with greek yogurt (or plain yogurt), cooked brussels sprouts, paprika and grated parmesan cheese.


Pizza Potato
A baked potato the kids are sure to love!  Top baked potato with pizza sauce, mozzarella and pepperoni slices.  Bake at 350 for 10-15 minutes or until cheese is melted.


Junk Plate Potato
Scoop out some of the flesh of a baked potato, creating a small bowl. Fill it with a big scoop of macaroni salad. Put a grilled hotdog on top and then pour some hot meat sauce all over.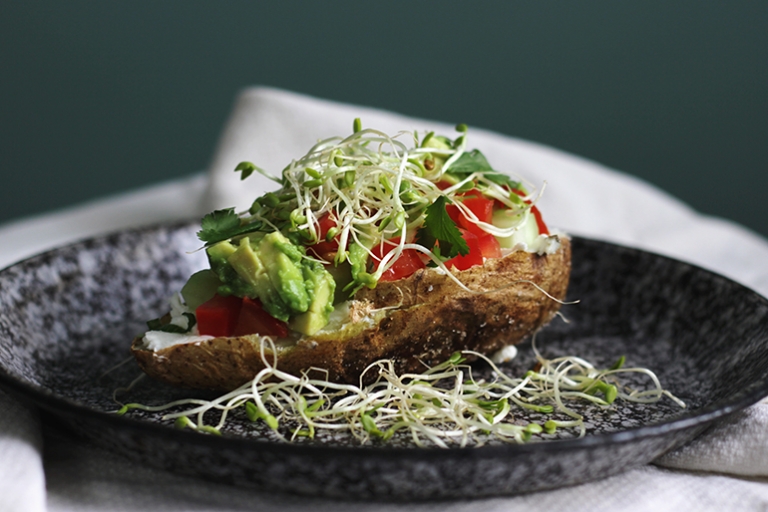 California Fresh
Spread goat cheese and chives over potato. Top with diced tomato, avocado and cucumber. Sprinkle with cilantro and alfalfa sprouts.


Po-Tot
Another good option for the little tots – top a baked potato with cheese sauce and sliced cooked hot dogs.


Taco Tater
Top baked potato with black beans, cheese, salsa, sour cream, avocado, cilantro and jalapeños.


Chili Cheese
Top potato with chili then drizzle with white cheddar cheese sauce. Top with a couple slices of crispy bacon.


Sweet Potato with Pecan Crumble and Toasted Marshmallow
Add a dab of butter to a baked sweet potato. Sprinkle with pecan crumble (recipe below). Top with mini marshmallows and bake at 350 for 20-25 minutes or until topping and marshmallows are golden.
Pecan Crumble Topping
1/3 cup brown sugar
1/3 cup flour
1/2 cup pecan pieces
2 tablespoons cold butter, cut into small pieces
Combine the brown sugar, flour, and pecan pieces in a small bowl. Using your fingers work in the cold butter until thoroughly combined.
What's your favorite way to top a baked potato?
If you love topping your food, be sure to check our our hot dog and waffle toppings posts!