It's been way too long since we've done a Mocktail Monday! These were always one of our favorite posts to do. With the holidays almost here (wow, how is it Thanksgiving week?!), I thought this pear ginger mocktail would be perfect for any holiday gatherings you have coming up!
I originally was going to make a different drink for the upcoming holidays, but when I was shopping for ingredients, the store wasn't carrying what I needed yet. Since I had just made the pear whipped goat cheese crostini, and still had quite a few pears left, I decided to use those. I've been using a lot more fresh ginger lately, I love the spicy kick it gives to drinks and dishes. So I really wanted to come up with a way to use ginger in one of my drinks and thought ginger simple syrup would be perfect. So that's how this pear ginger mocktail came to be!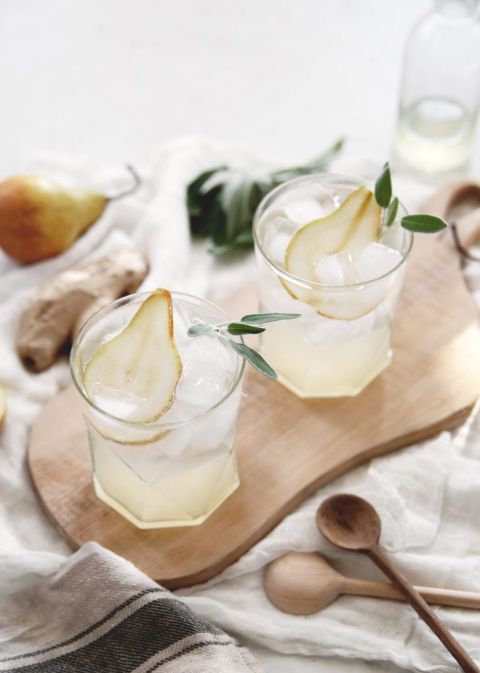 As with all drinks, this can be adjusted slightly to suit your taste. If you like your drinks on the sweeter side, add a little more pear juice. If you like the spicy kick from ginger (that's me!), add more ginger simple syrup. Our local grocery store, Wegmans, sells their own brand of ginger sparkling water, so I was able to use that in my drinks. I also tried it out with plain sparkling water, and that was just as good! So either can work. If you're wondering why there is a sprig of sage in the drink, it's purely for looks – haa! I just really love the color of sage, so I threw some in just to make the drinks look nice, but it's definitely not needed.
Pear Ginger Mocktail
Ingredients
4

tablespoons

pear juice

1

tablespoon

ginger simple syrup (recipe below)

ginger sparkling water or plain sparkling water/club soda
Instructions
Add in juice, simple syrup and top off with sparkling water.

Garnish with pear slice and sprig of sage if desired. (the sage is just for looks)
Ginger Simple Syrup
Ingredients
1/2

cup

sugar

1/2

cup

water

1/2

cup

fresh ginger root, peeled and cut into small pieces
Instructions
Combine sugar, water, and ginger in a small saucepan over medium heat.

Bring to a boil, stirring until sugar is completely dissolved. Reduce heat, simmer for 10 minutes.

Remove from heat and let sit for 20 minutes. Strain out ginger and let cool completely.

Store syrup in a lidded jar or bottle in the refrigerator.
Be sure to check out all of our Mocktail posts for more drink inspiration! And you can find the drinking glasses we used here.
-Manda