Organizing the cabinets under my kitchen sink has been another project on my to-do list for a long time. I've been putting this off for so long, I think because I was just too scared to deal with the ickiness that was happening under there. And, well, let's be honest, it's just not that exciting. The only time I opened these cabinets was to grab a cleaner of some sort. And no one ever opened those cabinets besides me, so there was no pressure to get a move on to make it look pretty. Well, as pretty as it can get under the kitchen sink.  But there's no better time to clean out and organize than during The Merrythought spring cleaning week!!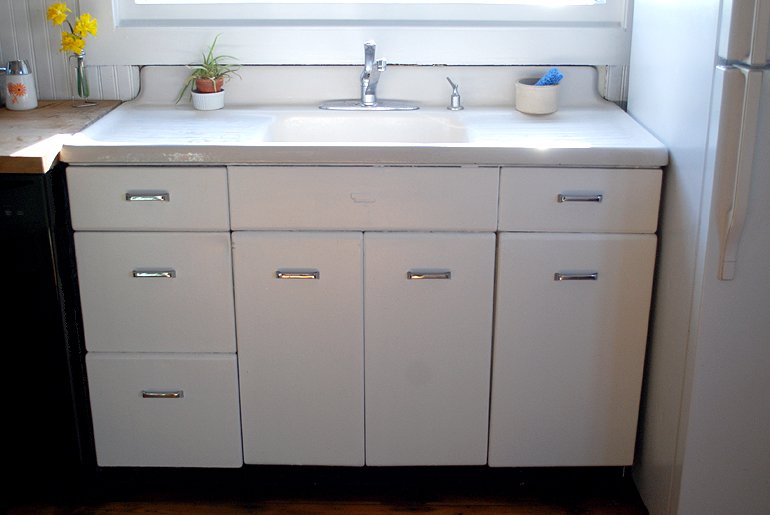 And friends, it's about to get real here on The Merrythought with me sharing these before pictures.  I don't think the inside of these cabinets have seen any sort of updating or redo since they were put in in the 50's. (They have, however, seen a great number of color updates on the outside).    Yup, I have authentic vintage metal kitchen cabinets.  Which I have come to mostly love.  The porcelain sink is also vintage, and I dearly love that. So brace yourself for this "before" picture and hopefully we can still be friends after you view this.


Eeeps! Grody, right?!!  Still friends?  At least you have a pretty "after" picture to view next…


We (I had to rope Mike in for this project, too much ick for this girl to handle alone), took out the piece of linoleum that had lined the floor of the cabinet and replaced that with a new piece of flooring, left over from the bathroom floor re-do.  The bottom of the cabinet is permanently icked up, so it needs to be covered.  (I love that it matches the bowl perfectly – totally planned…).  We also added a coat of white paint to the inside of the cabinets.  This helped a lot.  I hope to be able to freshen up all the inside of my cabinets at some point.  We also spray painted the rack on the inside of the door a bright blue…a little bit of color down under!  It's so nice having that extra storage on the door so that not everything is crammed together in the cabinet, I would recommend adding one of those if you can.  Mike made a shelf to put in the back, which also helps to keep things from getting too cluttered and hard to find.  Another useful item under the sink is the bar that runs across the the top of the cabinet, I'm not sure why our cabinet had one, but it's great to hang spray bottles, rubber gloves, and rags while they dry.    


We also cleaned out and reorganized the small cabinet next to the under-the-sink cabinet. That also held various cleaning products and random things we threw in there.  The biggest change in here was getting rid of so many things that didn't need to be in this cupboard.  We also painted the inside of the door and put down shelf liner (just something that I had on hand).
And did you notice the color change on the outside of the cabinets in the before and after pictures?? We (and by we, I mean Mike 🙂 ) are finally painting the kitchen – wahoo!!  Hopefully a kitchen tour will be coming along before too long…
We hope you enjoyed spring cleaning week on The Merrythought. Hopefully it gave you some inspiration and motivation to get going on that to-do list!
Happy weekend! Manda