I have been meaning to do a bit of a refresh in the kitchen since moving back to NY in July. We partnered with Revival and it was just the push I needed to spruce up this space! I was looking to add some coziness to our white kitchen to warm it up and fit better with all of the exposed beams. I knew that adding in a rug would help in a huge way. And then once this beauty was in, I couldn't stop coming up with ideas that would look perfect with the new rug and warm the space up even more!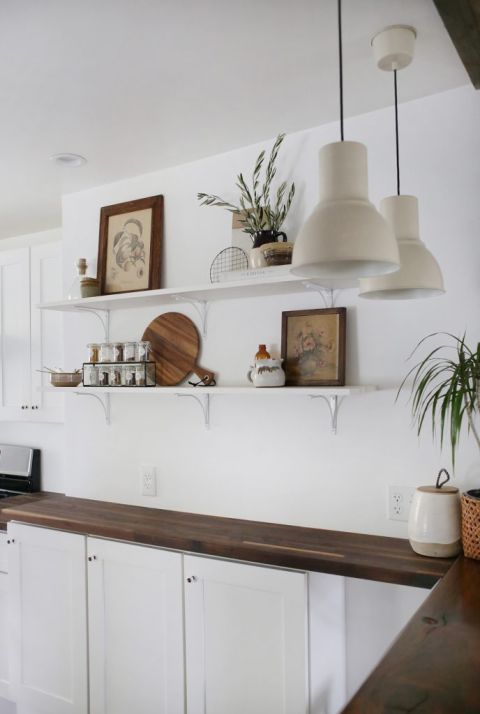 5 Ways to Warm Up Your White Kitchen
Add a rug
This rug added so much softness to some of the harsher lines of the space and it's warm, muted florals were exactly what I was looking for! I got this one from Revival and they have so. many. options that could fit whatever feel you're going for in your own space! 
Switch out your lighting
I actually just updated mine with some paint! We had dark grey lights from IKEA for years and I didn't want to invest in new lights so I just gave them a couple quick coats of paint and I love it! 
Update your hardware
Our hardware was really modern before but I found some warmer vintage style hardware and replaced them – it made a huge difference.
Add a pop of paint
Maybe you aren't ready to commit to painting all of the walls or the cabinets but finding a small area to create a little feature wall can easily warm up the place! I added in the slats on the backside of the island and painted it a nice taupe-y color. 
Add ceramics and vintage pieces
I've collected a lot of ceramics and vintage pieces in the last year that I've been meaning to put on display. So I reorganized the shelves and made sure to pick some of the warmer, natural tones and textures and they definitely helped to bring some coziness to the space.