Sometimes I think of ideas for projects and in my head they seem like a fantastic idea. And then when I go to pull them off, ehh, maybe not so much. Sometimes it's the project, sometimes it's just me. The past couple weeks have kind of felt like that. I'm a little all over the place, and what I've tried hasn't quite clicked for me. I thought maybe working on some simple fall decor around the house would help break me out of my rut, but even that ended up feeling off – ha! After having some fun last year decorating my patio steps for fall, I thought it would be fun to do my front porch this year. It seemed a little more challenging because our porch has not been "done" yet. The house and door got a fresh coat of paint, and we updated the light fixture, but everything else is in need of a renovation (I mean we have carpeting on our porch floor…that might just be older than I am!! 🙈). But I thought the challenge of trying to make a "not perfect" space ready for the fall holidays seemed like a fun idea. And I'm glad I did it, mostly because our porch needed a good clean up and this forced me to do that, haa! But I just kept rearranging and rearranging with nothing quite feeling like it fit, or what I was hoping to see. Midway through I even jumped over to decorating the living room to see if that would flow a little better for me and ended up feeling exactly the same there. I finally decided enough was enough, with both projects, and just went with it. So today, I'm sharing my not so perfect fall front porch. With these tips for decorating:
1. Make it versatile. I wanted my decor to be able to work for fall, Halloween and Thanksgiving. Pumpkins mixed with plants are always a win in my book.
2. If you have a not so great floor, cover it with rugs! I updated our old grungy door mat with this rug, and it made a huge difference just doing that. I also added an area rug to help cover up more of the carpet (mine is an old vintage one that's a little rough around the edges, but it's why I'm willing to use it on our porch).
3. Keep it simple. I may have a lot of pumpkins, but the neutral colors help keep things calm and simple. Pick just one theme or color palette to go with, instead of mashing up a bunch of different things.
4. "Shop" your own home. Other than buying pumpkins and a new rug for in front of the door, everything else I had around the house and just used that.
5. Don't take it too seriously. 😉 Just like life, your home and your decor will not always be picture perfect. And that's okay – embrace it and know that it's normal. And you're normal.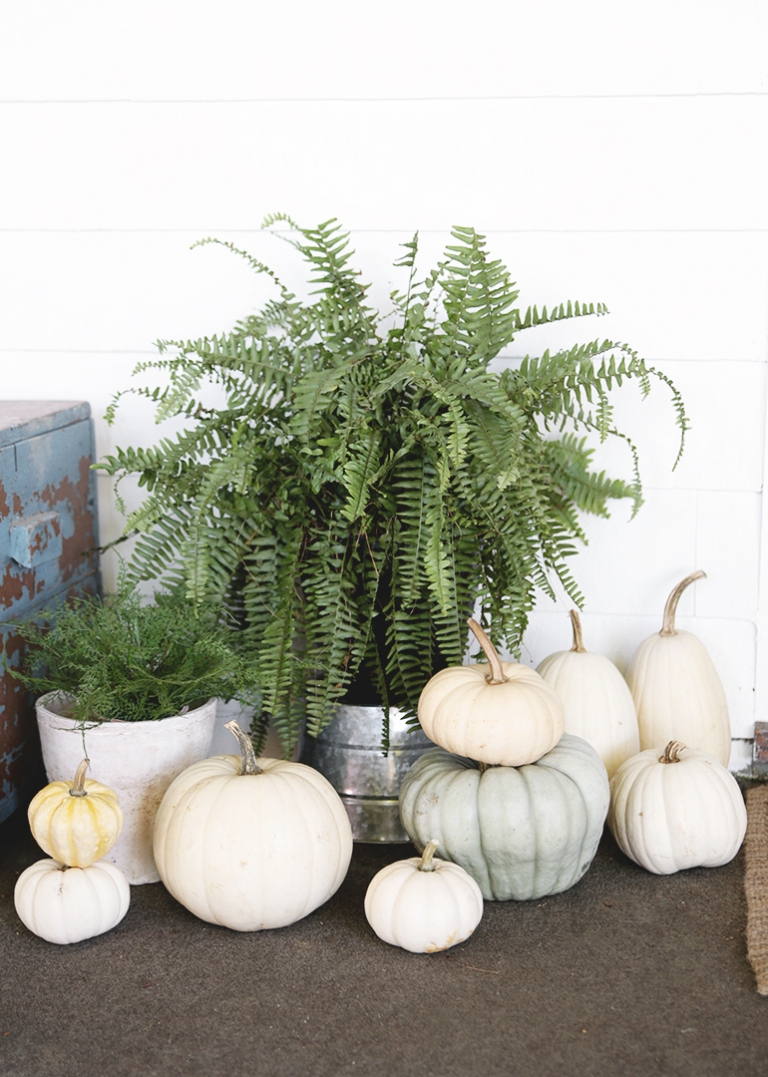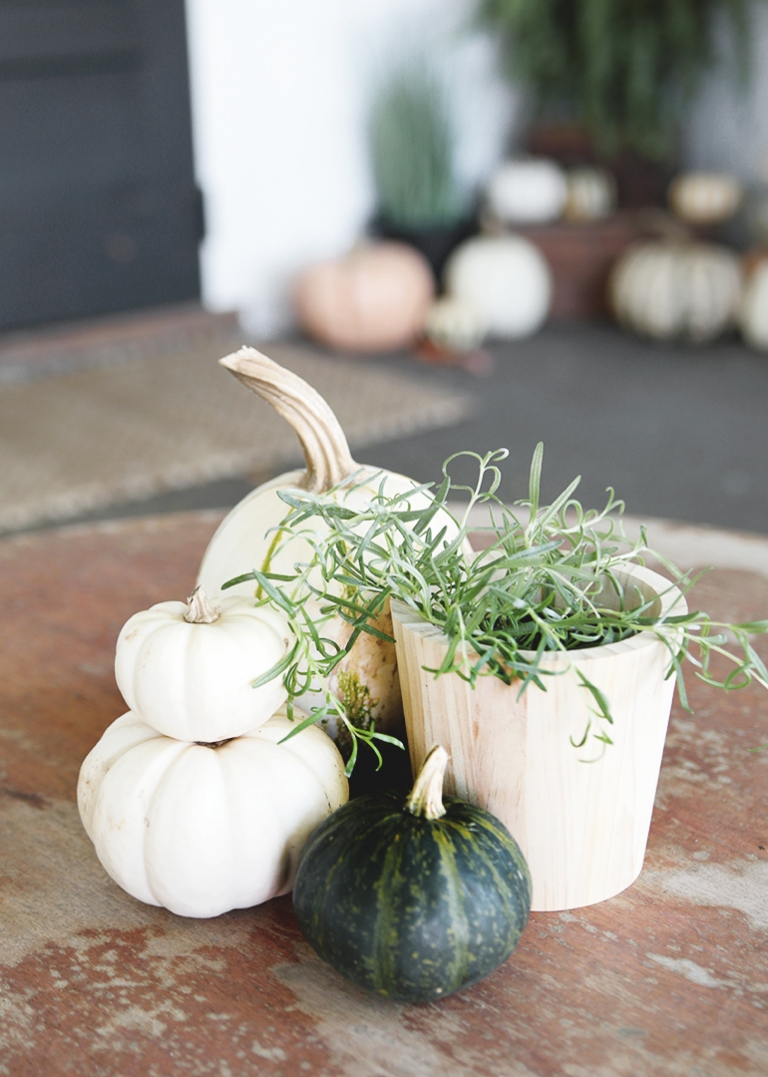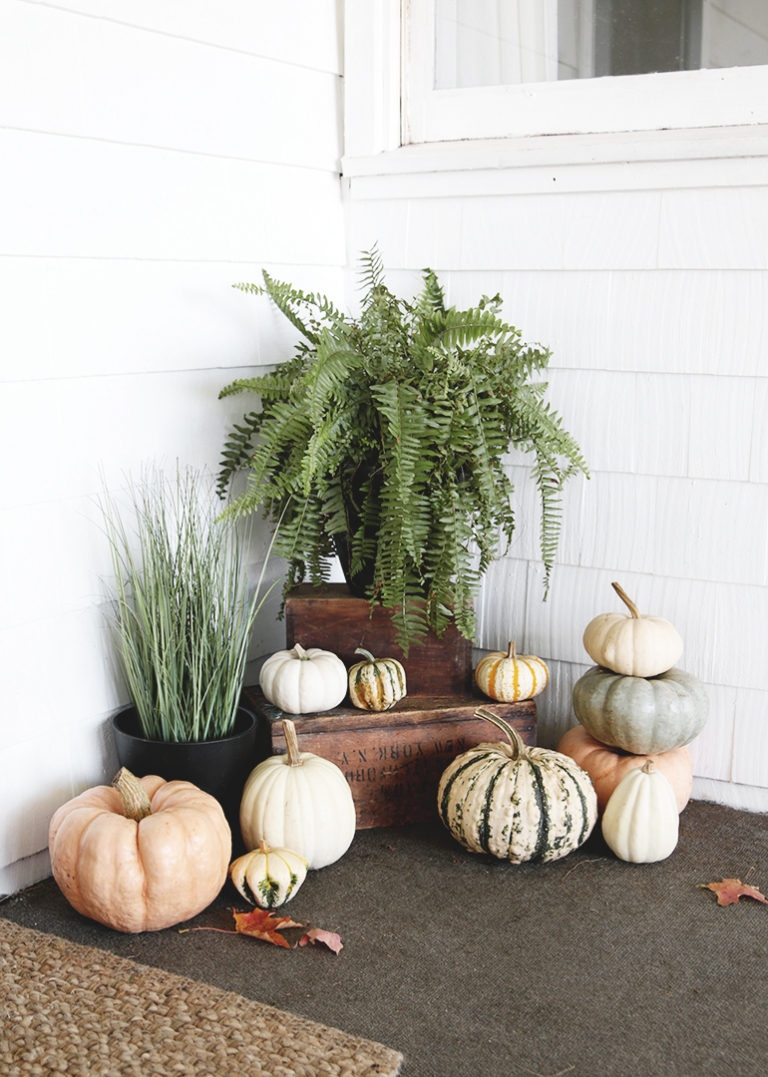 Stayed tuned to see my attempt at fall living room decor next week! 😳😆
-Manda