Super excited to be sharing this bathroom makeover today! Mike and I spent the last month or so working on one of the bathrooms in my parents' house. We refer to their home as Sweet Home, so I've been calling this project, the "sweet home bathroom makeover". I actually have no idea what to really even call styles most of the time. It's such a mix of things, traditional, modern, country, antique. 🤷🏻‍♀️ Anyhow, I'm so happy with how the bathroom makeover turned out, and I think my parents are too, haha!
I've got lots of photos and details below, including the before pictures if you keep scrolling down. We also shared a video tour of the space, see that below too. At the bottom of the post, you'll find the links to the products/materials we used in this space. We've also got a few DIYs we'll be sharing in the upcoming weeks, including how we transformed an old dresser into the bathroom vanity.
While doing this bathroom makeover, I tried to incorporate things my parents wanted and things I liked (haha!), while also keeping in mind that this was an old Greek revival home, built in the 1830's. My parents have some amazing moulding throughout their home. I wanted this bathroom to fit in with the rest of the rooms, while also not feeling like too much, since it is just the bathroom.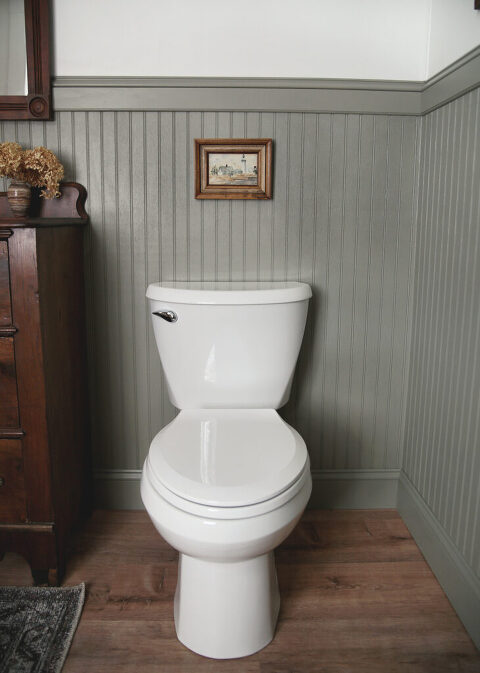 Two things I love in this space – the color of the beadboard paneling. We used Sherwin Williams Honed Soapstone. Depending on the lighting, it can look green or blue or gray, and I love that about it. Another thing I love – the tiny painting above the toilet! It's a painting my grandpa did, he was an artist, both paintings in the bathroom are ones he did. I have all the heart eyes for this little one hanging in this spot!
The mirror was another labor of love project. My parents bought the mirror right after they got married, and it's hung in various places in the homes they've lived in, including my bedroom as a teenager! It was painted when they bought it, and had been repainted a couple times since. The mirror had been in storage, so I decided to strip the paint and see if it could work in the bathroom. (So much work trying to get the paint out of those skinny grooves! 😓). I was excited to see that the wood matched the wood tone of the vanity pretty well and felt like it was meant to be!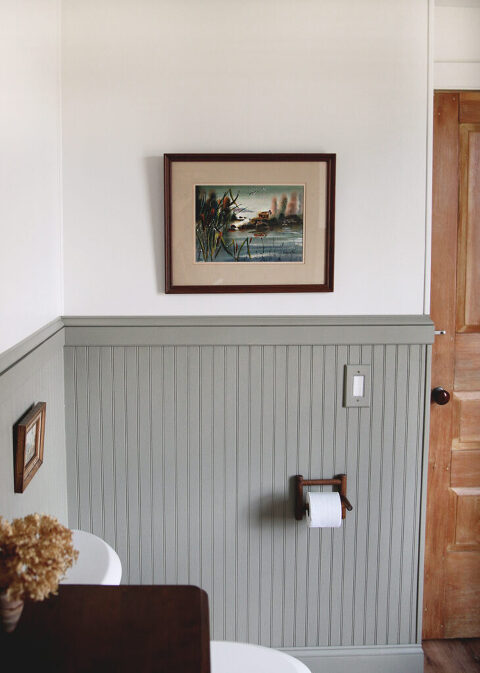 We found this old dresser on FB Marketplace for $30 and transformed it into the bathroom vanity! We'll be sharing how we did that in an upcoming post.
The handles that came on the dresser were just modern, cheap ones so I decided to replace them. There were multiple holes in the drawers from different handles over the years, so I had to try and find ones that would cover all the old marks. I found these and then used a little rub 'n buff on them to get the look I wanted.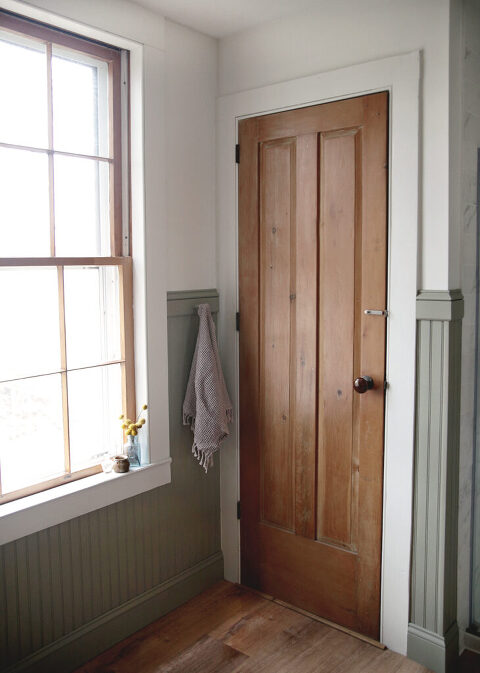 We weren't sure what type of shower we were going to do when we started the renovation. My parents wanted it to be simple, both in looks and design, without a lot of shelves or ledges. We ended up going with tile since we could keep it as minimal as they wanted. To keep it simple, and not have a lot of extra things to clean, Mike just did one built in shower niche. We also added some shower grab bars, I took these photos before we installed those, but you can see them in the video.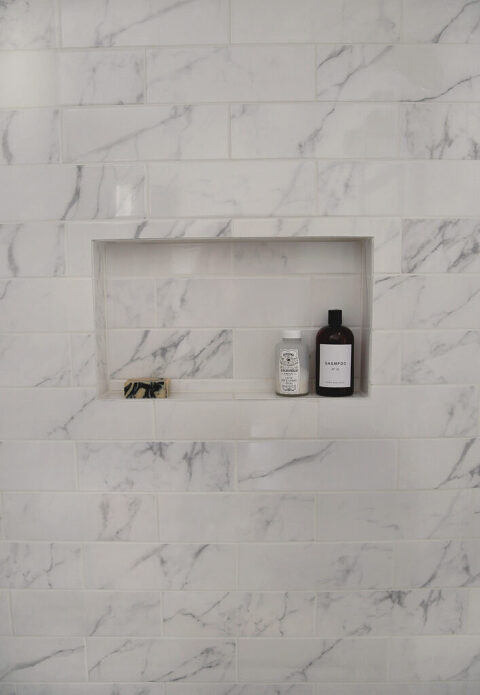 (I promise I did clean, and clean, and clean that mirror and just could not get rid of all the marks – haha!)
Here's the video tour of the bathroom makeover:
Here are some before and after photos. I tried to get as much of the same angle as possible to give you a better idea of how the space changed.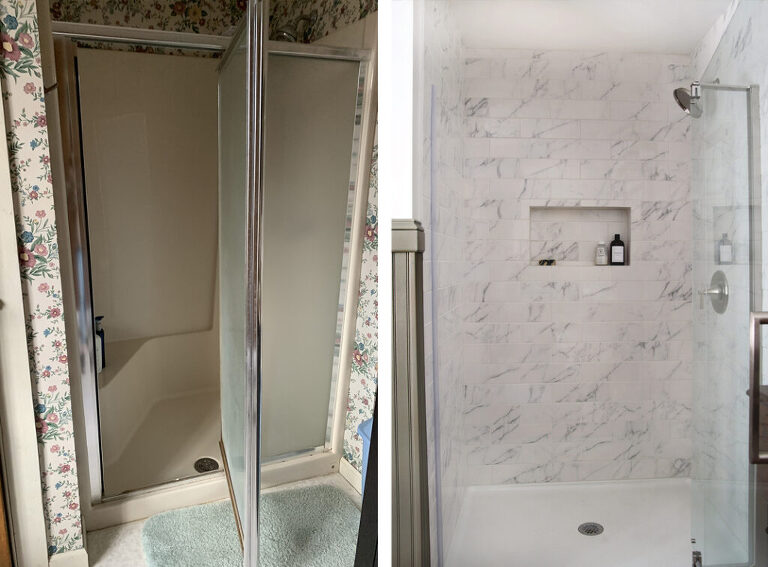 So what do you think? Be sure to stay tuned for a few DIYs from this space!
-Manda
SOURCES:
Dresser Pulls – used rub n' buff on them
Faucet – it looks like it's no longer in stock on Amazon, we had found an amazing deal for this faucet, it was only $35 from there! You can find the faucet here, but it's a lot more expensive. Not sure why/how that happened.
Mirror – vintage
Shower Grab Bars (shown in the video)
Paint Color: Sherwin Williams – Honed Soapstone