We recently shared the bathroom makeover we did at my parents' house. Today's post is all about the sink! We're sharing how we turned a vintage dresser into a bathroom vanity. It's one of my favorite parts of the bathroom!
I wanted to include some vintage elements into the bathroom design since their house was built in the 1800's. I thought if we could turn an old dresser into a bathroom vanity, it would be the perfect touch. We found this dresser on Marketplace for $30 and then got to work on transforming it. (You can see a before photo of the dresser at the bottom of the post, and in the video).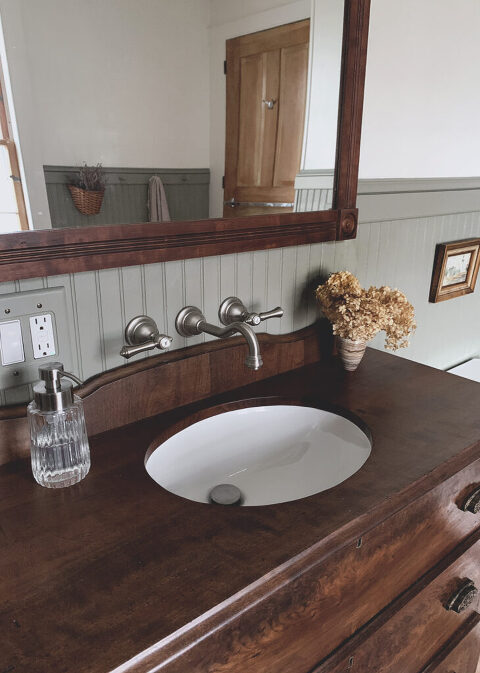 Most of the dresser bathroom vanities I've seen out there have a drop in or vessel sink. I really wanted to try and make one that had an undermount sink. I just really like the look, and the challenge of trying something that hasn't been done many times. (It's got to be out there somewhere, there's nothing new under the sun, but it's just not something I could find when searching).
The trickiest part of this project was finding a sink the right size. The dresser top wasn't very deep, so we needed to find a sink that would fit, that also wasn't too small. We ended up using wall mount faucets to help with this as well, we didn't need to use dresser top space for the faucet. So my advice is to look for a deep dresser!
Supplies:
dresser
sink mounting hardware (should come with sink if you buy a new one)
pry bar
drill and screws
scrap plywood
jigsaw
sandpaper/orbital sander
clamps
router with top bearing flush trim router bit
painters tape
silicone
wood for rebuilding the drawer insides (we used 3/4" pine boards)
clear silicone
Watch the video below to see how to turn a dresser into a bathroom vanity: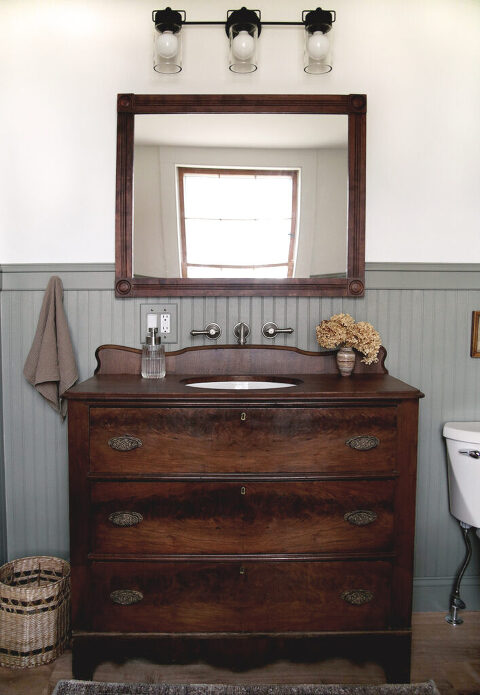 Here's the before and after of the dresser into a bathroom vanity: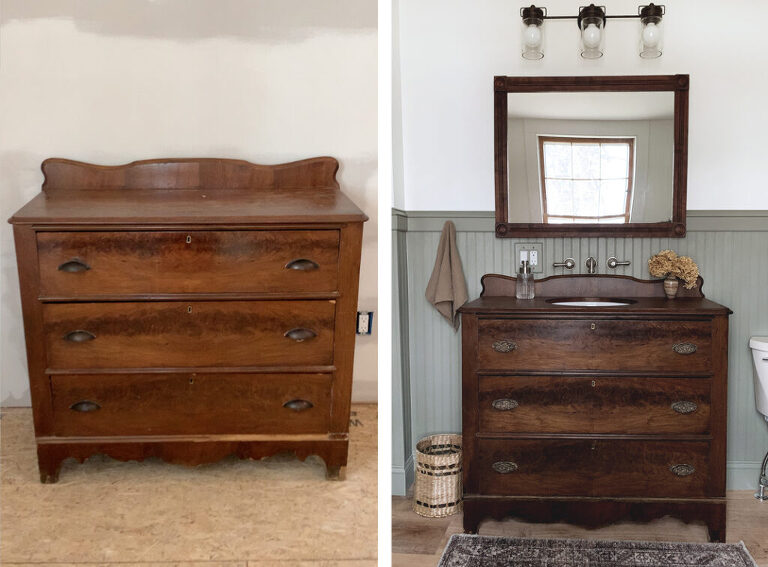 SOURCES:
Dresser Pulls – used rub n' buff on them
Faucet – it looks like it's no longer in stock on Amazon, we had found an amazing deal for this faucet, it was only $35 from there! You can find the faucet here, but it's a lot more expensive. Not sure why/how that happened.
Mirror – vintage
Paint Color: Sherwin Williams – Honed Soapstone