This post is sponsored by Yoor Air, a fantastic air filter company that gives you better, cleaner air and the convenience of filters delivered to your doorstep! 
This is one of those DIYs I feel like you normally don't give a lot of thought to, vent covers. But what a difference it makes when you take the time to upgrade them with something like this pretty wood vent cover we made! I couldn't stop staring at this corner of the dining room after we switched it out – it looks so much better! (You can see what we had there before in the reel we have below).
I feel like air filters are another one of those things you don't give a lot of thought to. And maybe some of you really don't give a lot of thought to this and it may be well past time to change yours! 🙃 So I feel like this DIY wood vent cover and our partnership with Yoor Air were meant to be! Taking those ordinary things and upgrading them in the best possible way!
When we installed the new floor in the kitchen and dining room, throwing an old metal vent cover over our floor heat vent just felt wrong. This pretty floor needed a pretty vent cover. We used some of our extra floor boards to create this flush wood vent cover that matches our floor perfectly! If you don't have extra flooring to use, you can use any wood that you like the look of. It can be stained or painted as you wish. See the steps below to see how it's done; and we've got a reel posted to give you a quick video look at how we did it.
Yoor Air Filters
With spring cleaning currently happening in a lot of homes, now is the perfect time to remind you that your cleaning to-do list should probably include changing your air filter!  It might also be time to give your air filters a little upgrade! When we received our Yoor Air Filters, we were impressed by how sturdy and absorbent they seemed; they just felt better than the typical ones. Once in, they have a super snug fit that prevents dirty air from getting around the filter. That translates to cleaner, better quality indoor air, definitely what we want. It can also help extend your furnace life and reduce repairs needed, saving us money – again, definitely what we want! 
One of my favorite features about Yoor Air Filters – you can shop online from the comfort of your home, no more running out to the store to pick up a filter. And they offer a subscription service, which is AMAZING. I've always got a million reminders on my phone filled with things I need to remember to take care of. With the subscription service, you can just sign up, have the filters delivered right to your door when it's time to change them, and boom, done! No more forgetting to change your filter, no more errands to run on behalf of your furnace! 
If you're like me and don't really know a lot about your furnace and the filters, don't worry, they have a fit guide to help with that!
We've been so happy with the quality of our Yoor Air filters! You can see the (gross) before and after of our used filter – these are definitely doing their job! And it also makes me happy that it's a family run business, by a mom and her three sons! ☺️  
DIY Wood Vent Cover
Supplies:
wood (we used leftover floor boards)
wood glue
clamps
tape measure
table saw (with dado blade)
file tool
sandpaper
stain or paint, optional


Directions:
Cut boards to size to fit your vent opening.
If you're combining narrow boards like we were, you will need to glue and clamp the boards together to fit the opening.
Once glue is dry, measure and mark where you want the vent slots to be.
Using the table saw with a dado blade, set the fence so that it is the correct distance from the blade to cut the outside slot. 
To determine where the end point of your cut will be, lower the blade below the table and hold your board against the fence and centered above the blade. 
Start the saw and slowly raise the blade until it cuts through the board. Continue to raise the blade until it is about an inch above the board.
Slowly and carefully back the board up until the blade reaches the end layout line.
Hold the board in that location and shut off the saw. 
Clamp a stop to the fence at the near end of the board. 
Turn on the saw and push the board forward until the blade gets to the rear layout line. 
Tip the board up to remove.
Flip the board so the opposite side is against the fence. 
Place the board against the stop and lower the board onto the blade, push forward until you get to the layout line. 
Repeat these steps moving the fence so that the slots are cut in the layout locations. 
Use a file to smooth the ends of the cuts.
Sand smooth.
Apply any stain/paint as needed.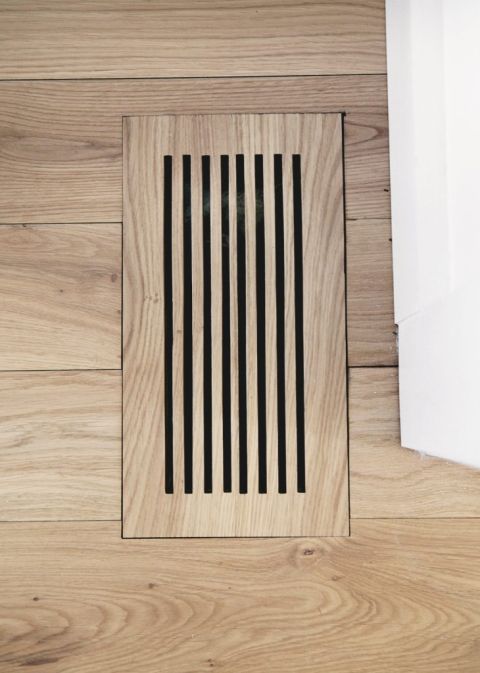 Sponsored by Yoor Air. All ideas, thoughts and opinions expressed are our own. Thanks for supporting the brands that keep us bringing fun, new content to you!