Back with another recipe that is a fake of one of my favorites I used to eat when I lived in CO. I used to get a Thai Confetti Salad every time we went to 503W! (Which I would highly recommend if you're in the Springs.) I didn't want the hassle of frying the chicken so I just used rotisserie – like I alwayssss do hahaha. There's already so much crunch to this salad so I didn't think it was missing much without the chicken being crunchy as well. But I had my cousins come over and try it and everyone agreed it was sooo good! Even the ones that don't usually like peanut sauce love it!
And for those of you that do love peanut sauce, you need to try the Spicy Peanut Soup I made – it's amazing!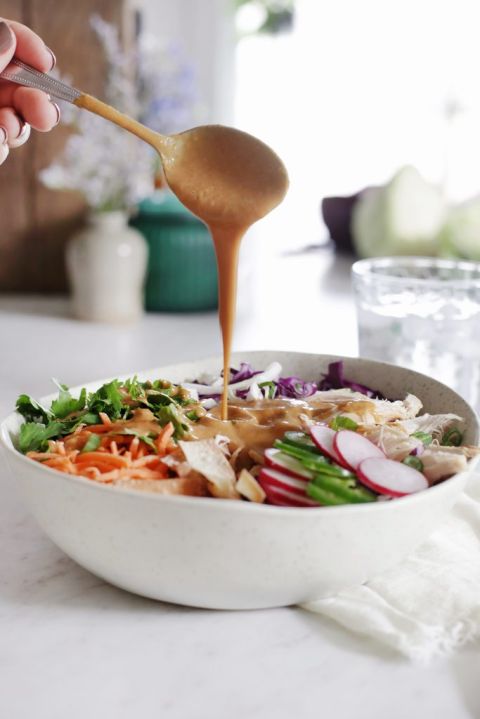 Thai Crunch Salad with Peanut Dressing
Course:
Lunch, Main Course, Salad, Side Dish
Ingredients
Crunch Salad
1/2

large red cabbage, sliced thinly and chopped

1/2

large green cabbage, sliced thinly and chopped

1

rotisserie chicken, shredded

5

oz

matchstick carrots (I bought mine like this to avoid chopping full carrots)

1

jalapeño, seeded and diced

1/4

bunch

green onions, sliced

3

radishes, thinly sliced

1/3

cup

fresh cilantro, chopped
Peanut Dressing
1/2

cup

creamy peanut butter

3

tbsp

soy sauce

2

tbsp

rice vinegar

1

tbsp

sesame oil

1

tbsp

fresh lime juice

1

tbsp

brown sugar

1/2

tbsp

fresh ginger, grated

2

tsp

sriracha (adjust to taste – I made it less spicy than I normally would)

2

cloves

fresh garlic, minced

1/3

cup

water (this will make it more of a dressing – you can add more to make it thinner or do less for more of a dipping sauce)
Instructions
Combine and toss all chopped and shredded dry ingredients for the salad.

Combine all ingredients for dressing in a food processor or blender and blend until smooth.

Add dressing as desired and enjoy!