This time of year, my husband starts spending a lot of time out in the woods…hunting season. On one of his recent outings to check on his stands, he collected some black walnuts and brought them back for me, thinking we could find something to do with them…so we did.
This necklace and ring are super easy to make and are the perfect accessories for fall.  I love making my own jewelry – it's usually pretty easy to do (or at least the ones I do are!) and it's nice on the wallet too.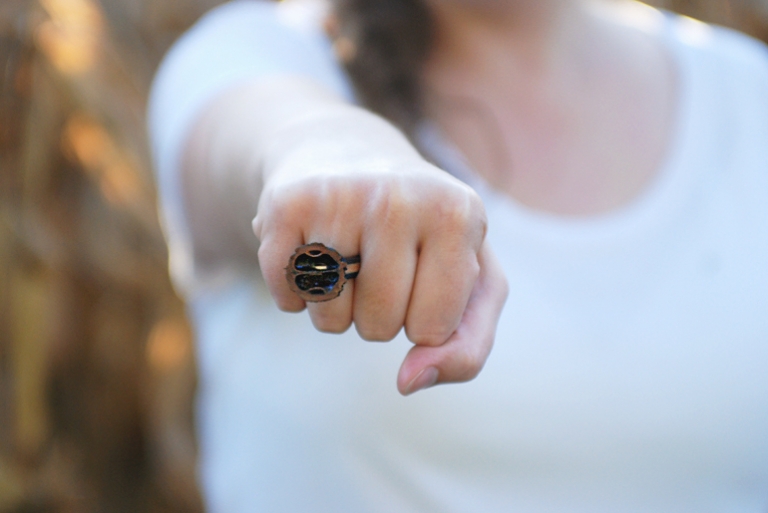 What you need:
black walnuts

necklace chain (I get old necklaces at the thrift store and use the chains from those – cheaper than buying new and putting someone's "trash" to good use!)

jump ring

ring band (we used a homemade wooden ring – learn how to make that

here

)

handsaw

drill

sandpaper

superglue

needle nose pliers

Conditioning oil or wax, optional
With a handsaw, cut walnut the desired width for your ring or necklace.

Sand smooth the piece(s) you cut.

For making a necklace: drill a small hole in the top of the walnut. Put a jump ring through the hole, squeezing jump ring with needle nose pliers to close. Slide onto your necklace chain.

For making the ring: Use super glue to glue the walnut onto the ring band. If you can find a ring band that has a flat spot, it will work best. Let glue dry.

If desired, ring can be finished with conditioning oil or wax. We used Butcher Block Conditioner.
Happy making! Manda
If you like making your own jewelry, here's a couple more ideas: DIY Wood Earrings / DIY Wooden Crystal Necklace or make this jewelry organizer to hold all that wonderful jewelry you have: Leather & Twig Jewelry Organizer.  (Be sure to check out our Pinterest page…Caitlin has a lot more jewelry DIYs to inspire you).