I've always been fascinated by the night sky. I spent so many summer nights laying out under the stars in a field with my friends growing up. The amounts of shooting stars I've seen is outrageous! And although I feel like I might be past the point where I should be sticking glow-in-the dark stars all over my ceiling (even though I'm still tempted to) I love having little reminders of those times hanging around.  A few months ago I saw this moon phase chime at Free People and fell in love – I needed one! I decided to make my own version and came up with this simple little guy – because what's better than air dry clay?! Between this and my mountain headboard, my bedroom is becoming my perfect, dreamy little space.
What you need:
-Air Dry Clay
-Rolling Pin
-Round Cookie Cutter
-Skewer
-10″ Piece of Square Dowel
-Drill
-String
-Super Glue
How to make it:
-Roll out your clay to about 1/4″ thickness.
-Cut out seven 2-3″ circles with cookie cutter.
-Use the cookie cutter and/or a knife to cut out slices to create the moon phases.
-Smooth edges with fingers and then use a skewer to poke a hole in the top side of each piece where the string will go.
-Let dry according to directions.
-Drill seven small, evenly spaced holes in the dowel.
-Cut three 40″ pieces of string and one 26″ piece of string.
-Take the three long pieces and fold them in half, fold about two inches of string down on the top of the 26″ string. Take all four loops created with the folds and create a knot. This is what your wall art will hang from.
-Trim excess string from the short end created from knotting the 26″ string.
-Thread each string down through a hole in the dowel and tie a knot underneath – make sure the knots are all even. (Hanging it on the wall and starting with the ends helps to keep the dowel level.)
-Trim string ends to create a V shape.
-Once the clay is dry, use a dab  of glue into each of the holes made with the skewer and slide the string inside. Leave to dry.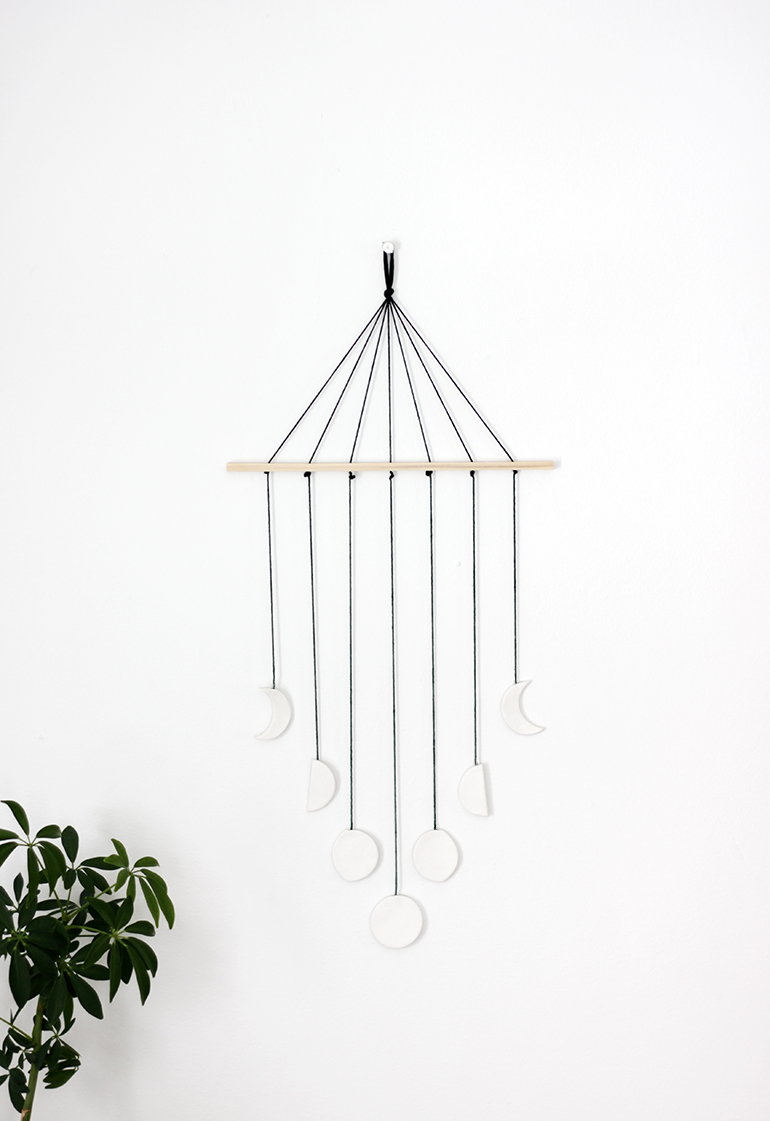 xo. Caitlin