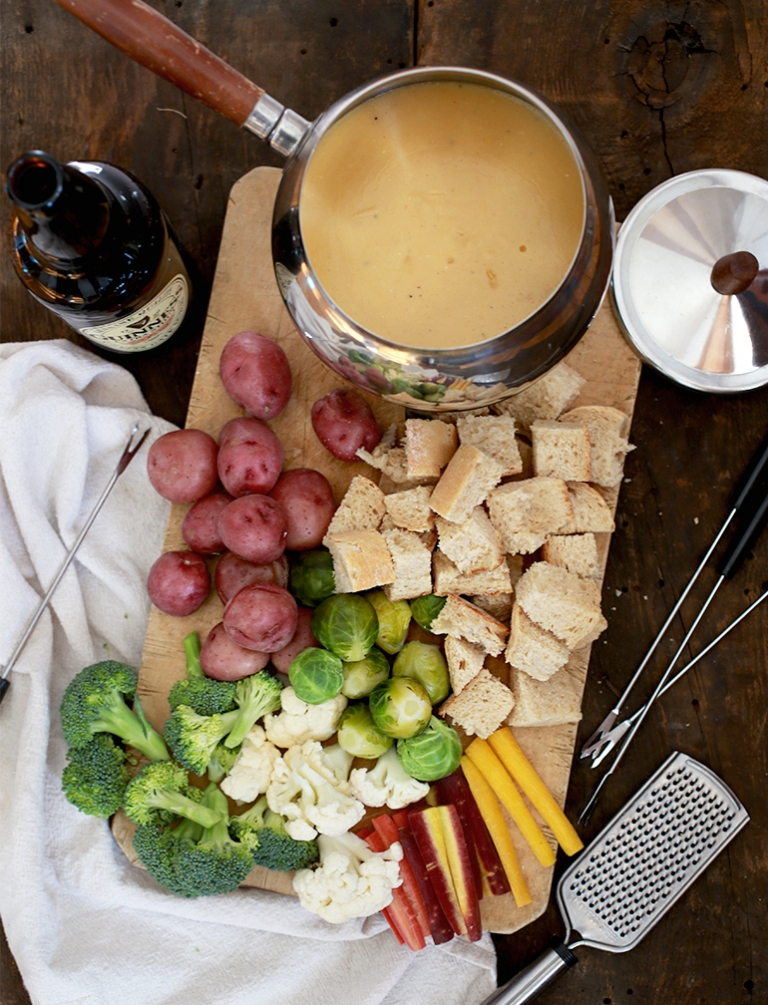 Top o' the morning to you! It's almost St. Patrick's Day (say what?!) and it's time for me to start getting really cheesy. Er, nevermind, I'm pretty much always cheesy, I just try to play it cool. 😉 (And I'll just make a public apology to Caitlin right now for starting a post like this, because I know she's rolling her eyes as she reads this…but I know she secretly loves it…as do you, right?!)
A while back we posted a recipe for beer cheese that's been a pretty popular post.  We decided that recipe could use a wee bit of an Irish touch though in honor of St. Patrick's Day and our heritage of course! 🙂 So here's a delicious appetizer to serve alongside your corned beef and cabbage!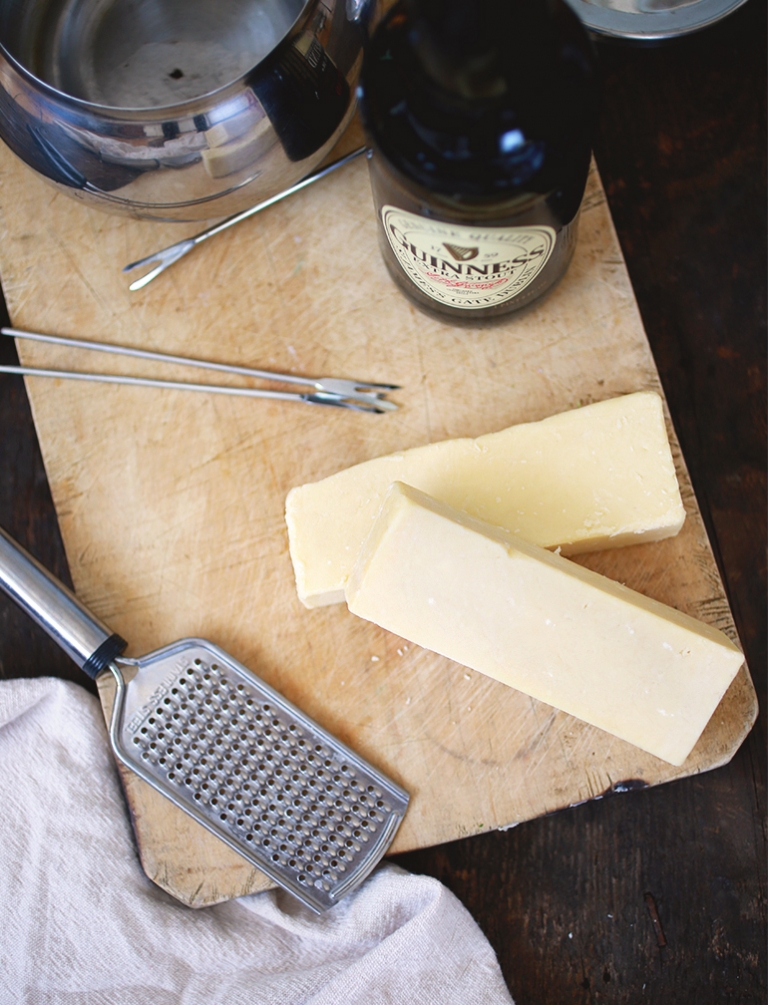 This recipe is a season-to-taste recipe, add in what you like, leave out what you don't! For Caitlin, I leave out the Worcestershire sauce and barely add in mustard. For me, I leave out the beer. Yup. (Sub out the beer with extra milk). Just not a fan of the beer cheese taste – still keeping it Irish with the Irish cheddar! 🙂 You can also sub out some of the Irish cheddar with a mild cheese if you think it's too strong (or if you don't want to use all your delicious Irish cheddar in the fondue, which is what I do, I like to leave some to eat by itself because it is so.good.); a mild cheddar or colby jack would work well.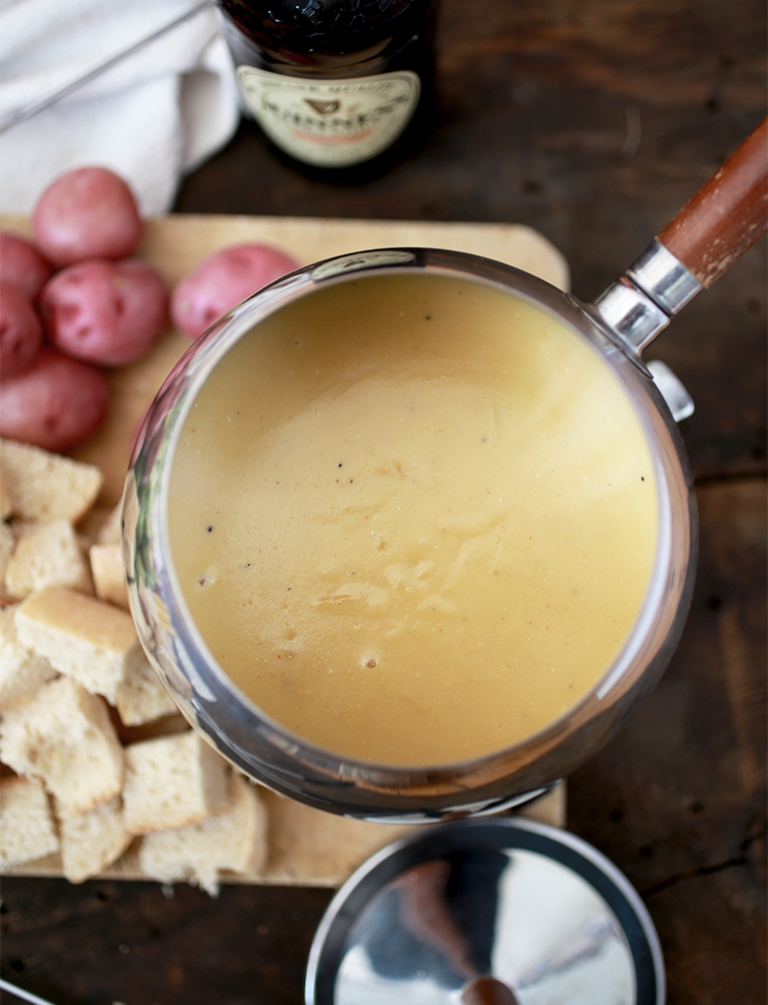 Irish Beer Cheese Fondue
2 1/2 cups Irish cheddar cheese (I used Kerrygold Vintage Dubliner & Kerrygold Skellig), shredded
2 tablespoons flour
1 1/2 tablespoons butter
1 clove garlic, minced
1/4 cup Guinness beer (or any Irish beer)
1/4 cup milk
freshly ground salt & pepper to taste
1/4 teaspoon Worcestershire sauce
1/4 teaspoon dry mustard
pinch or two of cayenne pepper
vegetables and bread for dipping
Shred the cheese. Toss the shredded cheese with the flour and set aside.
In a saucepan over medium low heat, melt butter. Add garlic, stir and cook for about 30 seconds. Add in the beer, milk, salt, pepper, Worcestshire sauce, mustard and cayenne pepper. Bring to a low boil (you may need to turn up the heat a bit), stirring constantly. Over low heat, gradually add in the cheese/flour mixture, stirring until cheese is completely melted before adding more (add about a small handful at a time). If needed, thin the cheese with a little more beer or milk. Taste and adjust any seasonings as desired. Transfer cheese to a fondue pot and keep warm (or serve immediately in the saucepan, reheating over low heat as needed).
Lightly steam any veggies that need to be cooked (I steamed the potatoes & brussels sprouts, everything else was raw). Arrange veggies and bread on a platter and serve with your delicious cheese.


Have you tried any Irish cheese before?  Are you a fan? I loved both kinds that I had!  Also, if you're a lover of cheese dips, this Soft Preztels with Spicy Cheese Sauce recipe is a favorite and something you should definitely try!
-Manda