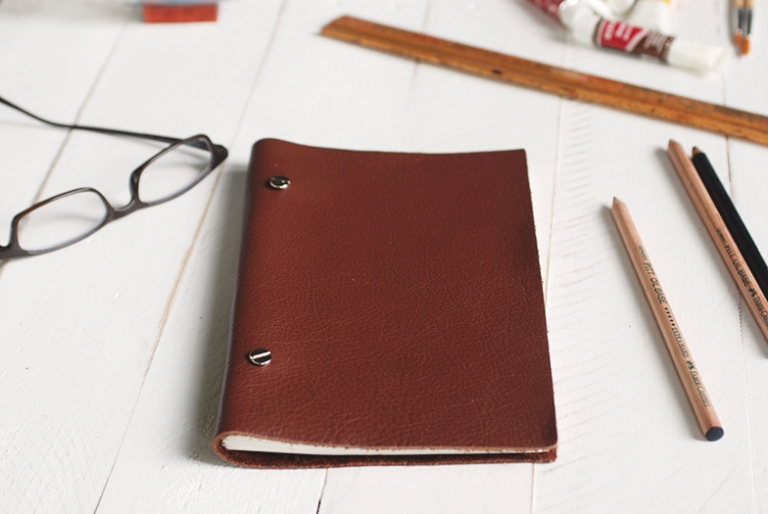 Another leather DIY for Father's Day! When Caitlin and I got together to go over projects we had in mind for Father's Day, we noticed we had a lot of leather projects on the list! Dads and leather just go together in our book! This sketchbook is so quick and easy to put together, so if you're still looking for a gift to give to dad this weekend – this easy DIY is for you.


Using album posts for this sketchbook makes it easy for refilling the pages once used up – and I think gives it a little more of a manly touch. This sketchbook can also be made into a notebook by using lined paper instead of sketch paper. It's also nice because you can make it any size you'd like – I think making mini, pocket size ones would be fun!


What you need:
Leather

Album Posts (mine were 20mm…I found some at Michaels)
Hole Punch/Leather Punch/Hollow Punch (something to put a hole through leather!)
Sketch Paper (I took pages out of a pad)


Paper Cutter
How to do it:
If needed, cut your leather to size. Fold leather in half and mark where you want your holes to be. Punch holes in leather. Cut paper to size to fit inside leather and punch holes in paper, making sure the holes line up with the holes in the leather.  Put the paper inside the folded leather and screw in the album posts.


I think these handmade pencils would be the perfect sidekick for this sketchbook…Or jump on the leather bandwagon and make this leather pencil case to go along with your sketchbook!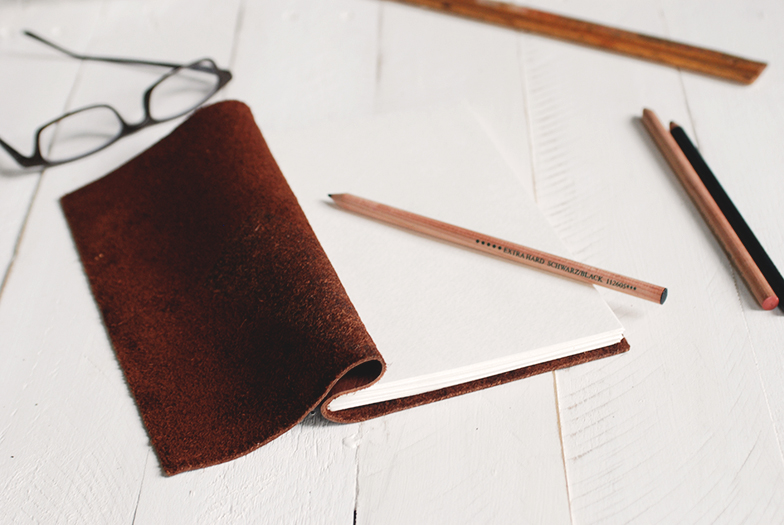 Any good last minute Father's Day gift ideas? Do you usually make something or buy something? My dad is pretty basic – he always asks for shirts & socks…and his favorite – Coconut Clusters. But I like to try to make things if I can think of something I think he'd like. (This sketchbook was actually a birthday gift for Mike…I find it easier to craft things for him!)
-Manda