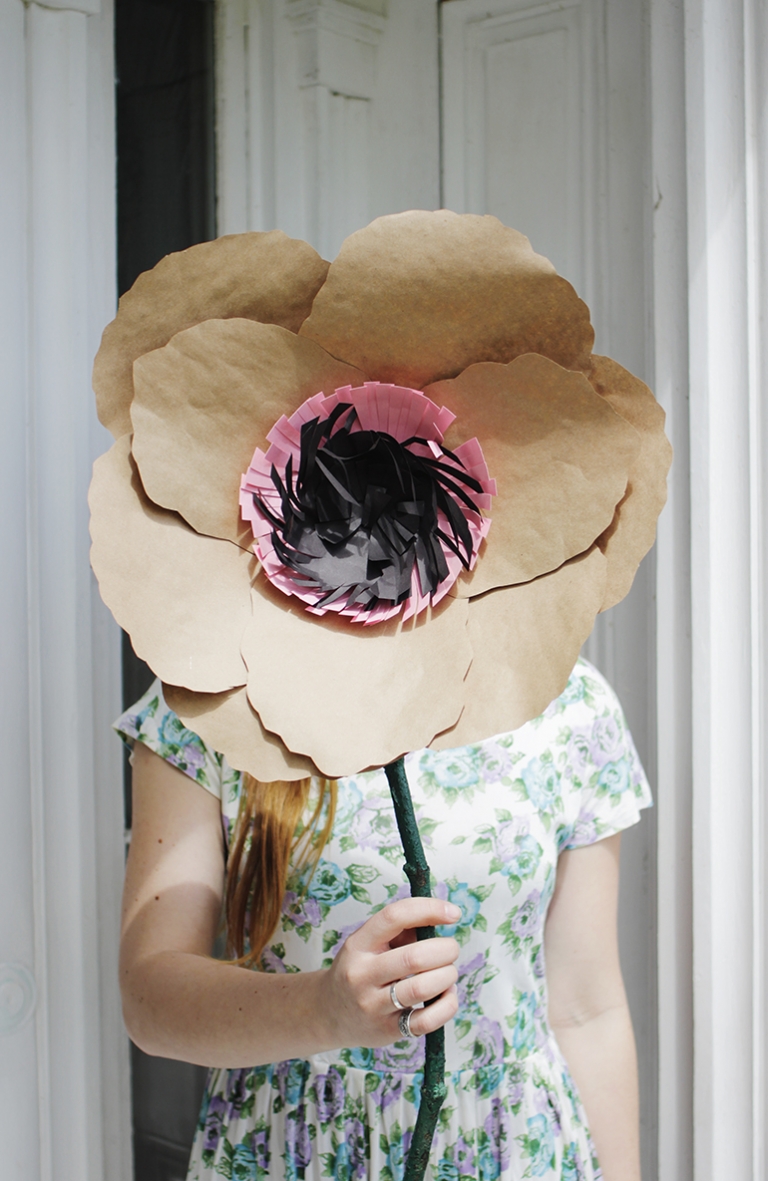 As promised, we're sharing how you can make your own bouquet of these giant kraft paper flowers! We shared a glimpse of the floral baby shower that we made them for earlier this week – check it out if you missed it!

What you need:
-Kraft Paper
-Cardboard (I used a cereal box.)
-Scissors
-Colored Cardstock/Construction Paper
-Hot Glue Gun
-Sticks
-Green Spray Paint
How to make it:
-Cut two pieces of cardboard in the shape of a petal. One large one and one smaller one. The bottom should be a straight edge about 6″ wide and the edges can be rough cut in whatever shape you'd like.
-Trace them onto kraft paper and cut them out. (You will need 6 large petals and 3-4 small petals per flower – you can add more if you want it to look more full.)
-Cut a few inches up into each petal from the center, bottom of the petal.
-Overlap the sides over the line you just cut and glue in place.
-Once this had been done with all of the petals, start gluing them staggered, on top of each other. Large petals first and then the smaller petals.
-Cut out one circle of colored cardstock and one slightly smaller circle from black cardstock. Cut strips towards the center of the circle around the entire circle. Use your hands or place a small round objet in the middle of the circle to help bend the paper in.
-Glue in the center of the flower.
-Find some nice sticks/branches and spray paint them green.
-Once dry, use hot glue and/or tape to hold the flower on the stick.
We based our project off of this tutorial so there are step-by-step photos included there that vary slightly from our process, but will still help you out if you're lost!

xo. Caitlin