Ahhh, you guys the last few weeks have been crazy busy for me. I'm seriously having trouble remembering what day it is and have to constantly check my phone calendar to see. We've been working on some side projects, and that's been taking a lot of our time, so our presence here on the blog has been a little light lately. Hoping this busy season calms down some soon – but such is life, right?!
Now onto this fun DIY. I was trying to think of some Father's Day gift ideas, and really struggle with this. I think because the guys in my life are so simple with their wants. We always joke that my dad always just asks for a new sweater and socks for any gift holidays. And my husband can never come up with gift ideas for himself, about the only thing he'll put on his list are tools. So exciting 😜. But our family enjoys
camping
and outdoor adventures, so I thought a Fire Starter Kit would be something that would not only be a cute gift (cause all guys want cute gifts) but something that actually got used! I love making things like this, things that I can do on my own (most of my DIYs involve Mike's carpentry skills) and something that's useful. Plus, I've been on my
beeswax
craft kick, so I'm all about these projects to use my
beeswax
! I broke this down into two parts, the fist being how to make the actual fire starters, which is just wax and wood shavings (we have a lot of that around here to use up!). And then the second part is putting the kit together. You can make the kit in any size/type of bag you want, I was going for something that we could throw in a ziploc baggie to keep it safe from water; and something cute, obviously. This project is easy to make, check out the video below to see it being made.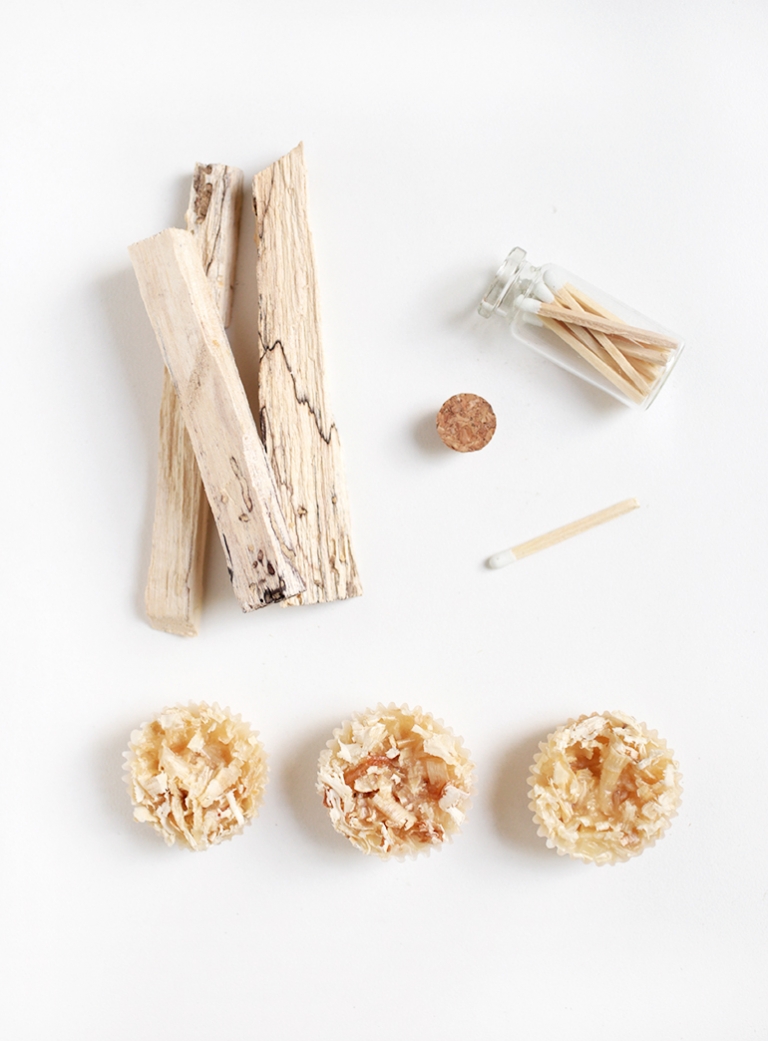 Beeswax and Wood Shavings Fire Starter
What you need:
– wood shavings
– beeswax pellets
– mini muffin tray
– mini paper liners
– tin cans
Directions: Pour beeswax pellets into a tin can (or any old container). Set can in a small saucepan of simmering water and let wax melt. Line muffin tray with paper liners, and fill liners to top with wood shavings. Pour melted wax over wood shavings, using just enough to hold the shavings together, you want more shavings than wax so it will burn easily. Let the wax cool and harden. You can leave the paper liners on (more paper to burn!) or remove them. See video below for the how-to steps.
Fire Starter Kit
What you need:
– leather strip
– leather punch
– leather letter stamps
– hammer
– muslin bag
– safety pin
– kindling (any small pieces of wood)
– matches
– fire starter (above)
Directions: Using the leather punch, punch a hole into one end of the leather strip. Wet leather slightly with a damp cloth. Use leather stamps to spell out 'Fire Starter Kit'. Add everything to your muslin bag and attach leather tag with a small safety pin (or tie it on to the strings of the bag).
-Manda