Holy cats, who can believe that December is just days away?!?! Every year it just kind of sneaks up on me. This year I wanted to update our Advent Calendar. We've been using the wooden trees calendar for years, and while I still love it, I just felt ready for something different. I'm always super inspired by all the calendars Caitlin seems to have endless ideas for – check out all the past ones here. I wanted something that was simple, easy to change up the activities in and didn't take up a lot of space.
This minimal envelope advent calendar is simple and easy to make and doesn't take up a lot of space since it hangs on the wall. I hung envelopes from string and made printable advent activity cards to go inside the envelopes, which you can find the printable for down below. I added a bit of eucalyptus and a small dried orange garland to the dowel to make it a little more festive (and that helps cover up the strings a bit too!). Below you can find the steps for how to make your own minimal envelope advent calendar, as well as some advent activity ideas for inspiration!
We've been doing some sort of advent calendar with the boys since they were tiny tots. I like to do simple activities, not gifts, with ours. I do however include a "treat" as one of the options, and I buy small Christmas candies they can choose. I save that for the days that I feel like an activity won't work in our schedule. The boys take turns opening an envelope each day, and are actually disappointed if it's the treat, which I think is really cute. Glad they love doing things better than candy! 😊 Below are some of the ideas we enjoy, if you're needing inspiration for your advent calendar activities. We actually don't do the 25th, since Christmas day is exciting enough, but there is a day 25 in the printable. I also usually wait to pick the activity until the night before because I'm always that last minute 🤦🏻‍♀️ and like to pick one that will work best with what's going on the next day.
decorate house for Christmas
get Christmas tree and decorate it
build a snowman 
hot chocolate & popcorn night
make homemade Christmas cards
make sugar cookies and decorate them
go to live nativity
eat peppermint ice cream by the Christmas tree
read a Christmas book
make paper snowflakes 
camp out by the Christmas tree
eat dinner by candle light
buy gifts/groceries for a family in need
make toasted marshmallow milkshakes
go for a winter walk
go for a drive and look at Christmas lights
make hot chocolate from scratch
snowman pancakes for dinner
go sledding
make gingerbread houses
make Christmas goodies to give away
watch a Christmas movie
family game night
read the Christmas Story together (Luke 2:1-20)
set out cookies for Santa
Materials:
1/2-inch square dowel (I cut mine to 18-inches long)
string
scissors
hole punch
small envelopes
number stamps or number stickers
advent activity cards – download printable here
Directions:
Cut dowel to size if needed. Attach string to each end of the dowel, making it the length you want for hanging.
Number each envelope with stickers or stamps.
Punch hole in the flap of the envelope, I did mine this way so you wouldn't see the hole and string going through from the front, and you can easily open the envelopes and slide the cards in and out.
Loop string through each hole and tie string around dowel. I did mine in varying lengths, and found it easiest to do while the dowel was hanging on the wall so you could see about how long you want each strand to be.
Add filled out advent activity cards (or if you're last minute like me, you can add them in at any point).
If desired add greenery & orange garland to dowel (I tied mine on with the same string I used everywhere else).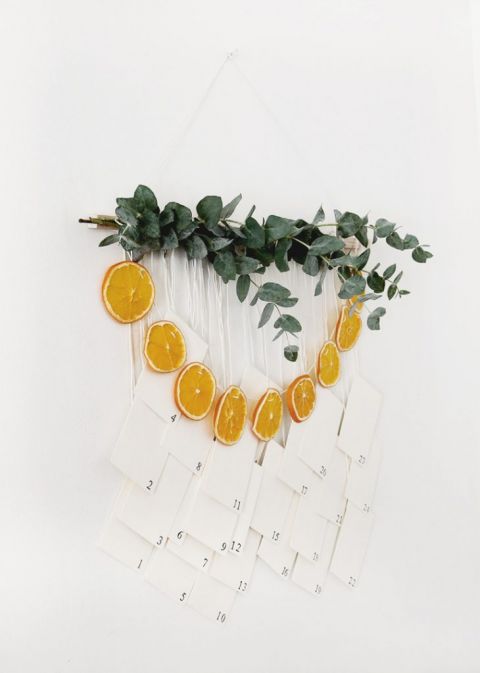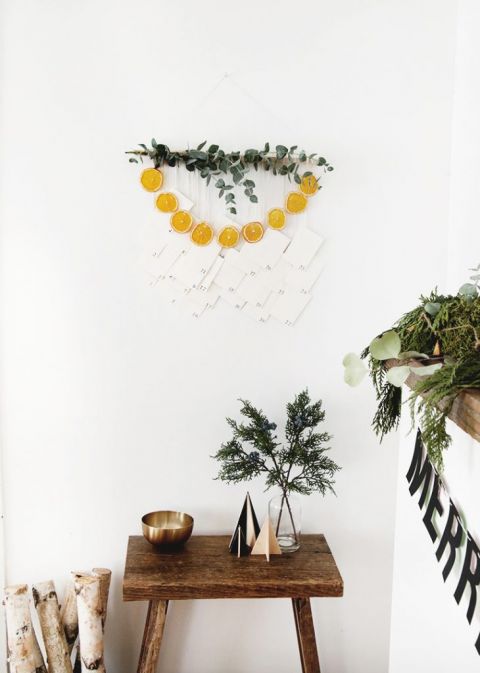 – Manda