Created in partnership with Rust-Oleum. All ideas, thoughts and opinions expressed are our own.
Thanks for supporting the brands that keep us bringing fun, new content to you!
I love living in an old house (ours is close to 200 years old!). There's lots of character that you just can't find in newer homes. But there's also a lot of quirks to deal with too, like slanted floors and sometimes very little closet space! And even though I try to do well with keeping my wardrobe and shoes to a minimum, a girl needs her space for clothes!! So for anyone else needing some extra room for clothes, we partnered with Rust-Oleum to create this simple, modern clothing rack.
We wanted to create something that was pretty enough to be on display in the room, that way if you don't have a closet (or have a small one), this will give you space to hang clothes and not be an eyesore. The other nice thing about this clothing rack is that you can use both the front and back bars to hang clothes, so it's got double the storage.
We used wood dowels and PVC side outlet elbows to create this clothing rack. Since we love the look of wood, we kept the dowels more natural and coated them with Varathane Premium Fast Dry Wood Stain (in Natural). We love that it's one coat coverage and dries in one hour! They have a lot of colors to choose from, and we love that we can find the perfect wood stain for each project we do. We also did a topcoat of Varathane Polyurethane for extra protection and durability. And we sprayed the PVC with some Rust-Oleum Universal Matte Farmhouse Black Spray Paint. We love this spray paint, the can is so comfortable and easy to use – it sprays at any angle and has a really comfortable spray trigger. We also love that it's a paint & primer in one, and can be used on any surface (metal, wood, plastic, glass, etc); we've used this on quite a few different projects!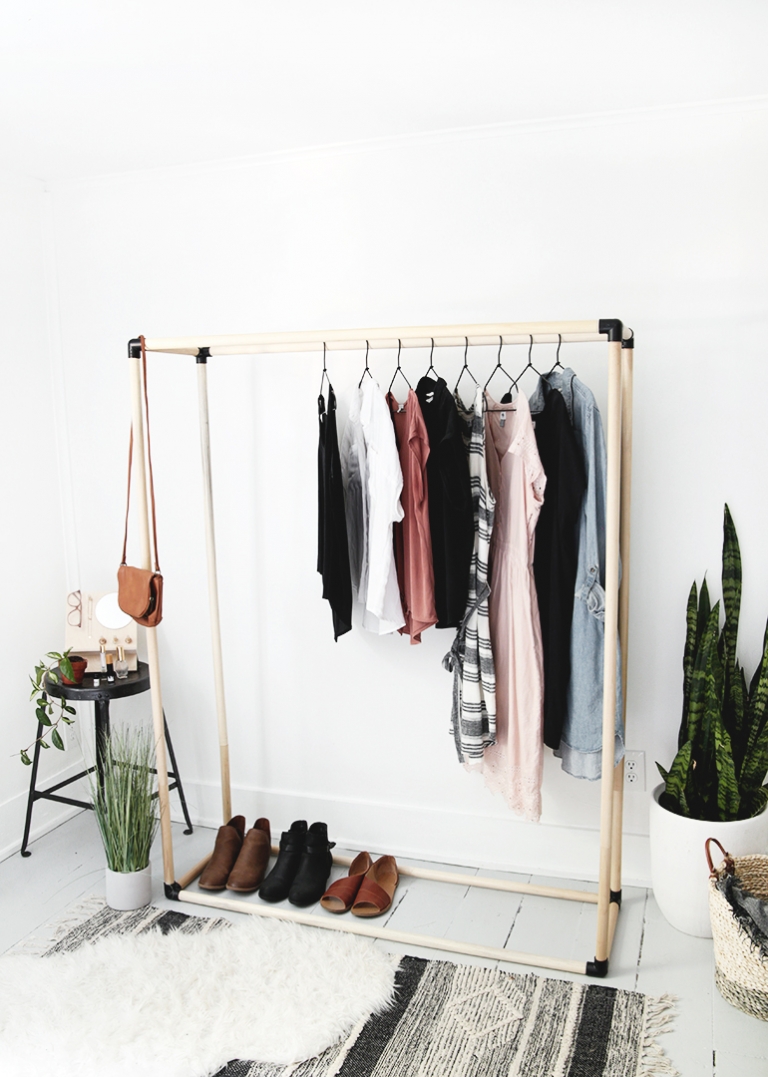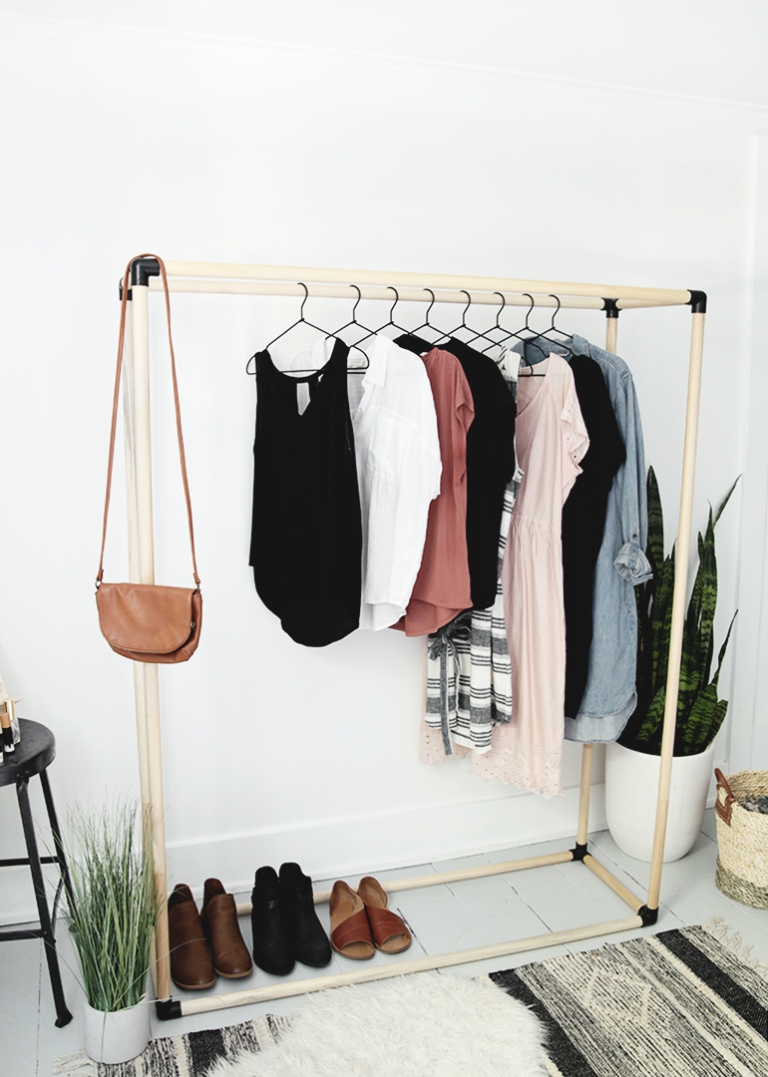 Materials:
– Varathane Premium Fast Dry Wood Stain (Natural)
– Varathane Polyurethane (Clear Matte)
– Rust-Oleum Universal Matte Farmhouse Black Spray Paint
– 9 48-inch wood dowels
– 8 3/4" PVC side outlet elbows
– E6000 glue
– dowel screws
– mitre box
– belt sander
– sand paper
– drill & drill bits
Directions:
– Using the mitre box, measure & cut dowels to size. We made our rack 62" tall, so we cut four 14" pieces to add to the 48" dowels. We cut four 13" pieces for the ends of the rack. Our rack was 48" long, so we didn't need to cut any dowels for that (check to make sure your dowels are all the same length).
– Find and mark the center of one end of the 48" dowels used for the uprights. Use a 1/16" drill bit to drill a hole at that mark about an inch deep. Use a 3/16" drill bit to make the hole bigger, drill about 1 inch deep. Repeat these steps for the 3 other 48" pieces and the four 14" pieces. Screw a dowel screw about half way into the ends of the four 48" dowels, then screw the 14" pieces onto the other end of the dowel screw.
– Using a belt sander, sand the ends of the dowels down by spinning the dowel against the sander until they fit snugly into the PVC side outlet elbows.
– Sand the dowels using sand paper so that they will stain evenly, and to remove any imperfections.
– Stain dowels, following directions on can.
– Paint the pvc corner brackets with spray paint, following directions on can.
– Starting with your 13" dowel, put a bead of glue around the inside of the hole on the bracket and then insert into the bracket until it is fully seated. Repeat on other end, and then repeat with the 48" cross pieces. This will form the bottom of the clothing rack. Repeat to make the top of the rack. Glue and insert the long dowels into the remaining holes in bottom piece. Glue all 4 holes remaining in the top of the clothing rack, flip it over and slide it onto the ends of the long dowels, pressing firmly into place. Make sure everything is square and allow to dry.
Watch the video below to see how to make this clothing rack: