Recently HomeGoods contacted us to ask if we'd like to be part of their challenge to help spread the holiday cheer this Christmas season.  They asked if we could create a gift basket for someone in need and we of course jumped at the chance!  This is one of the highlights of the Christmas season – spreading joy and love to others, especially someone that's struggling a bit right now and could use the extra help. We were thrilled to be able to partner with HomeGoods for this and bless a family for Christmas.


This was actually our first trip to HomeGoods, as the closest store is about an hour away.  Guys, this store is amazing and we had so much fun shopping and picking out gifts!  First we found a great basket to hold all our goodies – we liked that it had a little chalkboard on it so we could write a message and it's a nice big basket that will work well for storage for a family.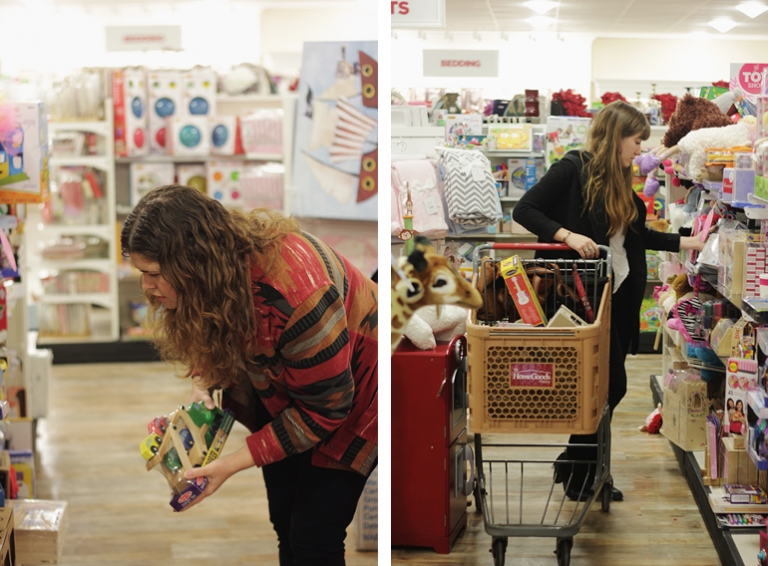 Our church helped connect us with a family to bless that has 4 kiddos, ages 1-10, so we got to work picking out toys & goodies.  We loved the toys we found!  In our house, I like to classify toys in two categories, "parent toys" and "kid toys".  Parent toys are the pretty, classical toys – ones that are not only fun to play with, but nice to look at it and ones you don't mind seeing laying around the house.  Kid toys are the bright, noisy, plastic toys that are fun to play with, but ones you like to stuff in toy bins when guests come over! 😉  Sometimes it can be hard to find stores that sell nice "parent toys", and even harder to find them at an affordable price. We were able to find toys that fit both categories, at affordable prices and struggled to narrow down our choices because there were so many great ones to choose from!  We included a variety of things – toys, books, coloring & drawing accessories, craft activities and even a soft, cozy blanket – for mama and baby to snuggle in and cozy family cuddle times.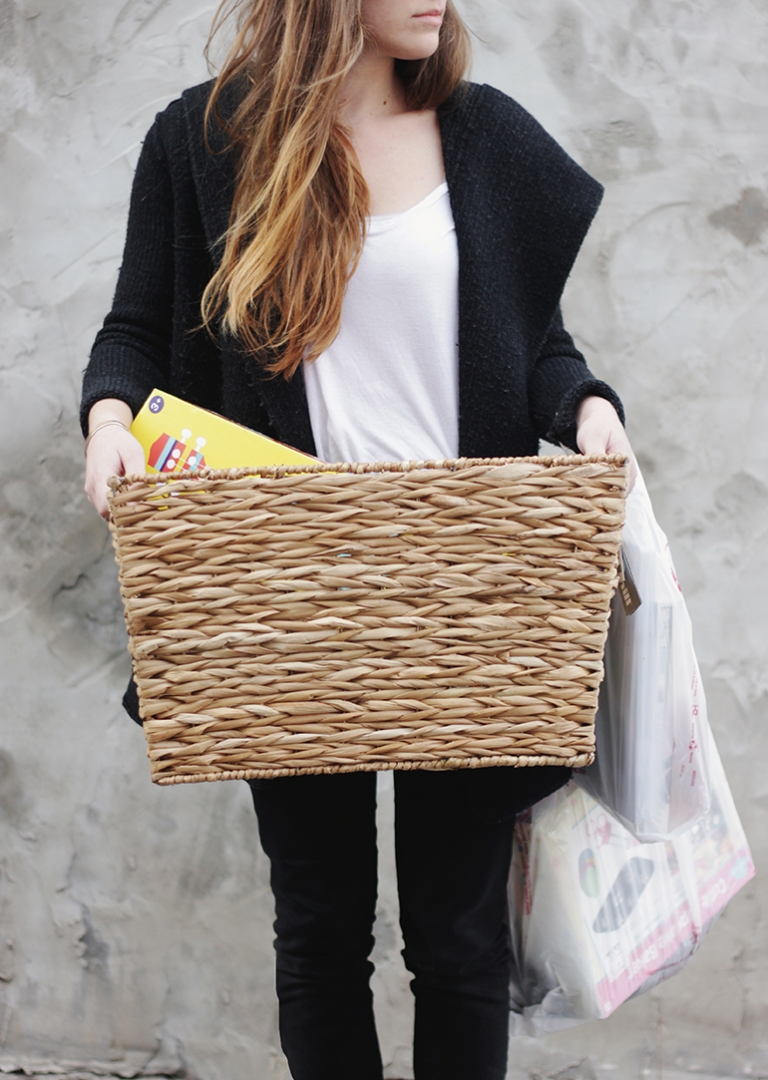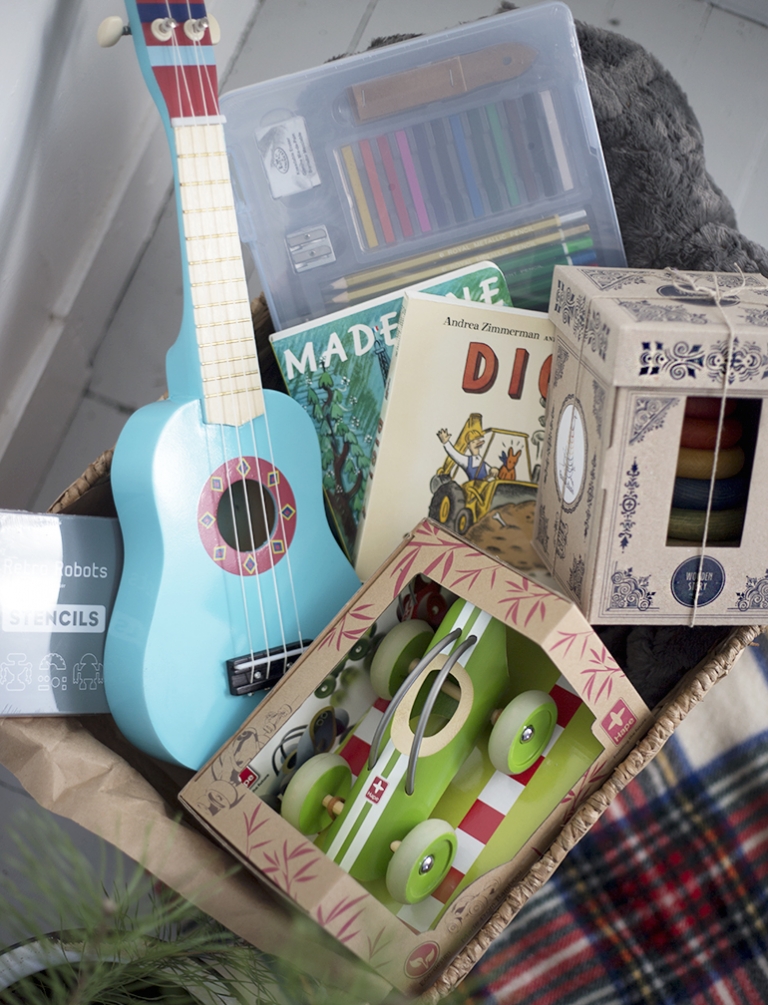 This was also a great teaching experience for my boys.  I've been trying to find different activities and things we can do to show them that Christmas isn't all about getting lots of presents for ourselves. As we worked on putting the basket together and taking some photos, we talked about how important it is to help people that might be going through a rough time and need a little extra helping hand.  We talked about how giving is one of the highlights of Christmas and how we are not only blessing a family but also how good it feels to be able to give and help others. God gave His best for us, and we should do the same for others.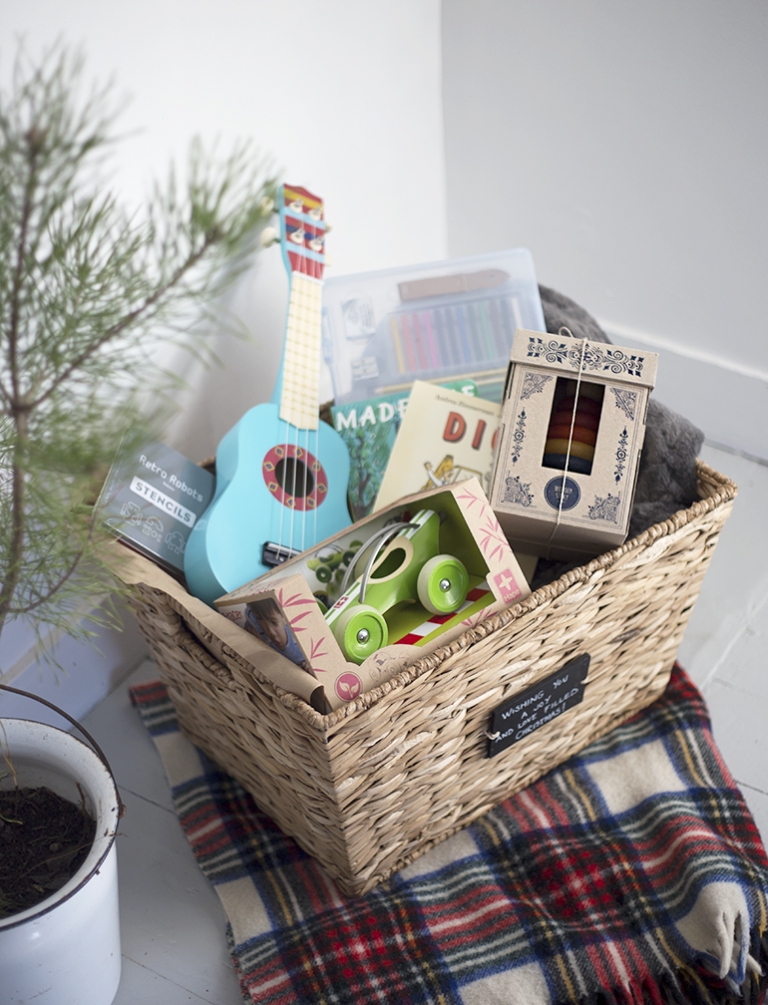 We had so much fun picking out these gifts and getting the chance to bless someone and spread a little cheer this Christmas! And we're so glad we took the trip out to HomeGoods – we'll definitely be back  for more shopping (and have our fingers crossed we might get one a little closer someday)!
What about you – what are your favorite ways to spread the holiday cheer?
xo – Manda & Caitlin
*Sponsored by HomeGoods. All thoughts and opinions expressed are our own.