I love bundt cakes! They always turn out lovely with just a minimal amount of work. No frosting to whip up (although, I'll be honest, that's the reason I eat cake – for the frosting!), no trying to get layers to sit just right, no "angry baker" because the frosting isn't going on like I wanted it to! (That's a thing at our house, if you'd like to see me at my worst, come over when I'm trying to frost a cake with difficult frosting!  Or when I'm trying to get all three boys out of the house in a timely fashion…grrr!)


I originally had a different dessert planned to share today, but when I went to bake, my heart cried out for something simpler.  It's been the theme for me this month.  To keep things simple and minimal.  I'm trying to enjoy the season for what it is, and not get wrapped up in details that just add more stress and don't seem to really matter.  And so I went with a simple brown sugar bundt cake.  A recipe that appealed to me because of my Michael's love for brown sugar.  I added a few extra ingredients – a hint of molasses, also for Mike, and some spices to infuse a taste of Christmas. A simple cake, with comforting flavors that would make a lovely addition to a Christmas menu.  It has a buttery brown sugar sauce you can serve with it, but it's delicious on it's own too.  (Mike actually preferred it without the sauce, I liked it with the sauce, but then again, I can't ever pass up a sauce or dip!)


Brown Sugar Bundt Cake
1 1/2 cups packed light brown sugar
3/4 cup granulated sugar
1 cup butter, softened
4 eggs
2 teaspoons vanilla extract
2 tablespoons molasses
1/2 teaspoon baking powder
1/2 teaspoon salt
1/2 teaspoon ground cinnamon
pinch of nutmeg
2 1/4 cups all-purpose flour
3/4 cup milk
Heat oven to 350ºF. Grease and lightly flour the bottom and side of 12-cup bundt pan (or 10-inch angel food (tube cake) pan).
In large bowl, beat brown sugar, granulated sugar and butter with electric mixer on low speed 30 seconds. Scrape the sides of the bowl and beat on medium speed for about 5 minutes, scraping bowl occasionally, until light and fluffy. Beat in eggs, one at a time, beating well after each addition. Stir in vanilla extract and molasses. Mix in baking powder, salt, cinnamon and nutmeg until combined. Beat in flour mixture alternately with the milk on low speed until combined and smooth. Pour into prepared pan.
Bake 1 hour to 1 hour 10 minutes or until toothpick inserted in center of cake comes out clean. Cool 10 minutes; remove from pan to cooling rack. Cool completely, about 2 hours.
Buttery Brown Sugar Sauce
1/2 cup butter
1/4 cup packed light brown sugar
1 tablespoon milk
pinch of cream of tartar
1/2 teaspoon vanilla extract
In a medium saucepan, whisk together sauce ingredients except vanilla and heat to boiling over medium heat, stirring constantly; boil and stir 2 minutes. Remove from heat; stir in vanilla. Let cool slightly.
Dust cake with powdered sugar if desired.  Serve with warm brown sugar sauce.
Adapted from Betty Crocker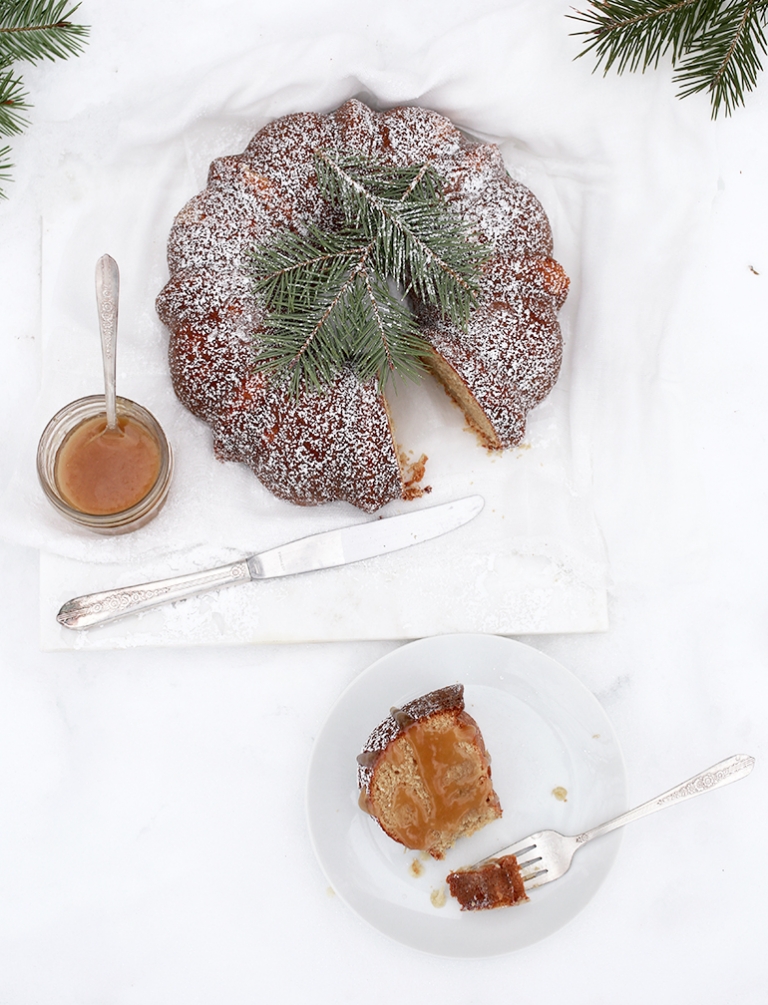 What are some of your favorite Christmas desserts? Cheesecake is my favorite dessert, so I always try to fit in making one for at least one holiday get together. And of course, my Gramma's Frosted Sugar Cookies are a must have this time of year! In fact, I think I need to go start a batch now! 😉
-Manda