If you've been reading our blog for a while now, you've probably realized that we are extreme thrift shoppers. I would guess that 90% or more of everything that I own was picked up at a thrift store, garage sale, auction, estate sale, flea market, or along the side of the road. Seriously – the more I think about it, the higher that percentage gets.
So we decided it would be fun to share some tips we've picked up throughout our many years of thrifting. Thrift tips post #1 will be focusing on garage sales!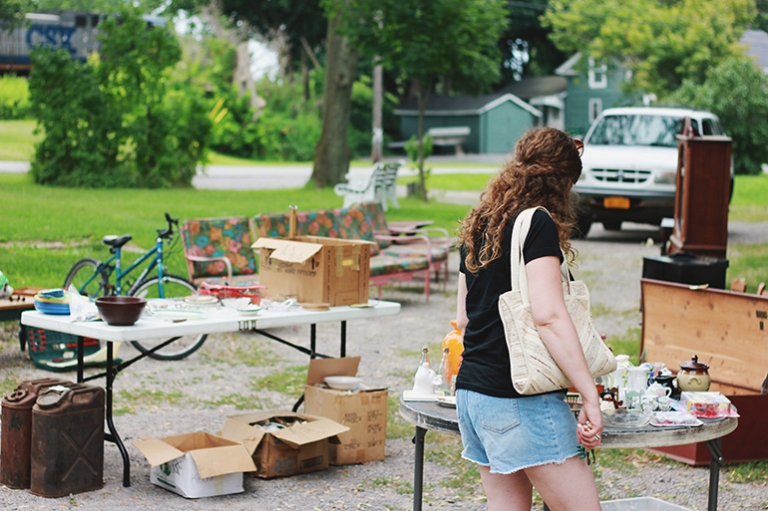 1. Plan ahead. Sometimes it's nice to just go out for a drive and stop by a few garage sales that you find along the way, but if you are trying to do some real garage saling – look up sales ahead of time and map out a route that you want to take to hit them all without driving back and fourth a million times. Make sure you start your day off with the sales that sound like they have the most potential for treasures!

2. Don't be afraid of a mess. If you drive up and see a garage sale that looks like the inside of a hoarder's house – don't be afraid! Get out and start digging! The messier the garage sale, the better deal you can get. I have been to a garage sale that I literally was climbing on a mountain of junk and I found some of the greatest treasures there. I've also gone inside a terrifying attic and dug out boxes and boxes of incredible vintage clothes. And I got them for dirt cheap!

3. Go early or go late. Get to the sales that sound the best early – so you can grab the deals before anyone else gets there. If you aren't an early riser – go on the last day and you can usually get some pretty great deals on items that are still left because they don't want to have to haul them off to a thrift store. This is especially true for estate sales – their last day is usually 50% off!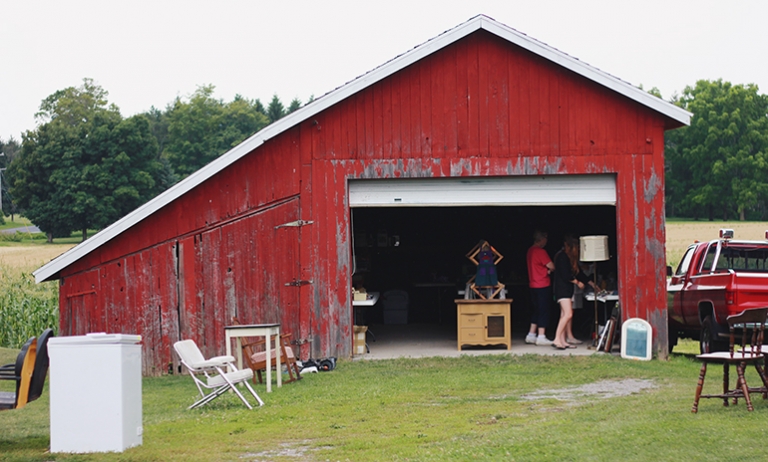 4. Ask for specific things. If you have something that you collect – vintage dresses, pocket watches, vintage pyrex – and you don't see it out, just ask! My grandpa always, always asks at garage sales if they have any old watches and you would be shocked to know how many times people go inside and come out with some for him to look at. I have talked about collecting vintage clothes at garage sales before and have gotten contacts for people clearing out estates that are full of vintage clothes. It never hurts to ask!

5. Skip the kiddie litter. For years I have gone garage saling with my grandpa – whenever we drive up to a sale and see tables of bright baby clothes and tarps laid out that are piled high with drool-covered stuffed animals he says, "Kiddie Litter!" and drives past. If you're a mama out looking for clothes and what-not – go ahead and stop. But if you're out looking for treasures, it's usually pretty safe to pass those ones by. Also – a tip for you mamas – if you are bringing your kids around to sales with you, bring snacks and something for them to do in the car to keep them occupied (books or a movie).

6. Haggle! Most people having a garage sale will be willing to come down a little on their prices although you will definitely encounter a few people that really think their trash is treasure and won't budge. Either way, haggling is always worth a shot. I know it says $5 on the sticker but just ask, "Would you take $3 for this?" or grab a few other small items that you want and ask if they'll take $5 for everything. Most likely, they will. It's uncomfortable at first but soon you'll be a pro!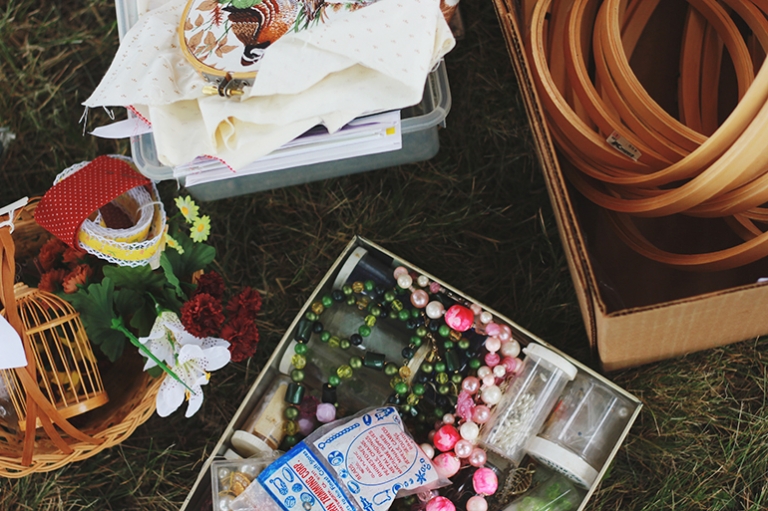 7. Bring small bills. If you have a seriously garage saling day planned out – stock your wallet with 1's, 5's, and 10's and throw in some quarters while you're at it. This will help with the haggling and the people running the sale will appreciate it . There's nothing worse than saying, "Will you take $5 for all of these instead of $8." and then asking if they can break a $20.

8. Check out the house. If you're looking for antiques and you're in a brand new neighborhood full of swing-sets in the back yard – move along!

Sales I always stop at:
Rummage Sales – usually held in churches; great for cheap household trinkets, clothes, books, crafting supplies; huge variety of stuff since it's coming from so many different people.
Estate Sales – usually set-up throughout someone's house; great for dishes, linens, jewelry, vintage clothes; usually a bit more expensive than a garage sale; always check the basement and garage!
Barn Sales – these signs are sometimes misleading, but a good barn sale is full of half-refinished furniture, tools, crates, things to fix up – things I love!
Neighborhood Sales – best way to hit up a lot of sales without wasting gas; best if it's an older community.
These are just a few rules that I have found to be mostly true – although there are definitely exceptions to the rules.
Hope they help the next time you hit the streets to find some deals!
Stick around for our next Thrift Tips post!
Caitlin