We were recently told about a new local coffee spot in Rochester, Fuego Coffee Roasters.  Our brother Craig, is friends with the owners, Tony & Renee and told us we needed to stop in and check it out.  Marla and I are always up for anything coffee related, so we were excited to go try a new place.  Caitlin doesn't share the same enthusiasm for coffee, but she's always up for checking out new places and finding spots to recommend to her coffee-loving friends.  So we headed out on another merry adventure.

Renee wasn't there that afternoon, we were sad to miss out on seeing her; but it was a pleasure getting to meet Tony. He's so clearly passionate about coffee. It's great to see someone getting to do what they love.  Tony is definitely meant to be in the coffee business.

At Fuego Coffee Roasters, they brew everything by the cup. Their mission statement is: locally roasted, brewed to order. So you can count on a very fresh cup of coffee here. They use the AeroPress method, which is a 30 second brew process, and gives you a great cup of coffee in a convenient 30 seconds. They also offer cold brews. Right now, they're offering a direct trade Puerto Rican coffee with a flavor profile of chocolate and maple. (It is perfect!)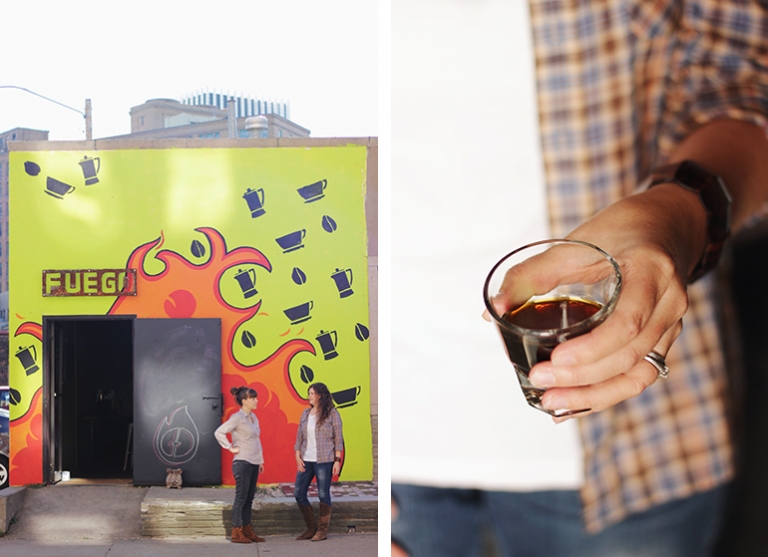 One of the shops specialities, the French Quarter, could be considered their gateway drug – try this and you'll be hooked on coffee for life. It's a cold brew with fresh roasted chicory, with a little milk poured on top and some organic agave added.

Tony spends a lot of time doing research on the best places to get their beans from. Right now, they're doing direct trade with different farms in Puerto Rico. Tony's family lives in Puerto Rico, so it's easy for him to work directly with farmers there. They also get beans from Honduras and Nicaragua and are currently in the works with getting beans from quite a few other countries.

Tony has worked hard on perfecting his roasting technique and getting that perfect roast. And, having been in the coffee business for 8 years before starting Fuego's, he definitely has the expertise needed.

The shop serves baked goods from Rochester's Flour City Bread and other local bakers.

If you live locally, you definitely need to stop in at Fuego's and try their amazing coffee. And buy a bag or two to take home to keep enjoying all week!
Visit Fuego here:
Facebook
Twitter
Instagram
Thanks so much Tony & Renee, for letting us stop in and get our caffeine fix. We love your coffee and will be back regularly!