Cookie season is here! Have you started any holiday baking yet? Other than for blog projects, I have not! Like
gifts
(and pretty much everything in life), I seem to wait until the last minute to do holiday baking.  And I'm not sure why – especially with recipes like this, where the cookies can be made ahead and then frozen, ready to pull out & frost when needed.
These are my favorite cut-out sugar cookies. I actually shared them
here
a couple years ago, but with different frosting – so if you're a buttercream frosting kind of person (that's me!), you might want to check that recipe out. It's my Gramma's sugar cookie recipe, and it's soft & chewy (my favorite kind of cookie) and pairs so well with a variety of frostings. And also with an ice cold glass of milk! Or your morning cup of coffee! 😉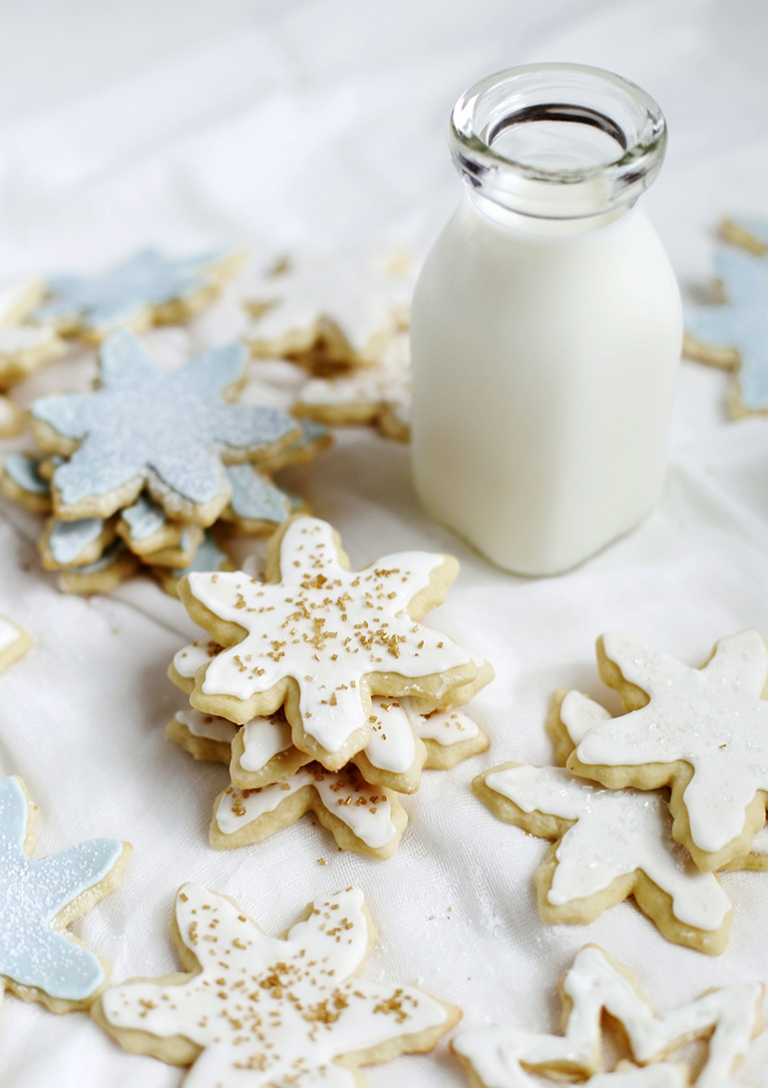 I've always wanted to try royal icing on these cookies, it does give your cookies a much "neater" appearance, but buttercream has always been my favorite, so I kept saying, next time about trying royal icing. Until I wanted to make snowflake cookies and knew that royal icing would work much better for frosting those. I still would choose buttercream frosting over royal icing, but it's fun to shake things up, and if you're looking to impress your guests or have cookies that have detailed edges, like snowflakes, royal icing is for you! Royal Icing also lets the cookie flavor shine through a bit more than buttercream, and with these delicious cookies, that's definitely a good thing!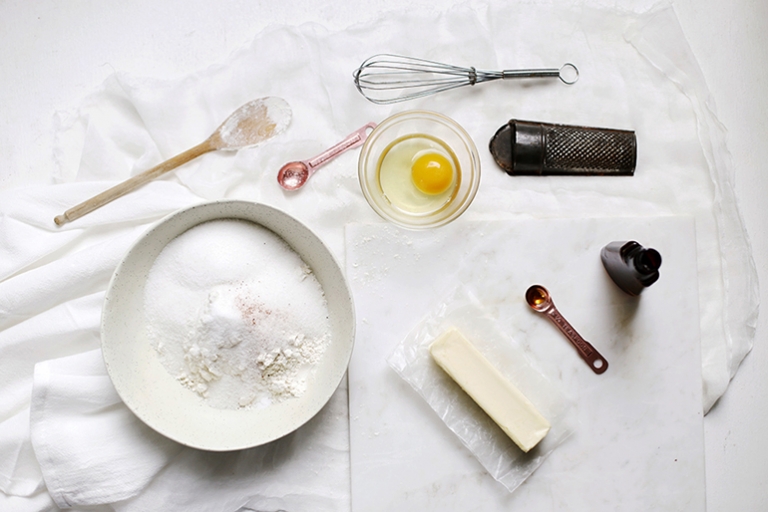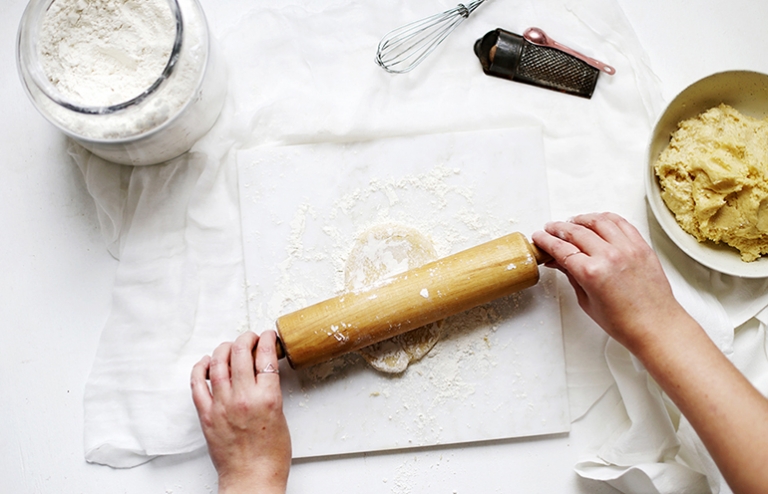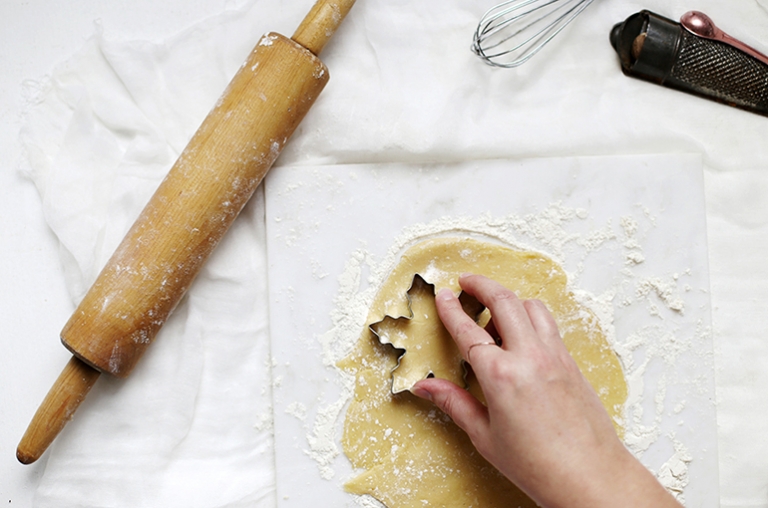 Sugar Cookies
Yield: approximately 4 dozen (will vary depending on cookie size)
1/2 cup (1 stick) unsalted butter, room temperature
1 cup sugar
2 eggs
1/2 teaspoon baking soda
1/4 teaspoon salt
1/8 teaspoon nutmeg
1/2 teaspoon vanilla extract
1/2 cup sour cream
2 1/2 cups flour
In a large mixing bowl, cream together the butter and sugar until light and fluffy, about 3 minutes. Add in the eggs, beating well. Mix in the baking soda, salt, nutmeg and vanilla and stir until combined. Alternately add the sour cream and flour until mixed in. Cover & chill dough, at least one hour or overnight.
Preheat oven to 350ºF. Line baking sheets with parchment paper. On a floured surface, roll out dough to about 1/4 inch thickness (you will need to do this in sections, unless you have a huge surface to roll on). Cut out dough with cookie cutters and place on prepared cookie sheets. Bake 7-9 minutes, just until the cookies are cooked through – but not browned. Allow to cool for a few minutes on the baking sheet, then transfer to a wire rack to cool completely. Frost & decorate as desired. (You can see this post for a few tips on the cookies)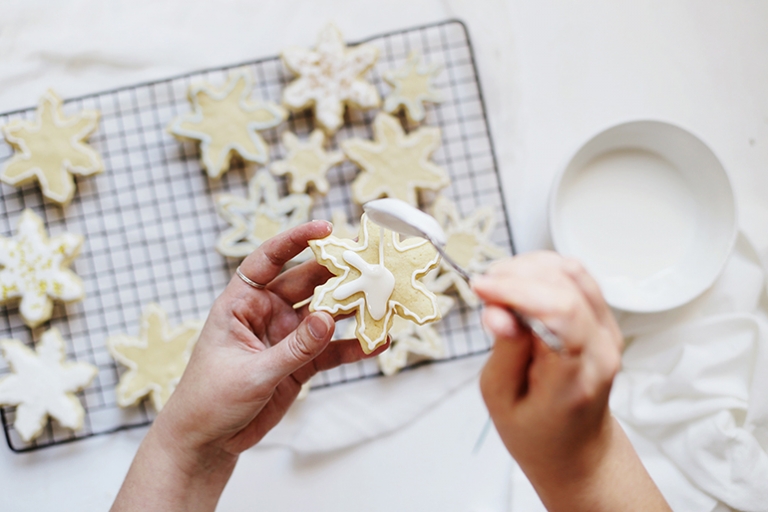 Royal Icing
2 eggs white (or use 2 tablespoons of meringue powder)
1/2 tsp vanilla
3 1/2 – 4 cups powdered sugar
water
You'll also need:
plastic wrap
small bowls
pastry bags with small round tips
spoon
toothpicks
food coloring (gel icing colors work best), optional
sprinkles, optional
In the bowl of an electric mixer, beat the egg whites and vanilla until foamy. Add in the powdered sugar and beat on low speed until combined and smooth, then on medium speed another 5-7 minutes. (If using meringue powder, beat together meringue powder, 5 tablespoons of water, and powdered sugar until icing forms stiff, glossy peaks, about 5-7 minutes).
To start with, you'll want the frosting to be thick enough to pipe a border around the edge of the cookies. If it's too thick to pipe, add a little bit of water to thin it out.
Remove about 1/2 cup of icing from the bowl, divide it into two small bowls (or more if you're using additional food coloring, you'll want one bowl for each color). Cover your large bowl of icing with plastic wrap to keep it from hardening, you'll always want to keep any icing that you're not using covered as it hardens when exposed to air. Color the icing as desired, (start with a very small amount, it's easier to add more), we kept one white and did the other light blue. Place the icing in pastry bags fitted with small round tips and pipe borders around edge of cookies.
While you wait for the icing to harden on the cookies you just edged, thin out the remaining frosting. Add water, a teaspoon or two at a time to thin out. You'll want it to be thin enough that when you lift the beater, the icing that falls back into the bowl remains on the surface for a few seconds before blending into the icing in the bowl. Keep adding water until it reaches the right consistency. (If it becomes too thin, add more powdered sugar to thicken it). Divide icing into smaller bowls, one for each icing color like you did earlier. Add coloring. Spoon a small amount of icing on the center of the cookies, it should very slowly spread, but you'll probably need to help it along using a small spoon or toothpick. (It should not be so thin that it runs off the edges, that means your icing is too thin, add more powdered sugar). Allow icing to harden, this can take up to 8 hours; cookies can be left out, uncovered while they set. If adding sprinkles, let the icing sit for about 15-25 minutes, then add sprinkles (if you add it too soon, they may just sink into the icing). Or you can dust cookies with powdered sugar once the icing has completely hardened. Store cookies in an airtight container at room temperature.
Remember: The icing needs to be used immediately or transferred to an airtight container, royal icing hardens when exposed to air. Cover with plastic wrap when not in use.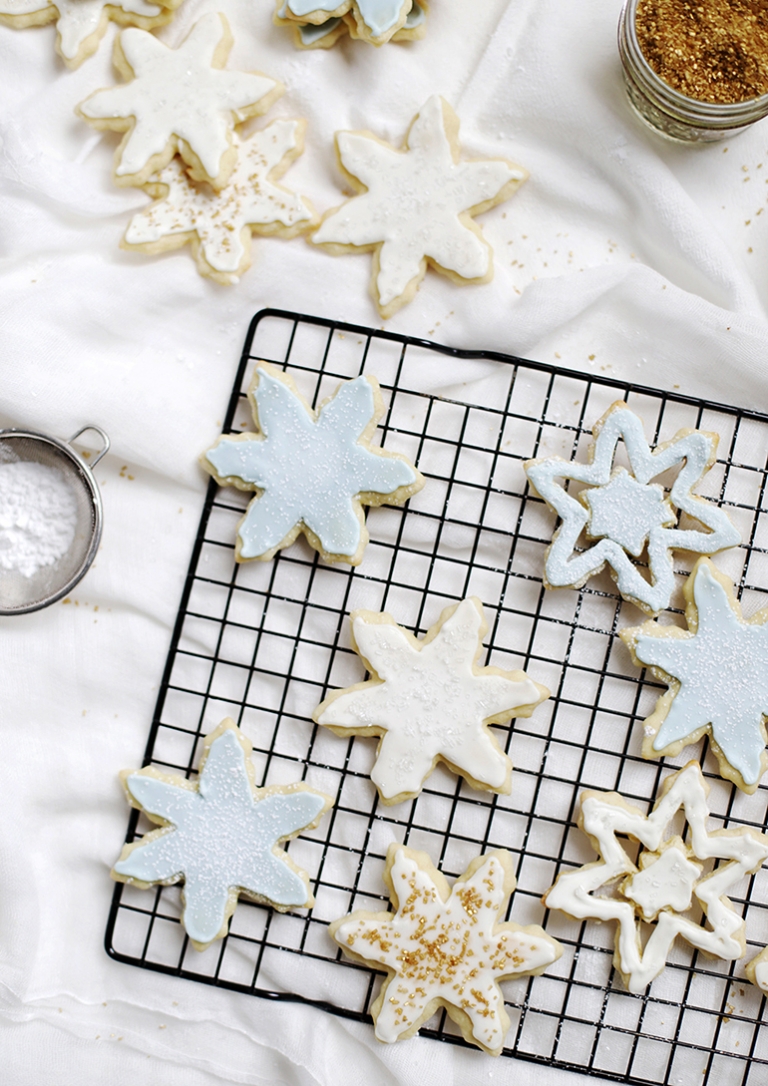 What's your favorite holiday cookie?
Enjoy the weekend – maybe get some holiday baking done! 😉
-Manda