Once summer rolls around, s'mores turn into the go-to dessert around here. I love spending evenings out back around our fire. And it's no secret that s'mores are one of our favorite desserts to indulge in, we're well into putting a s'mores twist on every and any food we can – ha! So, it was about time to add s'mores popcorn to that list!
This sweet snack is perfect for summer – no-baking; and it's super easy to make, the longest part is waiting for it to cool. There's a video below showing you just how simple this is to make!
S'mores popcorn is a perfect mix of salty and sweet. You get a bit of saltiness from the popcorn and then you combine that with sweet marshmallows, Golden Grahams cereal and of course chocolate!
Ingredients to Make S'mores Popcorn:
popcorn
mini marshmallows
butter
golden grahams
chocolate chips
See below for the measurements and recipe instructions.
What kind of popcorn to use:
I've found that the best kind of microwave popcorn to use is Simply Salted. This will give you the saltiness you want, without adding extra grease from the butter. Of course, homemade popcorn would work well too! You'll just want to be sure to add salt to your popcorn.
How to store s'mores popcorn:
You'll want to store this in an airtight container. It's best to serve and eat this recipe on the day you make it. It is a fairly quick, easy recipe to make. You should be able to quickly throw it together before a summer party!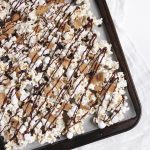 S'mores Popcorn
Combine two favorite treats, popcorn and s'mores, with this easy s'mores popcorn recipe. A no bake dessert, perfect for summer gatherings!
Ingredients
1

bag

popcorn, popped (I used Simply Salted)

1-1/2

cups

golden grahams cereal

2-1/2

cups

mini marshmallows, divided

2

tablespoons

salted butter

5

tablespoons

mini chocolate chips, divided
Instructions
Pour popcorn and 1 cup of golden grahams into a large bowl.

Microwave 2 cups of mini marshmallows with the 2 tablespoons of butter for about 45 seconds or until able to stir smooth.

Stir the melted marshmallow into the popcorn mixture until the popcorn and grahams are well coated.

Spread mixture onto a baking sheet lined with parchment or wax paper.

Sprinkle mixture with remaining 1/2 cup mini marshmallows, 1/2 cup of golden grahams and 2 tablespoons of the mini chocolate chips.

Microwave remaining 3 tablespoons of chocolate chips (you can add a tiny bit of vegetable oil to chocolate chips before microwaving to help keep it smooth) until you can stir smooth.

Drizzle melted chocolate over popcorn mixture and let cool.

Once cool, brake into pieces and enjoy.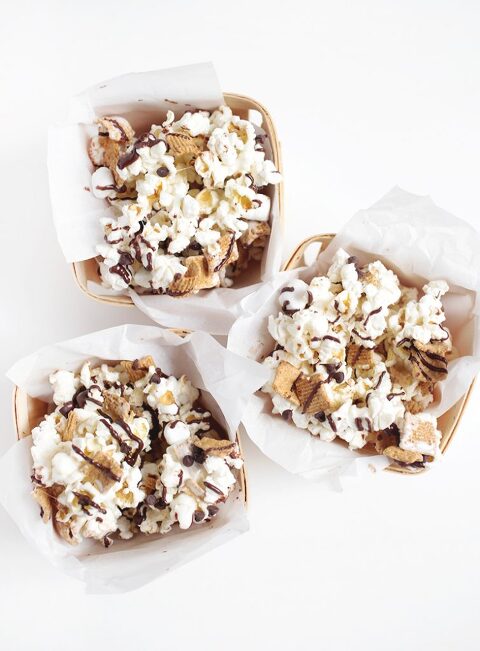 If you enjoyed this, be sure to check out our other popcorn recipes. And click here for more s'mores inspired recipes. 
-Manda