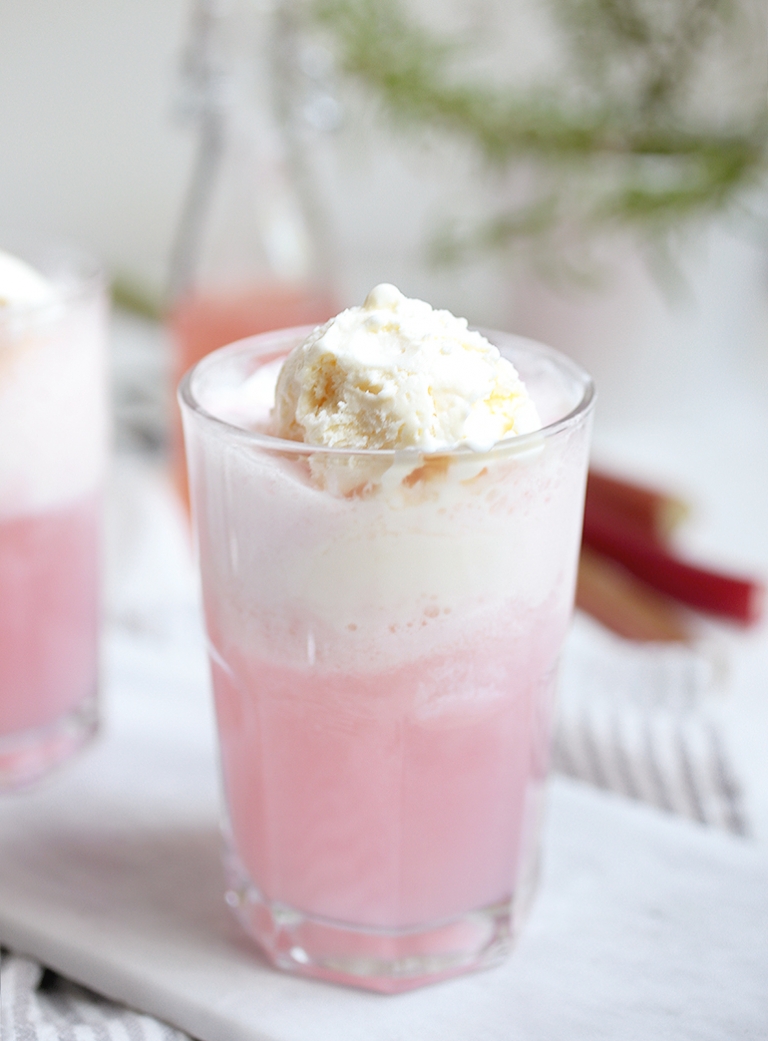 One of my boys' favorite treats are ice cream floats. They usually get to indulge in this over at their grandparents house and prefer orange or root beer pop as their choice to mix with ice cream. When I was trying to think of ways to use up the rest of the rhubarb leftover from making the Rhubarb Cake,  I thought a rhubarb float sounded good and might be something the boys would enjoy! I had also really been craving some Rosemary Rhubarb Lemonade and decided to try using that simple syrup with these floats!


These floats are a glass full of creamy, sweet, tangy goodness!  I pretty much used the same simple syrup from the lemonade, but reduced the rosemary a bit, I wanted the rhubarb flavor to be a bit stronger (and I wasn't sure how the rosemary flavor would go over with the boys).  The boys (and I) were big fans of this – it's a perfect treat for warm days!


Rosemary Rhubarb Float
rosemary rhubarb simple syrup (recipe below)
club soda
vanilla ice cream
Add simple syrup to a glass. Add club soda, filling about 2/3 full. (You can taste it at this point and see if you want more syrup added). Add a couple scoops of vanilla ice cream and enjoy!
Rosemary Rhubarb Simple Syrup
2 cups of chopped rhubarb
1 sprig of rosemary
3/4 cup water
3/4 cup sugar
Stir together rhubarb, rosemary, water and sugar in a sauce pan over medium heat and bring to a boil. After it has boiled for a minute or so, reduce and let simmer for 15-20 minutes (I actually took my rosemary out before letting it simmer because I wanted the rosemary flavor to be more subtle). Strain mixture and store syrup in a covered glass jar in the refrigerator. If you're using the syrup for the float, make sure to let it cool completely.


(Can you believe how gigantic rhubarb leaves are?!!) Any favorite rhubarb recipes I should try out? It's still going strong in my mom's garden!
-Manda