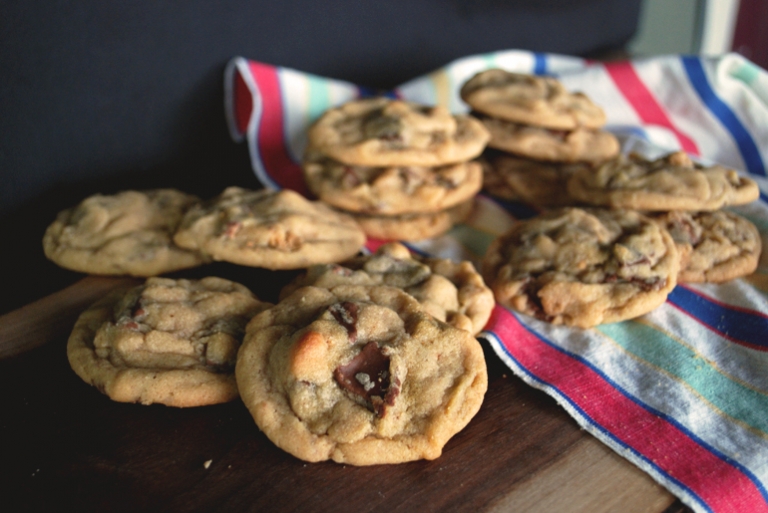 One of my favorite cookies ever are these peanut butter chunk cookies.  They're soft and oh so peanut buttery and just perfect.  They are also a favorite with Caitlin and Marla.  Recently Cait and I were munching on some cookies together and I was telling her they had vanilla pudding mix in them and I loved it and wanted to use it in everything.  She then suggested that I try adding banana pudding mix to our favorite peanut butter cookies.  I love bananas.  I love bananas with peanut butter on them.  And I love banana bread.  But that's about where my love affair ends with bananas.  I don't like banana cream pie or any banana flavored foods/candy.  So I was a bit skeptical about the idea, but knew I had to try it for Cait.


They turned out pretty good…and Caitlin loved them! I thought the banana flavor was subtle enough that I could handle it and was a nice compliment to the peanut butter chunk cookies.  If you really like banana flavored things, you may want to add a little bit extra banana pudding mix. (A few people said they didn't even really notice the banana flavor, but I could definitely tell). If you're not a fan of bananas, then just leave the pudding mix out (or use vanilla pudding mix) and you'll have the most amazing peanut butter chunk cookies ever.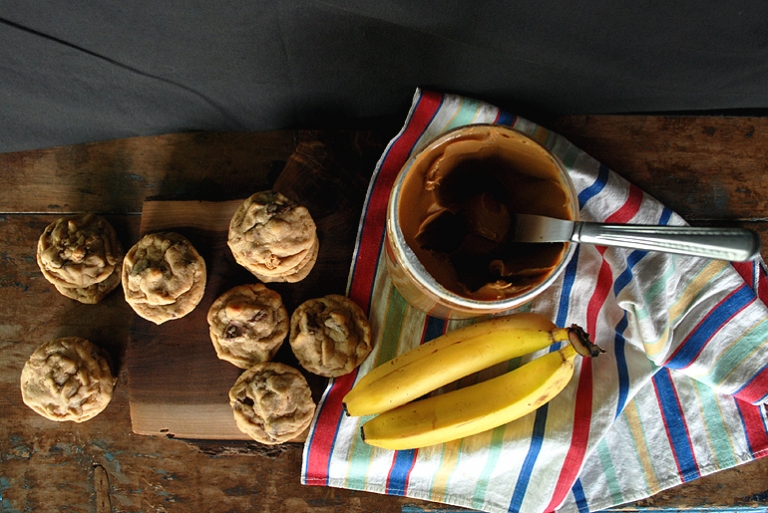 PEANUT BUTTER BANANA COOKIES
Ingredients:
1/2 cup butter, softened
1/2 cup peanut butter
1/2 cup granulated sugar
1/2 cup packed brown sugar
1/2 tsp. baking soda
1/2 tsp. baking powder
3 tbsp. instant banana pudding mix
1 egg
1/2 tsp. vanilla
1 1/4 cups all-purpose flour
appx. 25 miniature peanut butter cups, coarsely chopped
Directions:
Preheat the oven to 350˚ F. If you'd like, line baking sheets with silicone baking mats or parchment paper. (If not, just use ungreased baking sheets).
In the bowl of an electric mixer, combine the butter and peanut butter. Beat on medium-high speed until light and fluffy, 1-2 minutes. Add in the granulated sugar, brown sugar, baking soda, baking powder and pudding mix. Beat till combined, scraping sides of bowl as needed. Beat in the egg and vanilla till combined. Add the flour (slowly) and mix just until incorporated. Add in the chopped peanut butter cups and fold in gently with a spatula.
Drop small rounds of dough onto the baking sheets, spacing about 1 inch apart. Bake 6-8 minutes, or until just barely turning brown. The cookies may seem soft immediately after coming out of the oven but they will set as they cool. Do not over bake your cookies, please! (This is the secret to soft cookies!!) Let cool on the baking sheets about 10 minutes, then transfer to a wire rack to cool completely. Store in an airtight container.
Makes approximately 2 dozen cookies.
Happy Memorial Day! Bake some cookies for a veteran and say thanks!   Manda