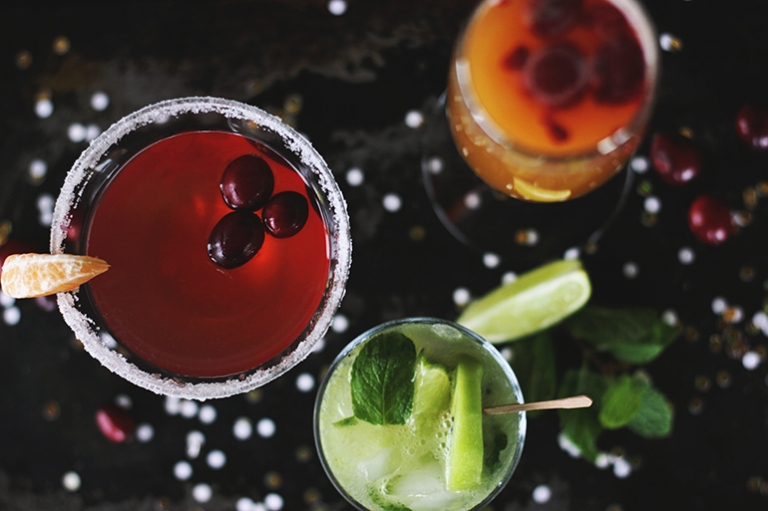 I can't believe we'll be celebrating the New Year tomorrow night! Oh 2013 where did you go?! Do you have any fun plans for New Year's Eve? We always spend New Year's celebrating with the same group of family friends, eating so much good food and drinking lots of sparkling grape juice!  Yup, just sparkling grape juice – it's our favorite! I think if it weren't for the calories, I'd be downing a few bottles of it daily. Because we're such fans of sparkling grape juice, we thought it would be fun to try out some virgin cocktails, or mocktails. And now I think we've developed a new favorite pastime…coming up with fun mocktail recipes!  These are delicious and perfect to add to your New Year's Eve drink menu – you don't want to leave out your pregnant friends or those that are designated drivers (or those of us who just love a good virgin drink!).

Cranberry Cutie
3 oz IZZE Clementine Sparkling Juice
3 oz cranberry juice
juice of 1 lime
cranberries & clementine slice for garnish
Run a lime wedge around the rim of your glass (or moisten with water) and dip the moistened rim in sugar.  Pour in your clementine sparkling juice, cranberry juice and lime juice.  Stir.  Garnish with a slice of clementine and cranberries.

Kiwi Lime Mojito
1/4 of a green kiwi, peeled & cubed
1/3 of a lime, cut into thin wedges – leave the rind on
4 mint leaves
2 teaspoons honey
crushed ice
ginger ale
sparkling mineral water
Put the kiwi, lime slices, mint leaves and honey in a tall glass and crush (we used an ice scoop handle – it worked well…very professional). Add the crushed ice on top of the kiwi mixture, filling the glass about 2/3 full. Stir in a splash of ginger ale, then fill the rest of the glass with sparkling mineral water and stir again. Garnish with a slice of kiwi, lime and mint leaves.

Baby Bellini
3 oz peach nectar
3+ oz sparkling apple cider
raspberries for garnish
Pour the peach nectar in a glass.  Slowly add in the sparkling apple cider until the glass is full.  If desired, add a few raspberries for garnish.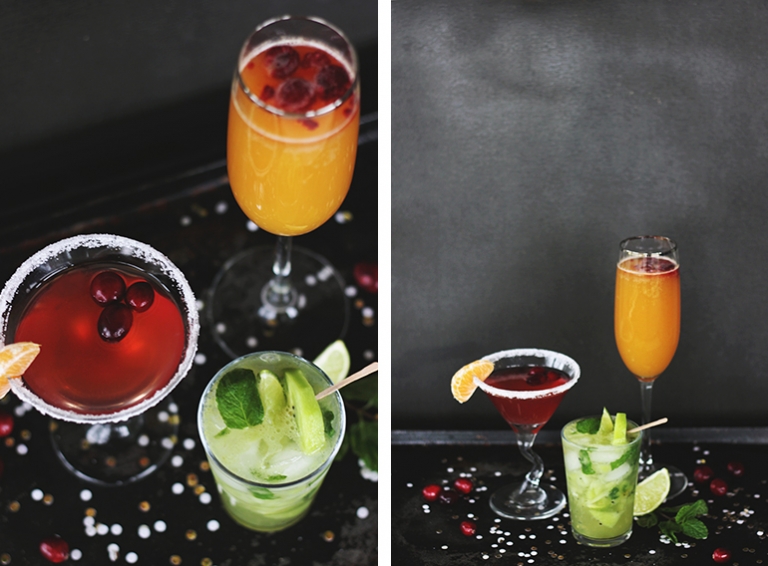 Do you have any favorite mocktail recipes we need to try out? Pass along the recipes – we can't wait to try more!
Cheers to 2014!   xo.   Caitlin & Manda