I love sandwiches! It's one of the foods I crave often (especially now since I rarely allow myself to eat them – ugghh!) and I love finding different & unique sandwiches to try.  Recently, my little sister, Lyndsay, found a sandwich recipe in a magazine and tried it out with a few adaptations.  She thought it was delish and passed along the recipes to me, which I course adapted too.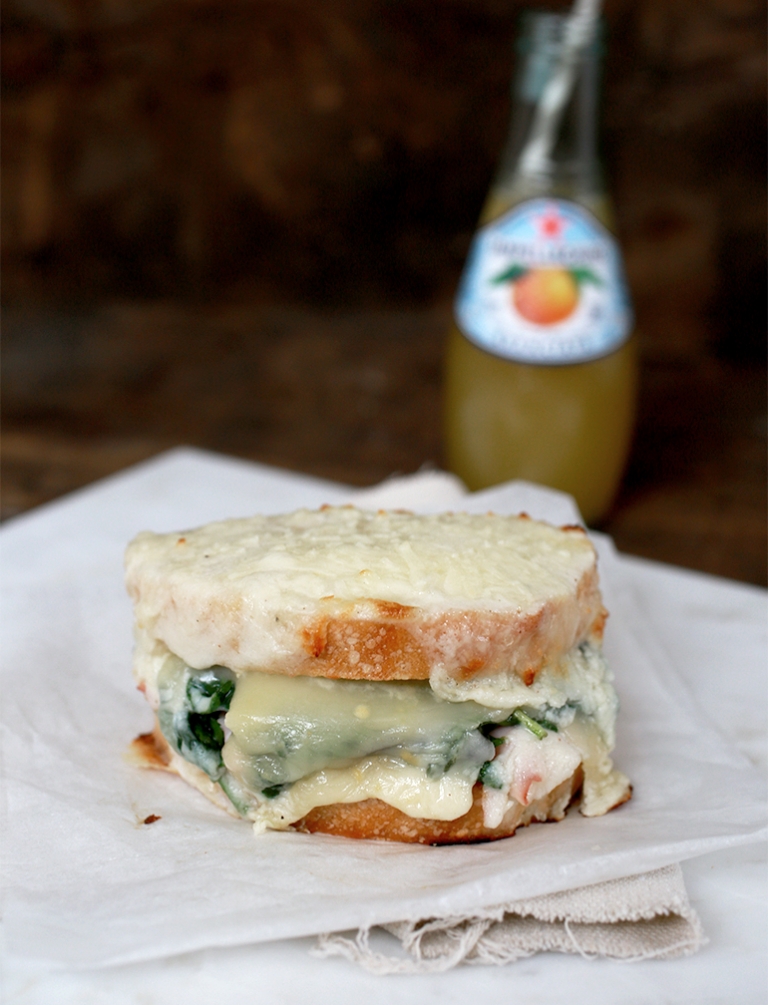 These warm sandwiches are perfect for these cold winter days. Of course, these will take a little more time than throwing together a PB&J, but all that warm, melted, gooey cheese is definitely worth it! This sandwich seems to have a little of everything going on, but it works…sweetness from the fig jam, a little kick from the mustard and topped with a savory bechamel sauce. Sooo good!


Hot Ham & Cheese Sandwiches with Fig Jam & Bechamel Sauce
1 tablespoon extra-virgin olive oil
1/2 clove garlic, minced
1 bunch dark leafy greens (arugula, spinach, swiss chard, etc.)
salt & pepper
good quality loaf of bread, sliced (Italian, French, sourdough)
fig jam
Dijon mustard
fontina cheese, thinly sliced
sliced ham
shredded mozzarella or shredded parmesan cheese (or both)
bechamel sauce (recipe below)
Pre-heat oven to 400º. Line a small baking sheet with aluminum foil, set aside.
Heat oil in a skillet over medium heat. Add garlic; cook, stirring, 30 seconds. Add greens; cook, stirring, 2 minutes, until cooked down. Season with salt & pepper. Let cool slightly.
For each sandwich, spread jam on one bread slice and mustard on another. Layer one slice with fontina cheese, greens, and ham, dividing evenly. Close sandwich, place on prepared baking sheet. Spread 1-2 tablespoons of bechamel sauce over top of sandwich. Sprinkle with shredded mozzarella or parmesan (I did both). Bake for about 10 minutes or until cheese is melty & gooey. Serve immediately.
Bechamel Sauce
1 tbsp butter
1 tbsp chopped onion
salt & pepper to taste
1 tbsp flour
1 cup milk
pinch of grated nutmeg
1 bay leaf
1/4 cup grated parmigiano-reggiano cheese
Add the butter and onion to a small saucepan over medium heat and cook until onions become translucent and aromatic. Add the flour and cook until the flour and butter resemble wet sand, about 2 to 3 minutes. Gradually, whisk in the milk until incorporated. Add the bay leaf and nutmeg and season with salt & pepper, to taste. Slowly bring the milk/flour mixture to a boil, stirring frequently to prevent scorching on the bottom.
Once the sauce has come to a boil and has thickened, remove it from the heat. Discard the bay leaf. Stir in the grated parmigiano, taste and adjust seasonings if needed.
Use right away or refrigerate, covered, until ready to use.
Adapted from Martha Stewart & Food Network

Happy Friday – enjoy this weekend!
-Manda
PS – don't forget to enter the giveaway from Brooklyn Candle Studio!