Have you ever had homemade applesauce? I'll be honest, I was pretty old before I realized you could buy applesauce at the store. And the first time I ever tried store bought applesauce I was
not
impressed, it does not even begin to compare to homemade. From birth, the only applesauce I ate was what my Gramma made. When we were babies, my mom would ask her mom to make some without any sugar, so she could use it as baby food for us. Every year for Christmas, my Grandma would pass out jars of applesauce and baggies of dried apples to all her grandkids – all 29 of them. And sometimes for birthdays too if you were lucky. And then the great grandkids started coming, and more jars were made and passed out to them as well. During my Gramma's 97 years, she canned hundreds and hundreds of jars of applesauce.
Years ago, my older sister and I went out to watch and learn from Gramma how it was done. Lincoln was a baby at the time, and he went along too, so I'm not sure how helpful I really was, but the trip was a fun memory. The day we were there, Gramma managed to get 9 jars from one batch, the most she had ever been able to get out of one batch up till that point. I'm not sure if she ever beat that record. I had Gram write out her recipe for me, which I've held on to over the years – you can see it in a photo below.
Since my Gramma passed away a few years ago, I haven't even attempted to make any of her beloved applesauce. My mom has been making it though, so we still have been enjoying it. Over the last few weeks though, my boys have been asking for gramma's applesauce, so I thought it was about time I made it myself. Well, not all by myself. With my mama. I rode my bike over to her house last week and we spent a morning making applesauce together. I felt super accomplished for actually making some; it's pretty easy overall, just a bit time consuming. 100% worth it though! And it makes me appreciate all those jars my Gramma canned for years and years. When I came home with my jars, the boys were so excited and promptly told me we were going to need a lot more than that! Ha!
The great thing about making your own is being able to adjust everything to your liking. Less sugar, more sugar, no sugar. More spices, less spices. Chunky or smooth. And each batch might end up needing it's own tweaks depending on the kinds of apples you use and how sweet they are. My gramma and mom were never too exact when adding ingredients, a little of this and a little of that, "just eyeball it" is what my mom kept telling me! And speaking of just how you like it, how you like your applesauce served – hot or cold – is something that is often debated. I like mine cold. And usually by itself. But I do enjoy it on pancakes sometimes too. 🤷🏻‍♀️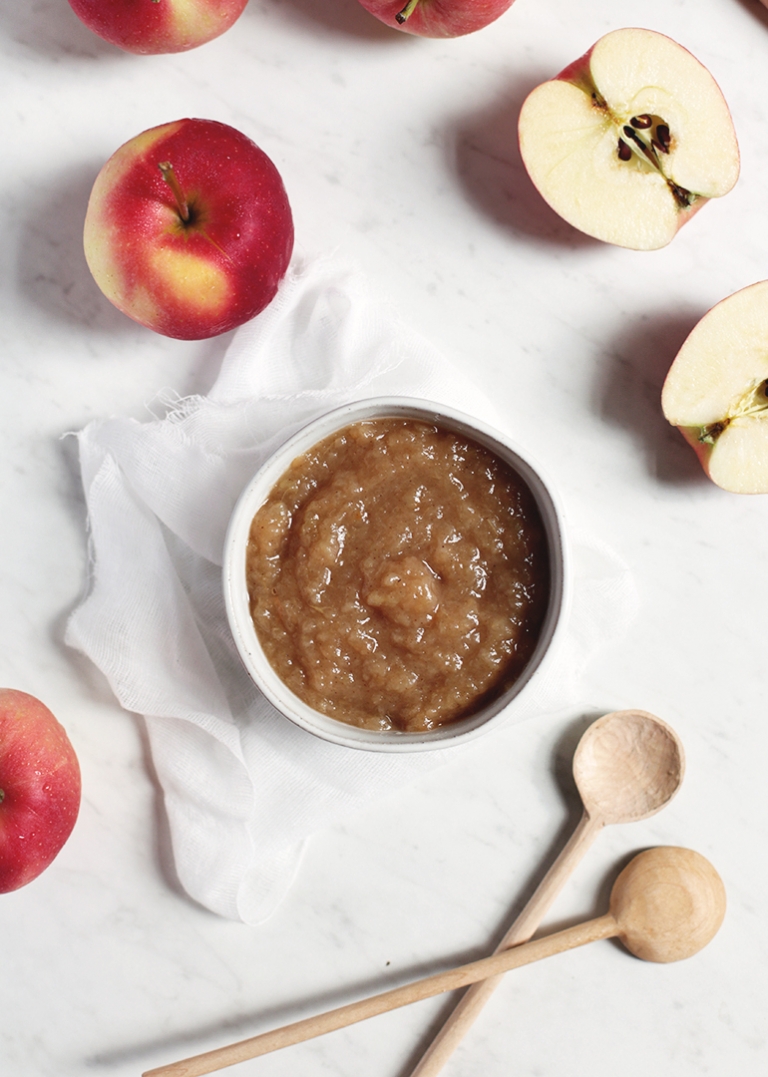 Homemade Applesauce
Ingredients
For the Applesauce
4-6

pounds*

apples

(use a mix of apple varieties, some sweet and some that are slightly tart)

3/4

cup

apple juice or apple cider

1/2

cup

brown sugar, packed - more or less

1/2

teaspoon

ground cinnamon

1/4

teaspoon

ground all spice

1/4

teaspoon

ground nutmeg
For Canning
canning jars

canning jar lids (flat lids and screw bands)

applesauce
Instructions
To Make Applesauce
Peel, core and slice the apples into small pieces. 

Place in a 6 quart pot and pour in the apple juice. Cover and bring to a boil, continuing to lightly boil until apples are soft, stirring occasionally. 

Crush apples with a potato masher until desired consistency. (If you'd like your applesauce completely smooth, use an immersion blender).

Add brown sugar, cinnamon, all spice and nutmeg, stir until combined. Taste and adjust any spices as desired. 

Store in an airtight container in the refrigerator. Or can (see below) and enjoy all season long!

Serve applesauce warm or cold. 
This can be done a number of ways, basically you just need very hot jars, lids and applesauce - the method you use for heating your jars and lids is up to you. If you have a water bath canner and want to use that, feel free. This is the way my mom & I did it, a little old school and requires less equipment. Just make sure everything is clean and sterile.
Fill a tea kettle with water and bring to a boil. 

Place flat canning jar lids into a small saucepan, fill with a couple inches of water and bring to a boil.

Meanwhile, wash jars and rinse, then fill the jars about 1/4 full with boiling water, rinse, and place upside down while rinsing remaining jars with boiling water.

Pour hot applesauce into the hot jars (it's okay if the jars are slightly wet inside, do not dry them), filling almost full, leaving a 1/4-inch space at the top.

Wipe off any excess applesauce from the jar mouth, it must be completely clean.

Use tongs to remove lid from boiling water and place the lid on the filled jar. Place screw band lid on and turn till snug, but not completely tightened. 

The flat lid will seal as the applesauce cools (you'll hear a pop when that happens, and the flat lid will be slightly indented and will not pop up. If the lid flexes up and down when you press on it, it did not seal.)

Once the applesauce has cooled, tighten screw band. Store in a cool, dry place. 
Recipe Notes
* amount of apples will vary, you need enough to fill the pot about 3/4 full. As my mom likes to say, this recipe isn't rocket science, you don't need everything to be exact.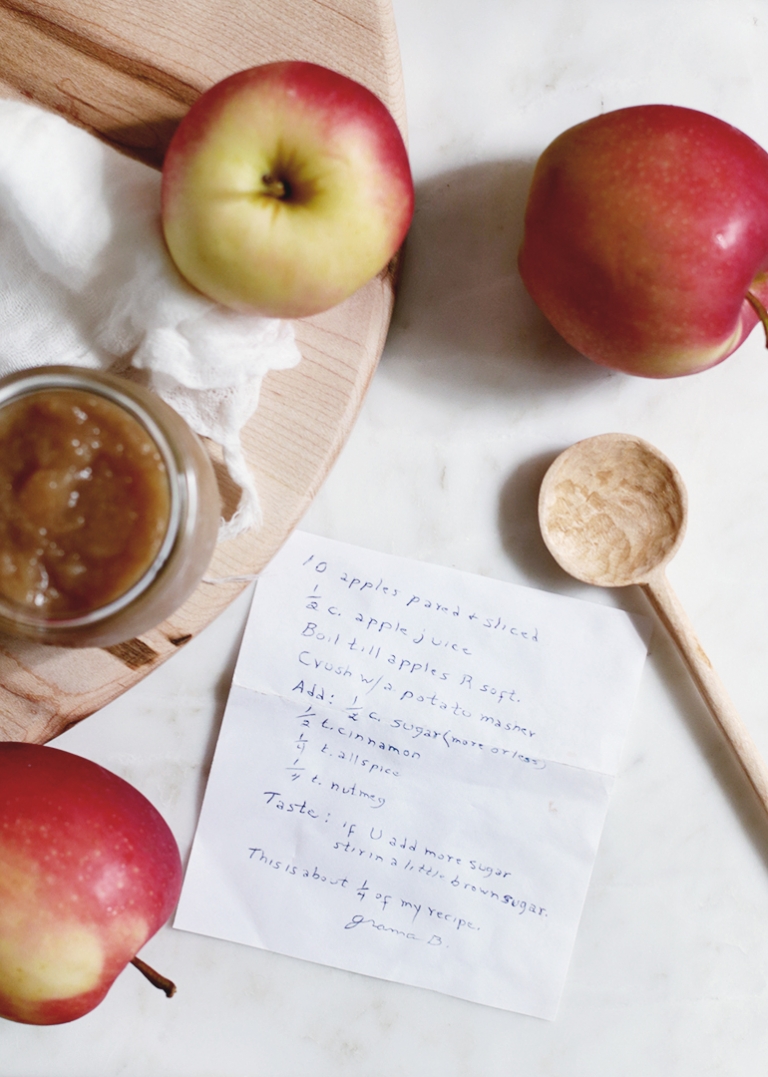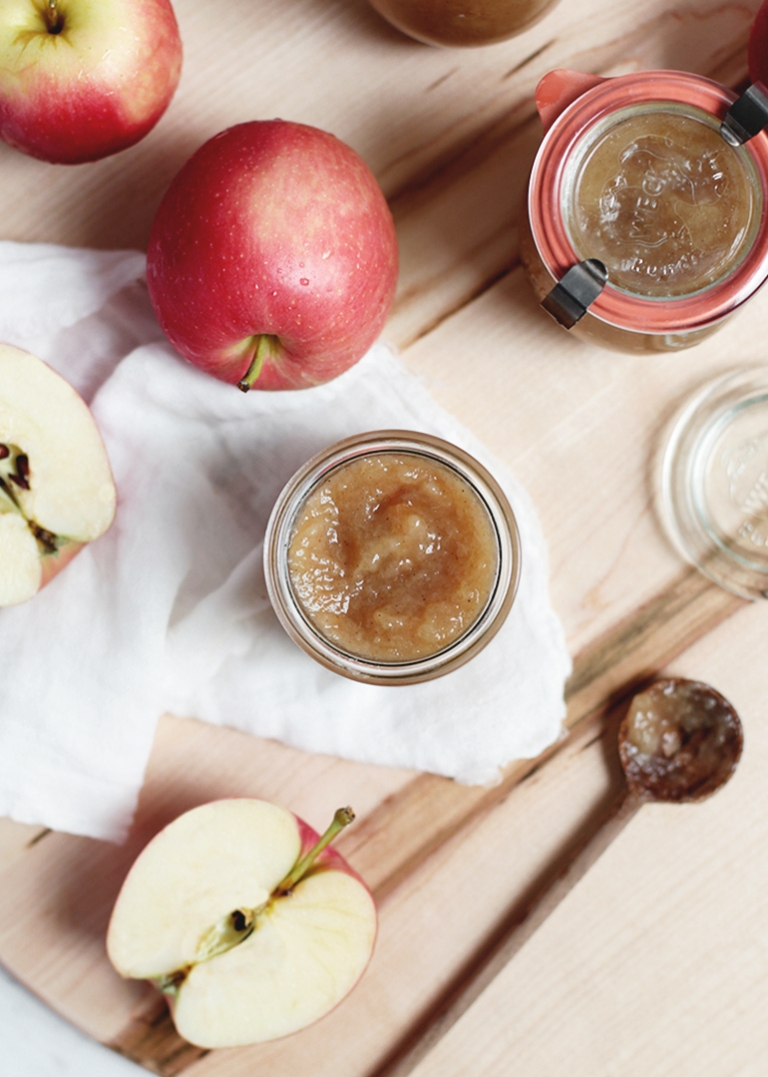 Here's to fall, delicious applesauce and sweet memories!
-Manda