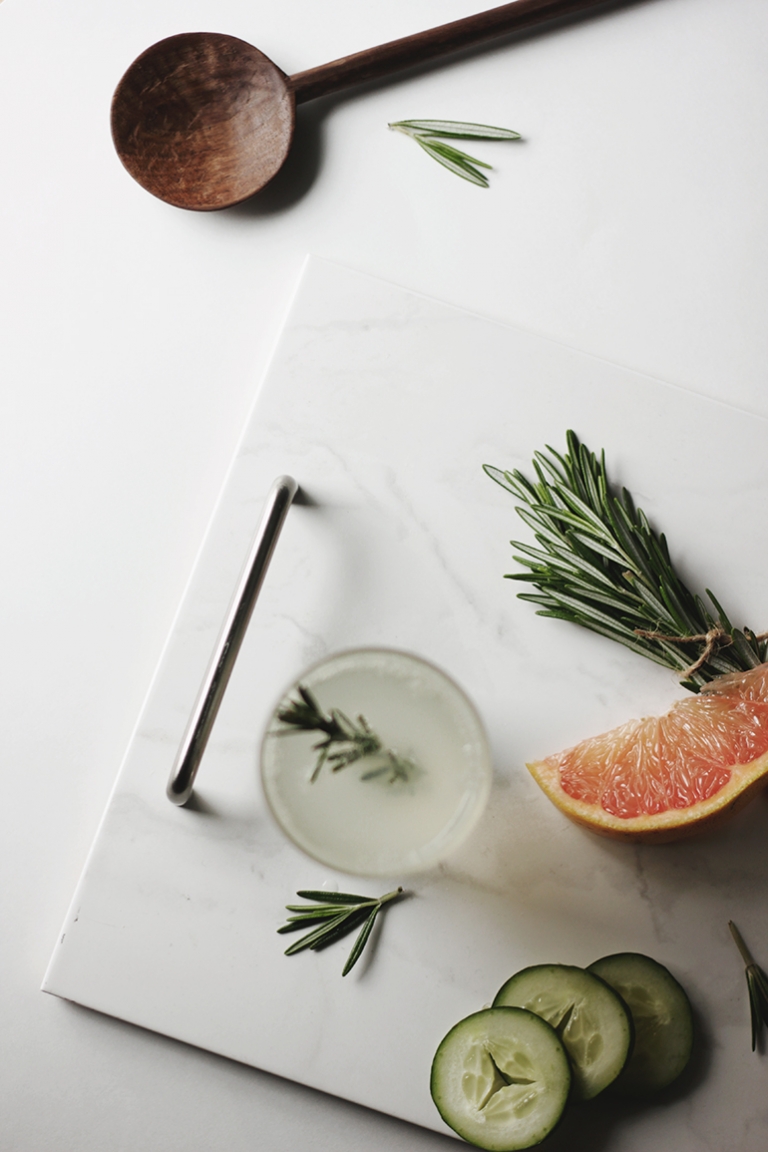 In preparation for our New Year's Eve festivities tomorrow night, we wanted to find a new sparkly mocktail to sip on while we celebrate.  Grapefruit is in season so I grabbed a few of those and paired it with my favorite – rosemary syrup. This fizzy drink is a perfect option for those that won't be popping champagne bottles tomorrow night… 😉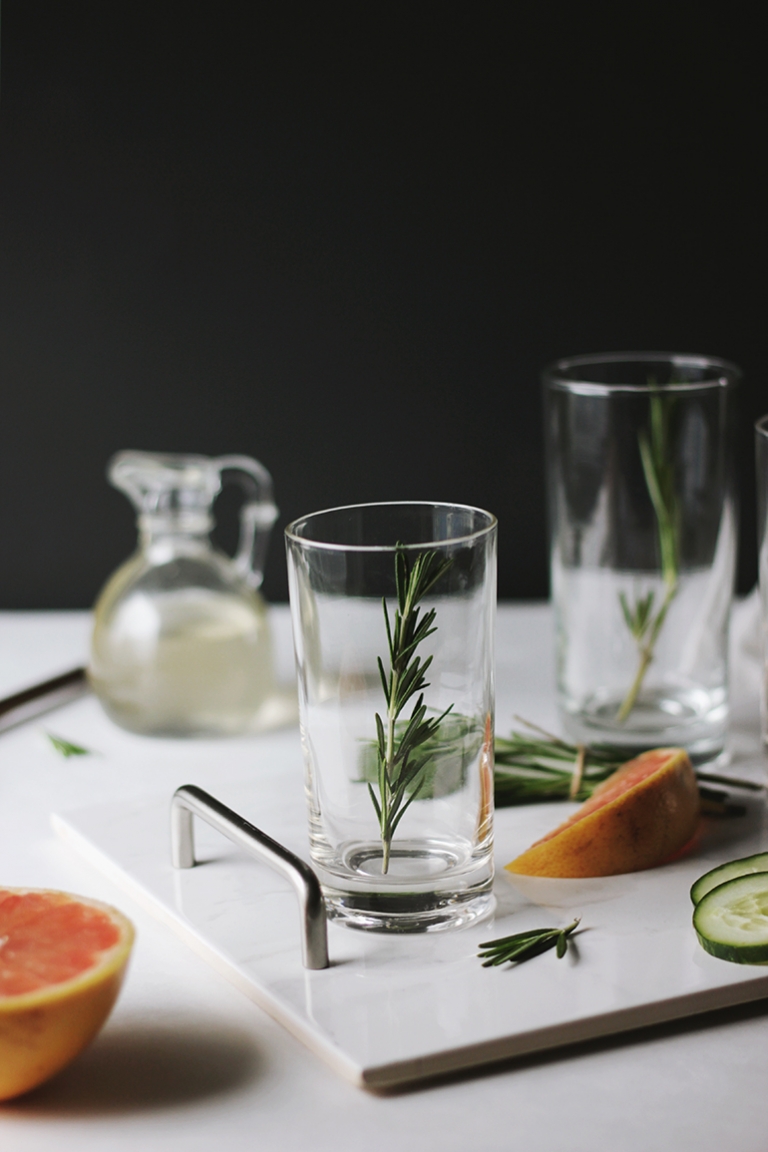 Grapefruit Rosemary Fizz
3 tbsp Grapefruit Juice
Juice of 1/2 Lime
1-2″ of Cucumber (Peeled and chopped into chunks)
2 tbsp Rosemary Simple Syrup
2 tbsp Sierra Mist
Club Soda
Add grapefruit juice, lime juice, cucumber, and rosemary syrup to a shaker and muddle. Add ice and shake mixture until cool. Strain into a glass. Add Sierra Mist. Top off with club soda. Garnish with a sprig of rosemary.
Rosemary Simple Syrup
To make the rosemary syrup, combine 1 cup water, 1 cup sugar, 6-8 sprigs of rosemary in a saucepan over medium heat. Bring to a boil, or until sugar is completely dissolved, stirring occasionally. Remove from the heat and let infuse for 10 minutes. Strain out rosemary and transfer liquid into a jar and let it cool completely.
If you're not a fan of sweet drinks (or you're trying to cut back on sugar), take out 1 tbsp of grapefruit juice, 1 tbsp rosemary syrup, and 1 tbsp Sierra Mist and add extra club soda. A perfect mild and bubbly drink!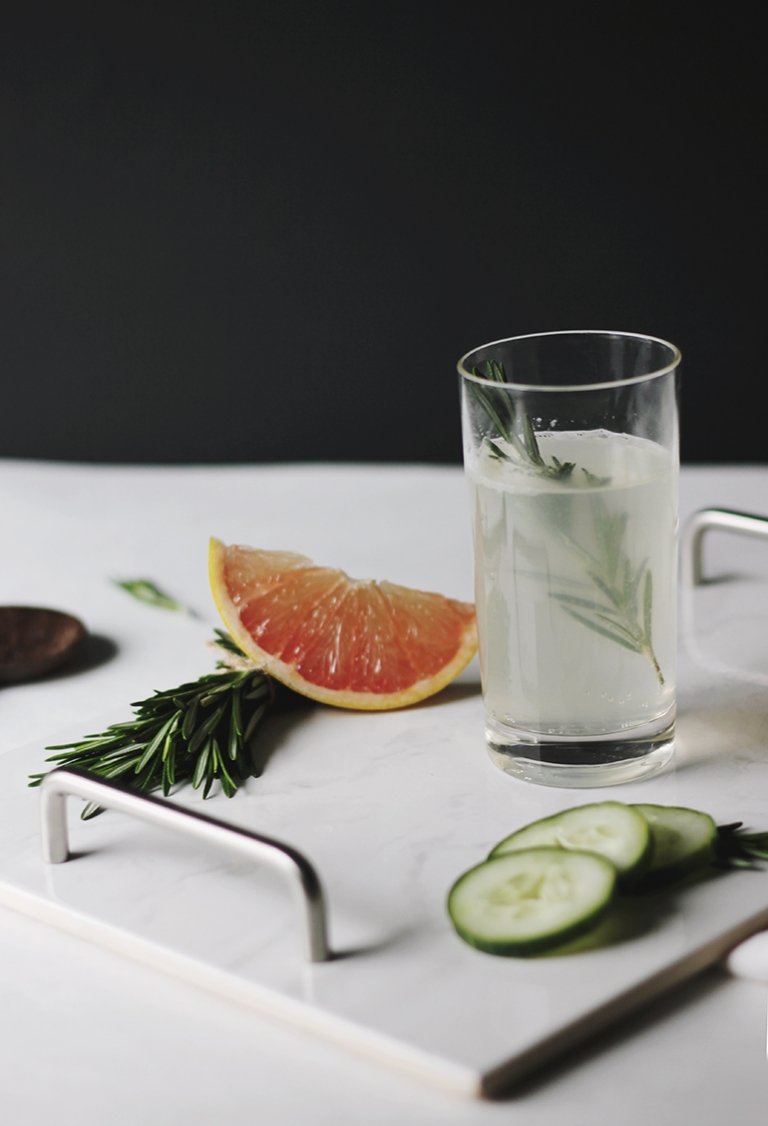 What is your favorite drink to sip on while ringing in the New Year?
xo. Caitlin