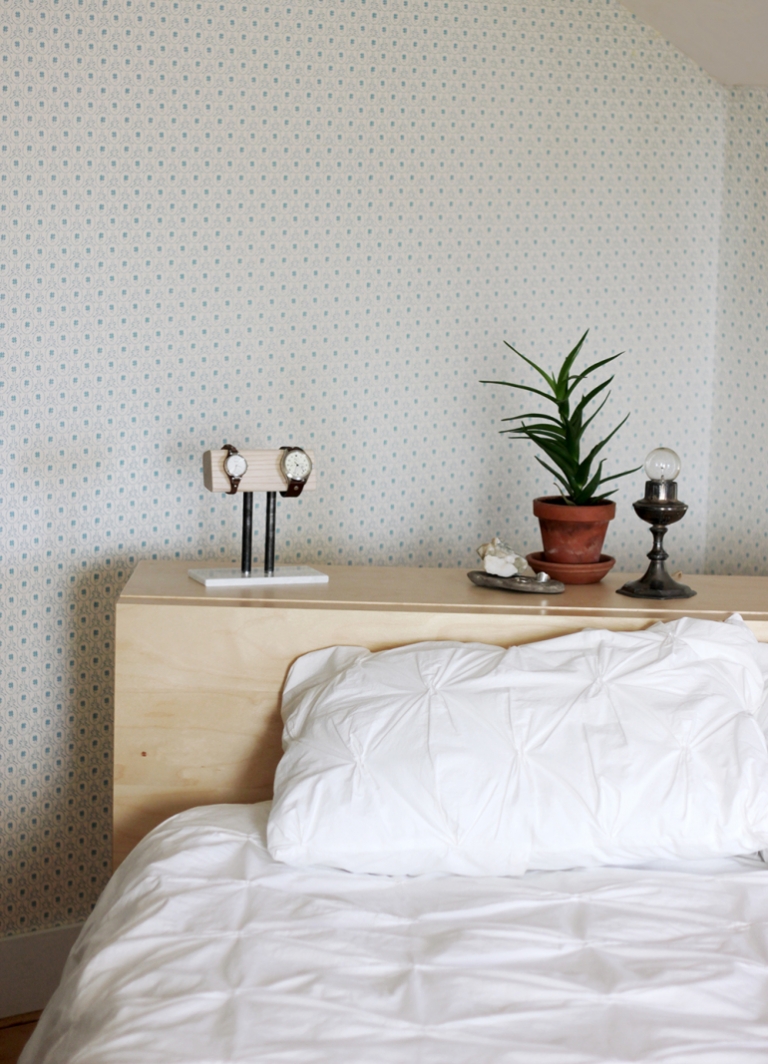 With the start of a new year, many of us are working on organizing and freshening up our living spaces. This DIY watch stand is perfect for getting your bedside table or dresser cleaned up by providing a spot for those new watches Santa brought you! The simple, clean lines of marble compliment the natural wood while the black pipe give it a slightly industrial feel, bringing a modern, clean look to your room. It can also double as a clock when your watch is strapped on!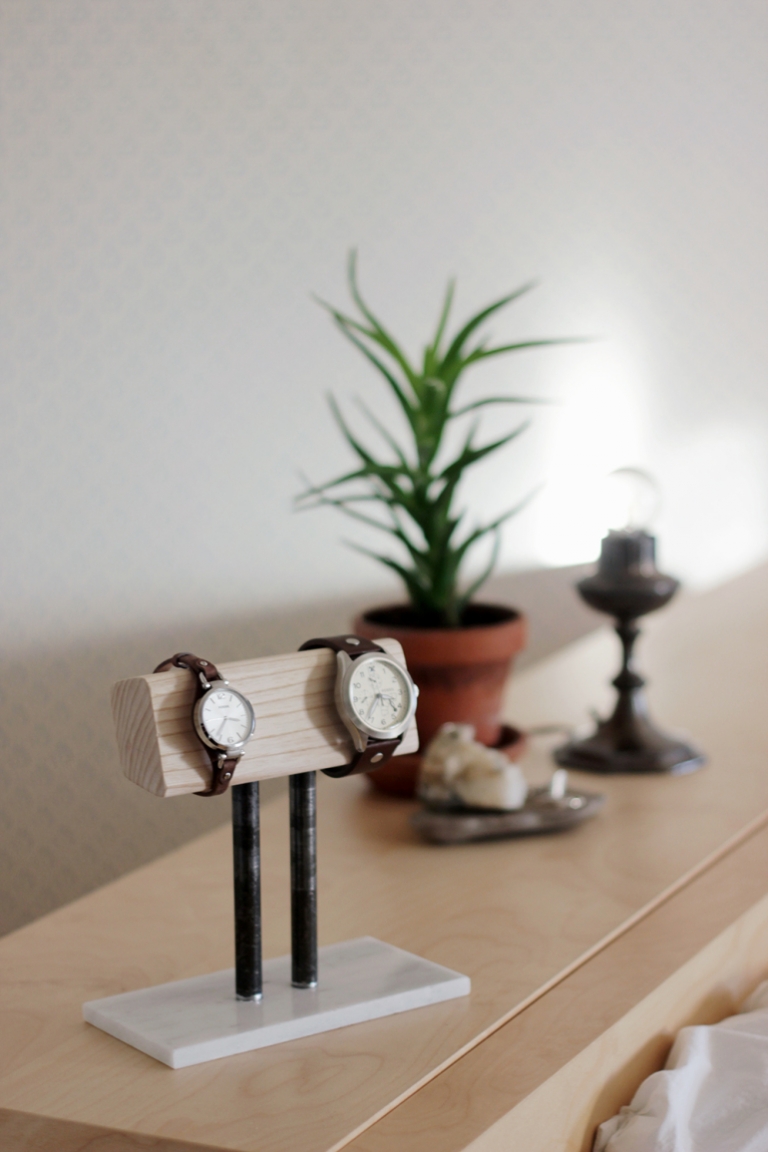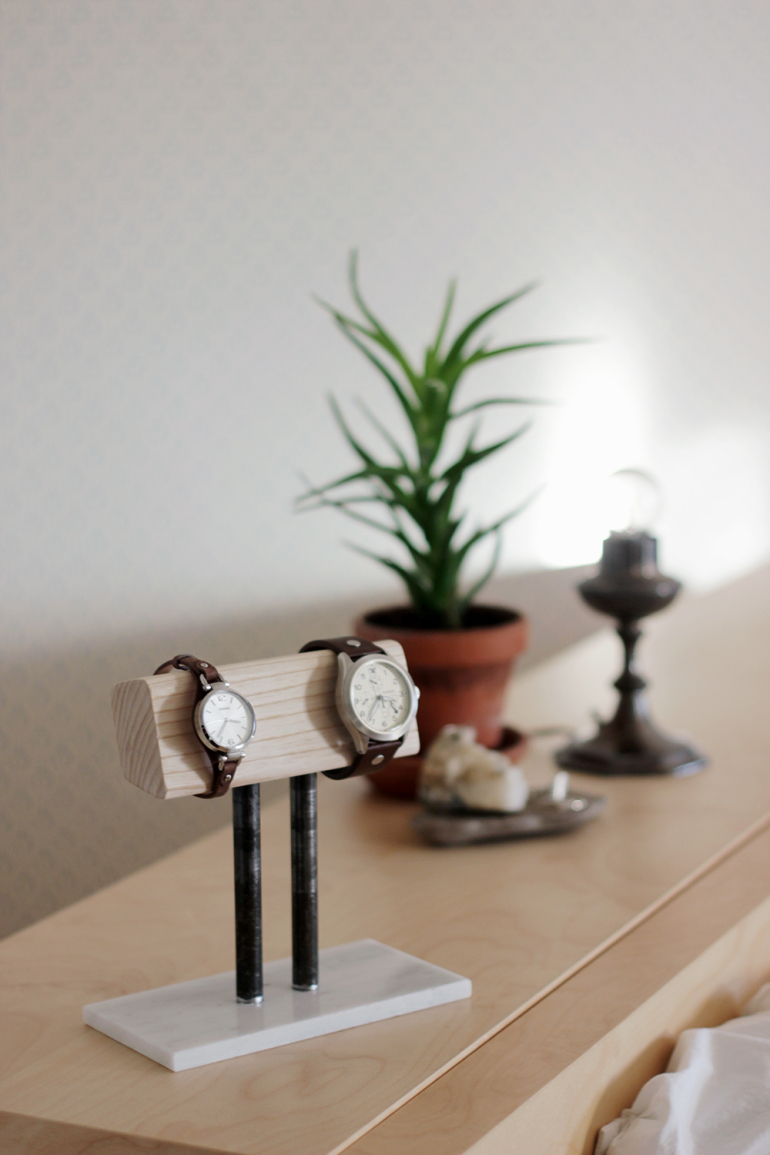 Materials Needed:
-6″ x 1.5″ x 2.5″ piece of wood (we used ash)
-1/4″ black pipe
-Marble tile
-Table saw
-Belt sander
-Measuring tape
-Scrap wood
-Drill
-Ceramic tile cutter
-Ceramic drill bit
-Angle grinder
-Two part epoxy

How to make it:
-Set table saw to 20 degrees. Lay the piece of wood lengthwise against the fence with the
2 1/2″ side down. Set fence so that you cut a wedge off, leaving one 2 1/2″ side full width.
-Round the edges of the wood with the belt sander.
-Mark the center of the long side of the angled side of the wood. Measure 11/16″ out from each side of the center mark, mark those spots. Measure to make sure these marks are at the center of the wood across the short side as well. These marks are where you will be drilling the holes.
-Cut a piece of scrap wood at a 20 degree angle. Lean your wood against it so that the side you are drilling lays flat. Use 1/2″ forstner bit to drill 11/16″ deep holes at both marks.
-Use a tile cutter to cut marble to size, ours is 3.5″x7″.
-Mark the center of the marble. Measure 11/16 out from each side of the center mark – just like with the wood previously. Using the ceramic drill bit, drill holes most of the way thru marble, do not go all the way thru. Use water while drilling holes to keep particles out to prevent marble from cracking.
-Use the angle grinder to cut off threads on one end of both pipes.
-Use a file or grinder to reduce the size of the end of the pipe to fit the hole.
-Thread the pipe into the holes in the wood. Use the epoxy to attach the other end of the pipes into the marble.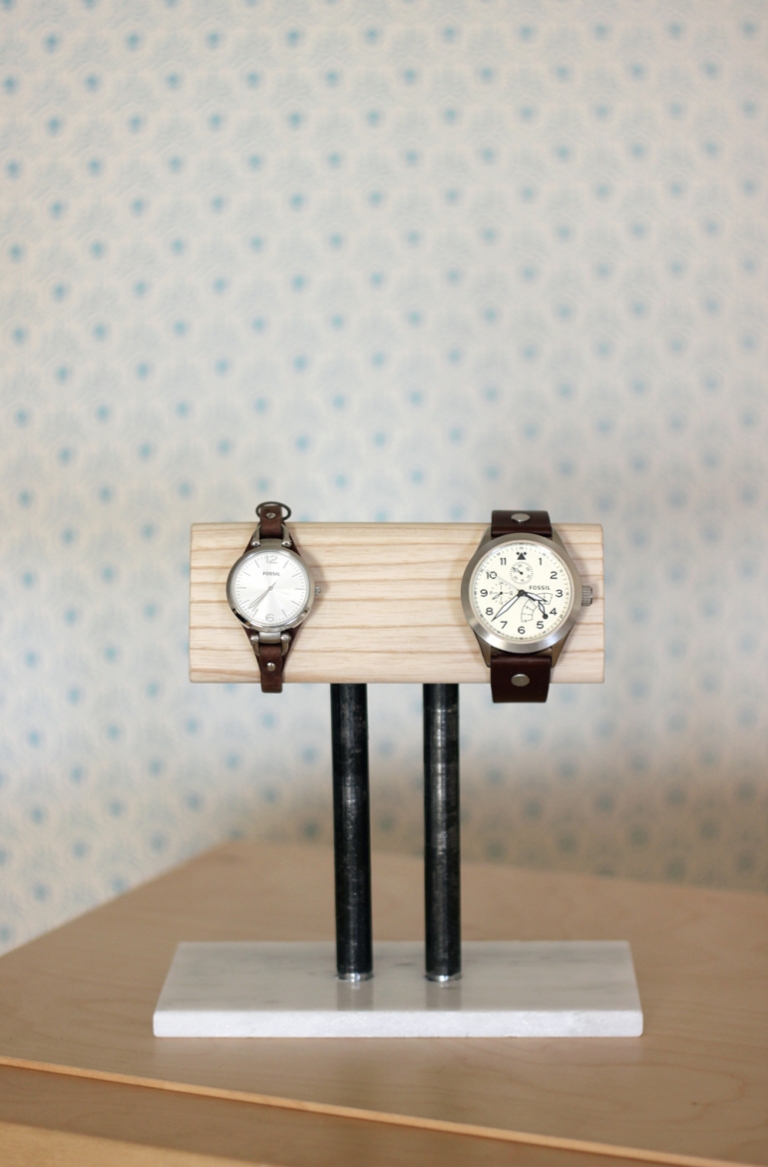 We love how ours looks  as a His & Hers stand with our Georgia and Aeroflite watches.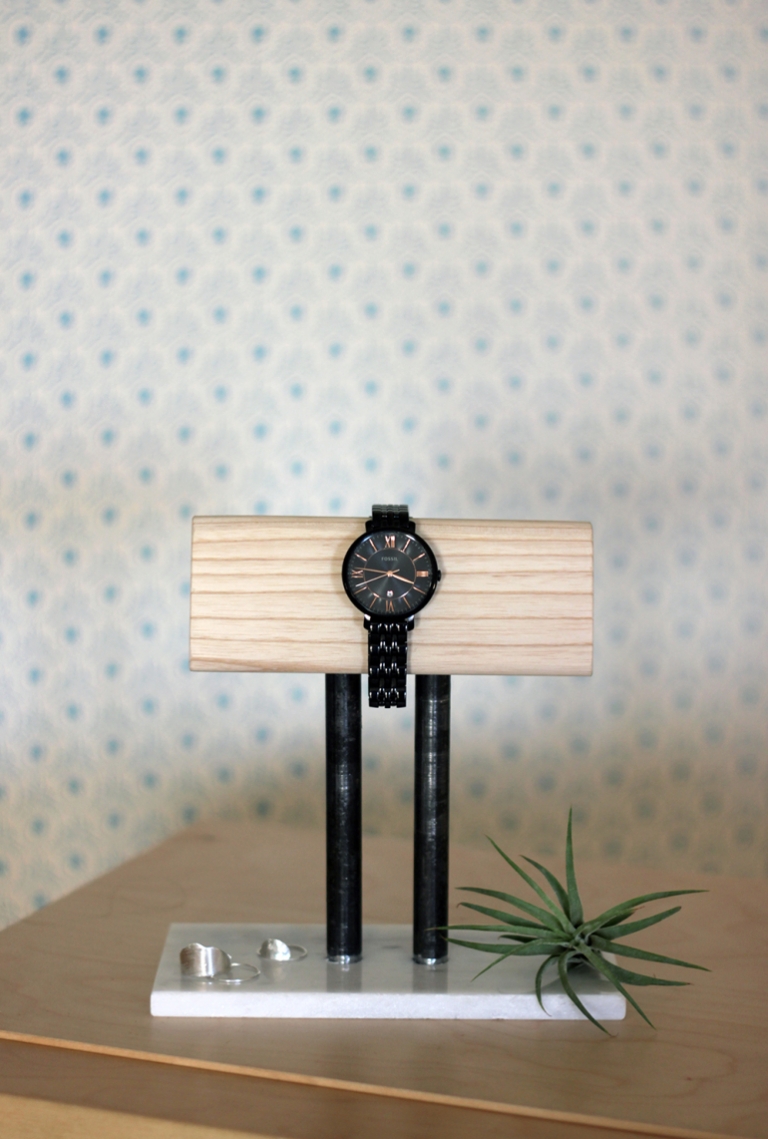 Or you can pair it with a lovely Jacqueline watch with a hint rose gold that goes perfectly with the pipes and the wood grain.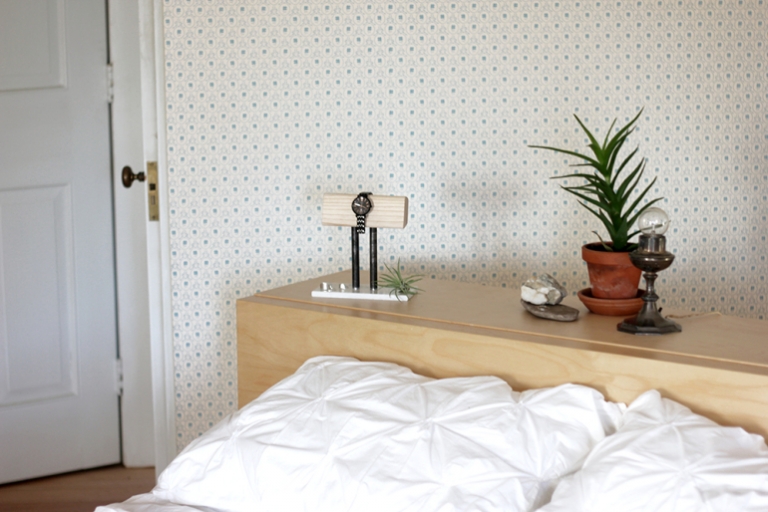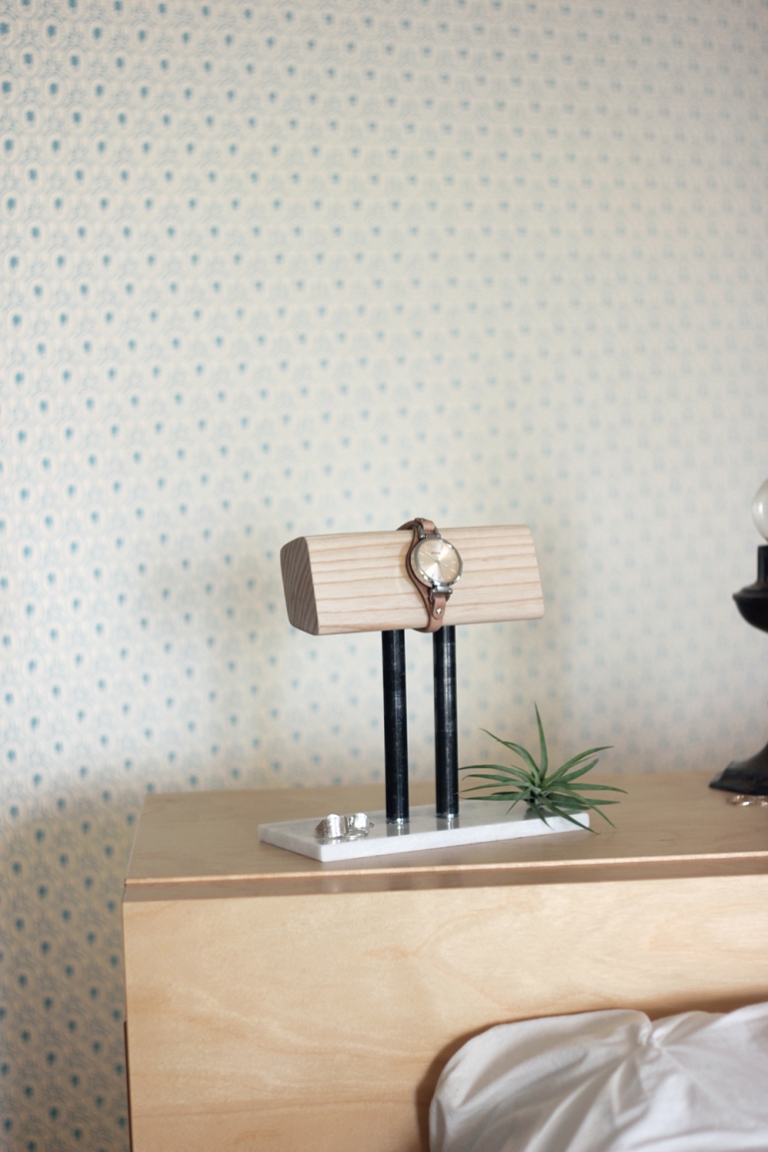 Sponsored by Fossil. All thoughts and opinions expressed are our own.
Manda & Caitlin